Category:Drinks,Food
Taste Italia!
Saturday, Feb. 27, 2016
Noon-2pm – Taste Italia!
As the Italian's say, a meal isn't a meal without wine. Nothing could be closer to the truth than this.
This event is was a must for the festival. Today's Taste Italia! lunch, as you can imagine, is a celebration of the wines of Italy We got there about 30 minutes before the start on the advice of Pam. She was right. We were among the very first there, and started the queue that would stretch out of sight and around a corner of Level 3 of the Vancouver Convention Center West by time they open the gates to let in the throng.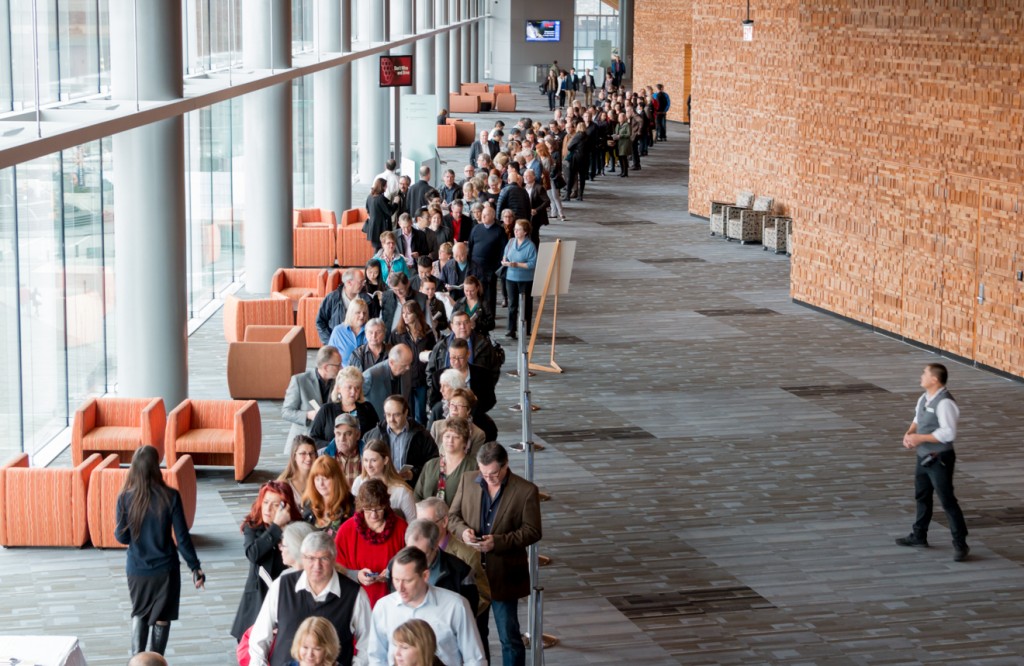 The convention center is really a jewel. We topped the escalator and stepped into a panoramic view to the north, appropriately called North Vancouver. Five of us descended on the ballroom and adroitly took a prime bar-style seating area all to ourselves.
The layout put the wine makers, 60 in all, around the outside with the amazing food offerings pretty much in the center – a great arrangement that encouraged us to get some food, enjoy some wine, then get up and move about the hall as we wanted. Food was always just a few meandering curves away.
After all the food and drink, everyone was feeling pretty happy!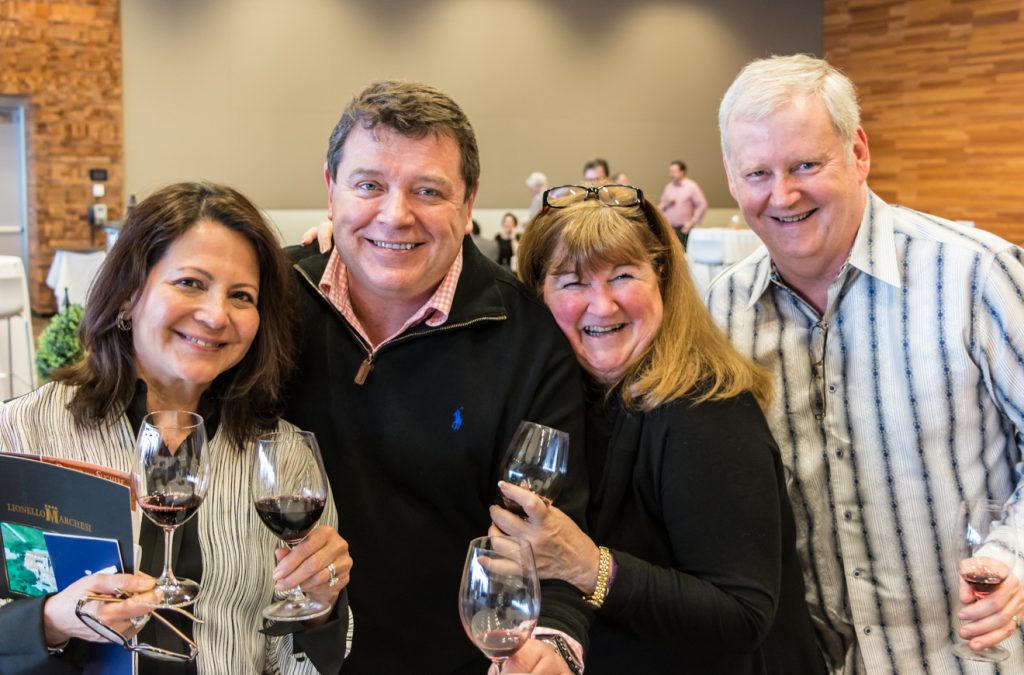 One of the most helpful additions to the tasting was a big map of Italy with the wine growing regions clearly displayed. For those of us unfamiliar with Italy's vast wine growing history, this map is a good place to start. Silly me, but I would have thought Roma was in the Emilia Romagna region...but no, it's really in Lazio where some fine Sangiovese wines are grown. Look over the map below. I learned a lot.
The food tastings at Taste Italia! were all well-executed, even though you couldn't really say they were 'Italian' per se, but in leaning. Okay, so there was the obligatory assorted focacce and oh-so-yesterday prosciutto e melone that even Midwesterners would recognize (apologies to my birth heritage). A few standouts were the Prosciutto-wrapped tuna, clams, fennel, and olives, the Beef short rib brasato lasagna, alfredo gratinee, and the Wild mushroom risotto. All in all, a big boo-ya to Executive Chef, Blair Rasmussen of the Vancouver Convention Center.
Now to the wine highlights.
We passed up the various Prosecco's and went straight to the whites. Of particular note was Casetta Winery's Mumplin, Roero Arneis DOCG 2013, which paired wonderfully with what amounted to our first courses – Wild Prawn in saffron emulsion, Proscuitto e melone, and Mini Zuppa di pesce "Cacciucco" in tomato Vermouth broth.
Thought by many to be the queen (or prince) of Italian white wine grapes, this particular Arneis is an example of intense elegance, a wine that is full-bodied, liquid yellow in color, and can stand up to fish, tomato-based soups, and even melon – not an easy feat I know from experience. It is a value by anyone's estimation at about $17 a bottle. Unfortunately, by time we got to the convention wine store, this wine was sold out completely.
Spotlight Casetta Winery/Piedmont
Web resources
http://flli-casetta.it/en/vini/mumplin-roero-arneis-d-o-c-g/
http://www.wine-searcher.com/wine-260192-0001-casetta-mumplin-roero-arneis-docg-italy
US distributor, unknown. From Canada, http://boushelong.com/en/
Price: $23.83 CAD about $17 USD.
Next door to Casetta was another Piedmont wine, 'Il Fiore' Langhe Bianco DOC 2013 produced by Briada Di Bologna Giacomo. We had the chance to speak to Principle, Norbert Reinisch, which is always a treat at these events. Mr. Reinisch described their approach to growing the wines we tasted, including a very fruity Barbera d'Asti DOCG 2013. The bianco differed from the Arneis. Wine Searcher refers to this as an example of a Rare White Blend, a wine that includes various whites, but most often centering in on one key characteristic, such as dryness. I found the bianco a little 'light' compared to the full Arneis, though it too stood up well to our first course.
Our final Peidmont tasing was the Lecinquevigne Barolo DOCG 2011. We paired the Barolo with the Beef short rib lasagna and fennel sausage, chicken and green lentil misto. This is one of those special wines that you want to search out and drink up...slowly. You won't want to loose one sip of this luscious, fruity, soft red. Reviewed any where from 88 points to 92 points by the Wine Spectator and Wine Enthusiast respectively, this wine is drinkable now but would lay down well for a few more years. Borolo's are generally known to be big and fruity with cherry, pepper, and licorice overtones, this one was no exception.
From the Puglia region, we tasted the Tormaresca Trentangeli Rosso Castel del Monte DOC 2013 ($14.60 CAD) and the Torcicoda Primitivo Salento IGT 2013 ($20.43 CAD). According to the pourer, 2013 was a good, no, very good year for the Aglianico, Cabernet Sauvignon, and Syrah, which comprise the Rosso. Not having much to compare this wine to, it was smooth, without any of the harshness you sometimes get with a relatively new red. The Torcicoda had the same smooth character and I imagined it would make a great addition to our cellar.
Much to our disappointment, the festival wine store was already sold out of this Tormaresca. Instead, they had just six bottles of the 2013 Neprica Puglia IGT at $10 USD, we took them all off their hands. One bottle already drunk, we loved it for its unassuming character and playful notes of cherry.
A New Italian Renaissance?
Both of these wines – indeed many of those we tasted - are part of a new era in Italian wine making according to the principles and sellers at the festival. Italy is witnessing a development that seeks to bring back native vines and enter them into relation with notable European stock, such as the Cabernet and Syrah.
A quick search for this wine on the web lead me to this statement:
The production of high quality wines is related to recent steps towards innovation and creativity: substantial changes have been obtained through the use of modern viticulture techniques and the introduction of non native grape varieties (i.e. Chardonnay and Cabernet) that express themselves in this "terroir" in a completely unique way. Tormaresca is the expression of the above two souls. Character, personality and top quality are the characteristics that Puglia transmits to the native grape varieties. For this reason the Antinori family gave birth to Tormaresca in 1998 when they started investing in Puglia, considering it one of the most promising regions in Italy for the production of high quality wines with a strong territorial identity.
Some winemakers focus on small scale production, choosing to hone their considerable legacy in winemaking to the modern pallet. Others are exploring wild yeast fermentation and using only organic stock. Another thing we notice with great relief, was how reasonably priced the Italian wines are. Yes, you could certainly find higher end wines, but we were on a mission to stock up on only the daily wines, the ones we wouldn't think twice about opening for an evening meal.
For us, the importance of a wine is less about its pedigree than whether we can open it up and have it match well with what ever we're eating for diner that night. We reserve our better bottles for special dinners with friends or if we're experimenting with a new recipe and want to find that perfect pairing. But that's our point of view on buying wines at this stage in our collecting. Find out what your point of departure is and I'm sure the Italian wines will make you very, very happy.
What ever the Italians are up to, we have to applaud it.
La viva dolce!
Here is a quick list of other wines we tasted, in no particular order and with a few comments:
Medici Ermete / Emilia-Romagna
Concerto Lambrusco Reggiano DOC NV
$19.99 CAD
Poderi Dal Nespoli / Emilia-Romagna
Il Nespoli, Sangiovese Romagna
Superiore Riserva DOC 2012
$20.99 CAD
Tenuta Olim Bauda / Piedmont
La Villa Barbera D'Asti DOCG 2011
$26.95 CAD
Marchesi Antinori / Tuscany-Umbria
Bramio del Cervo, Chardonnay, Umbria IGT 2014
$22.62 CAD
Lionello Marchesi / Tuscany
Coldisole, Brunello di Montacino 2010 DOCG
Sangiovese predominant
$49.88 CAD
Coldisole, Brunello di Montacino Riserva DOCG 2008
$75.40 CAD
*These are two exceptions to our goal this weekend (buying lower cost/high value), but we couldn't resist. They come from one of the most famous and prestigious wine makers, both richly complex, deserving of that special event but easily fine on its own. Seek them out if you need to fill out your cellar with exceptionally crafted wines.
San Polino / Tuscany
Brunello di Montalcino DOCG
Helichrysum 2010
*It's hard for me to find words for this one. But at $132.58 CAD a bottle, what should be said except that it is gorgeous on all accounts. Rich, dark, fruity, subtle. Wow.
Here are some of the other wine options on offer.