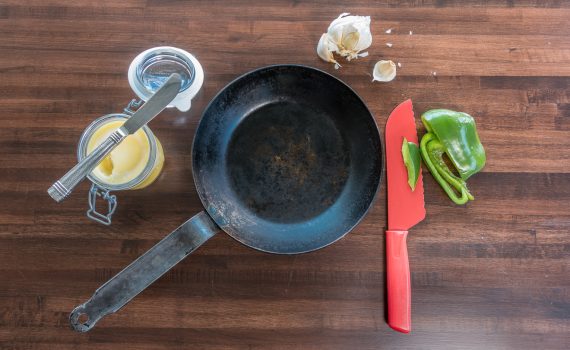 But we think we've found one.
It may not be the prettiest thing in the kitchen, but they sure work well! After years of use, our non-stick pans are no-longer-non-stick. I don't doubt that the same has happened to you. Over time, non-stick coating gets scratched, abraised, and just generally wears out, no matter how careful you are with them. An endless source of frustration and expense.
Thanks to Cook's Illustrated magazine, we found a solution: carbon steel pans. You could say these are the little brother of cast iron pans. Now before you go "Oohh, who wants to maintain those?" let me just tell you, the maintenance on these couldn't be simpler, not to mention that these pans are much lighter to carry.
I little bit about the construction. These pans are made by rolling out hot carbon steel, quickly cooling and finally dye-cut and pressed into shape. The metal has a lower carbon content than traditional cast iron. This composition along with the rolling and cooling process makes them much stronger, less brittle, but still much lighter than cast iron. What we've also found is that they heat much more quickly as well, thanks to the thinner metal.
Incidentally, this is the same metal as is used in some of the better kitchen knives on the market.
A word about that maintenance issue
Most pans these days are either aluminum (I hope you're not using these), stainless steel, copper, or stainless steel-clad aluminum - more about these other options in future posts, perhaps. All of these really do take minimal care. The carbon steel and cast iron pan on the other hand, will rust if not properly cared for. It's not that hard to do, however. You wipe them out, maybe even rinse (no soap or steel wool, but scrubbing with a nylon brush is allowed), then dry. No more care than you need to give a good wok made of the same material - you do have one, right? Season it thoroughly before first use *, don't scrub when you clean it, and a few seconds on stove top burner to dry. Occasionally, you'll want to season it with a little oil after drying while still hot. The best part: once seasoned, it's non-stick! It may wear off in time but guess what - you can always re-season and it's non-stick again. How's that for a money saver?
Which to buy and where?
The brand we have are the Black Steel Frying Pans from Matfer Bourgeat. The 8 5/8" version is a work-horse in our kitchen these days, followed closely by the 10 1/2" size. There are other brands available and in a range of prices. If you're in the Pacific Northwest and want buy local or simply prefer Made-in-America, you can check out Blu Skillet Ironware.
Here are some carbon steel pans in action at Brass Tacks in Seattle's Georgetown neighborhood.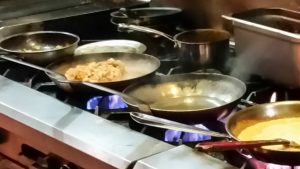 I also need to mention that though prices due vary by brand and where you buy, these pans can be quite reasonably priced. Especially for something that can last a life time.
Food, Friends & Travel is a member of Amazon's affiliate program. By purchasing Amazon products through our website, we may earn a commission on qualifying sales. These commissions assist us in maintaining this site.
Shop our other recommendations here.
* A note about seasoning your pan. First and foremost, follow the manufacture's instructions. Beyond that, there are many videos on YouTube showing a variety of ways it can be done. The easiest way we've found it to simply coat the pan with oil and heat on high heat until the oil is smoking. Wipe out the pan with paper towel (use tongs!). Repeat this process several times without letting the pan cool. Make sure to remove the pan from the heat while adding more oil. Use an oil with a high flash point such as peanut oil or rendered lard or tallow. DO NOT USE OLIVE, CANOLA, OR VEGETABLE OIL!! Lest you want the local fire department stopping by or just simply wish to start all over with your eye brows and eye lashes. The process and also be done in a very hot oven.
Here's one of our pans in action making Corky's Casserole