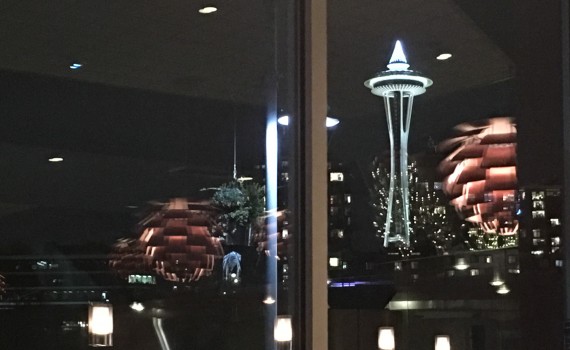 Category:Dining,Food
Aqua – 12/15 before SAM Sculpture Garden walk-about
We had tickets to what we thought was going to be a special event at the SAM (Seattle Art Museum) Sculpture Garden down on the waterfront. We drove around a little, finding no parking which isn't that unusual in that area, and decided to stop in to Aqua by El Gaucho for a drink and maybe a snack.
Aqua never disappoints. The space, on a pier at the north end of Seattle's waterfront, is literally on the water as its name implies. The dining room menu has a wide range, but focuses on things from the sea. Again, a nice match of location and dining experience. But, we didn't really want to spend the money such fine dining demands so sat at the bar instead.
Being in the holiday mood, we ordered Manhattan's made with Bulleit Rye – my favorite whiskey ($13.50 each). Sipping a finely crafted cocktail…especially an old-school one like the Manhattan…in a lovely space as this is a treat.
We needed some nourishment, so we looked at the bar menu. They don't have a happy hour menu per se, but have a regular bar menu instead. The upside is that you get great value at any time of the day. I had the Pier 70 Burger – my litmus test for just about any new place I go ($14). Steven had the Steak frites ($18).
My burger was probably the best high-end bar burger I've had in a long time. The toppings were pretty straight forward - lettuce, tomato, and 'special sauce' - and didn't compete with the beef, which not incidentally done to a perfect medium rare. It seems the new standard bun type is the brioche. I think they are a bit too much bread for my tastes, but given the heft of the burger, I'm not sure there would be many other options. With the ciabatta long out of style and too chewy in the first place, the brioche is a fine compromise. With most burgers from other higher end pubs and restaurants coming closer to the $20 mark, this one at $14 is almost a steal. And I can't believe I'm saying a $14 burger is a steal. My Midwest upbringing is devastated.
Steven had the Steak Frites. I'll let him fill you in on his choice.
Steven here - Yes, I had the Steak Frites. A steak at Aqua for only $18?? The starters at the main El Gaucho in Belltown are that much or more. It was a fairly small steak, as you can imagine from a bar menu. The pile of frites, however, were generous. All in, though it actually makes a sufficient sized small meal. The steak was not surprisingly cooked perfectly and the frites fresh. Oh, and the pan reduction, that may well be the best part.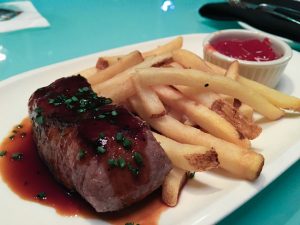 Xxxx
Oh, and don't waste your special ticket on the SAM Sculpture Garden Christmas walk…or whatever it was if they do it again next year. The whole thing was disorganized and we never did see what made it a special event.