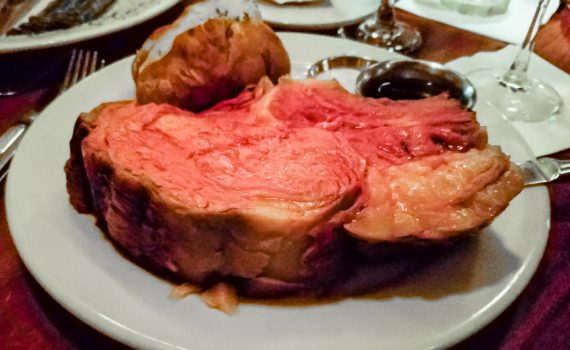 Category:
Dining
Bully's
1404 Camino Del Mar (Hwy 101)
Del Mar CA 92014
1-858-755-1660
Sept. 3, 2016
Open since 1967, Bully's is one of those hometown classics before cuisine got all fancy. I grew up with such a place in my hometown called Skips and another not far away called Heston's back in the day, and now renamed as  Heston's Supper Club.  What these all have in common is being a meeting place for locals. A place you'd feel comfortable in no matter who was there. That's the kind of atmosphere you find at Bully's in Del Mar, California.
You can't honestly describe Bully's as trendy, or even catering to the current rage of naming which farm, butcher, baker, or cheese monger provided the ingredients for your meal. This is not that kind of place…thank goodness. Located on west side of  the upscale main drag in Del Mar, at 1404 Camino Del Mar (better known as Highway 101), Bully's pulls in a decidedly local crowd – a crowd full of 'characters', old timers, and family's out for a good, simple meal.
Bully's prides itself on serving the 'finest Prime Rib in San Diego since 1967,' Montana raised, corn fed Angus beef  using no antibiotics or hormones. You can get a lot more than prime rib at Bully's but this is what they are known for and it's what we ordered.
Bully's doesn't take reservations for party's under 6, but you are encouraged to call about ½ hour before you want to arrive so they will have a table for you. We wanted to enjoy the Pacific sunset before having dinner, so we called a little before 7pm, enjoyed a cocktail at the condo, then headed down to Del Mar.
Two things you should know about this part of Del Mar. There is the  L' Auberge Del Mar, a 4-Star destination luxury hotel just down the street from Bully's, along with quite a few upscale eateries, bars, and café's. Second, it's in the middle of the block with little on-street parking, but a good amount of parking adjacent to the building which you get to by going down an ally just west of 101.
Bully's is showing it's age for sure, but not decrepit, just showing the signs of having been loved…a lot. We came in, were greeted promptly and seated by the hostess at a booth made for many more than two. The main room wasn't jammed but the bar area was hopping. The interior is a funny mix of red leatherette banquettes, thick timbers framing distinct parts of the room with their own roofs, and heavy wooden, low-backed club chairs. It reminded me of the Con Tiki Lounge in Chicago where each seating area had it's own thatched roof. Okay, not quite the Kon Tiki, but a western style cowboy esthetic. You get the picture.
A basket of warm breads were on our table before we settled in to our banquette. Kelly, our waitress, came right over to take drink orders. We ordered a pre-dinner cocktail. For me a Manhattan and for Steven a Bombay Safire Martini up with olives, very dry. It turns out Kelly has been working in the restaurant business for many years, and is herself seen by some patrons as a familiar pal…sometime the consequences of which are a bit, shall we say, too familiar? Kelly is a good soul, taking her work seriously and with professional curtesy.
The menu has a good range of offerings, but you'd clearly be in the minority if you didn't order some cut of beef. We chose The Man O' War cut, a whopping 40 oz Bully cut of prime rib. If you want to learn about it's namesake, visit Wikipedia's link on this legend of a horse. When sharing for two you aren't penalized like some restaurants who add a split-plate charge. Bully's embraces sharing…again, this is a restaurant keyed into community, friends, and family – so no surprises there. Included in the price ($76.00) we got an additional soup or salad plus another side dish. We bot chose soups, Steven had the French Onion and I had the Albondigas. For our sides, Steven chose the baked potato (no sour cream for him, just butter and chives) and I had the grilled asparagus.
The French Onion soup was very tasty and  loaded with melted cheese, but could have stayed under the broiler a little longer. My Albondigas hit the spot, though I have to say it did remind me vaguely of Campbell's Vegetable Beef Soup. I doubt very much it was canned – the veg was too crunchy and the cilantro too fresh.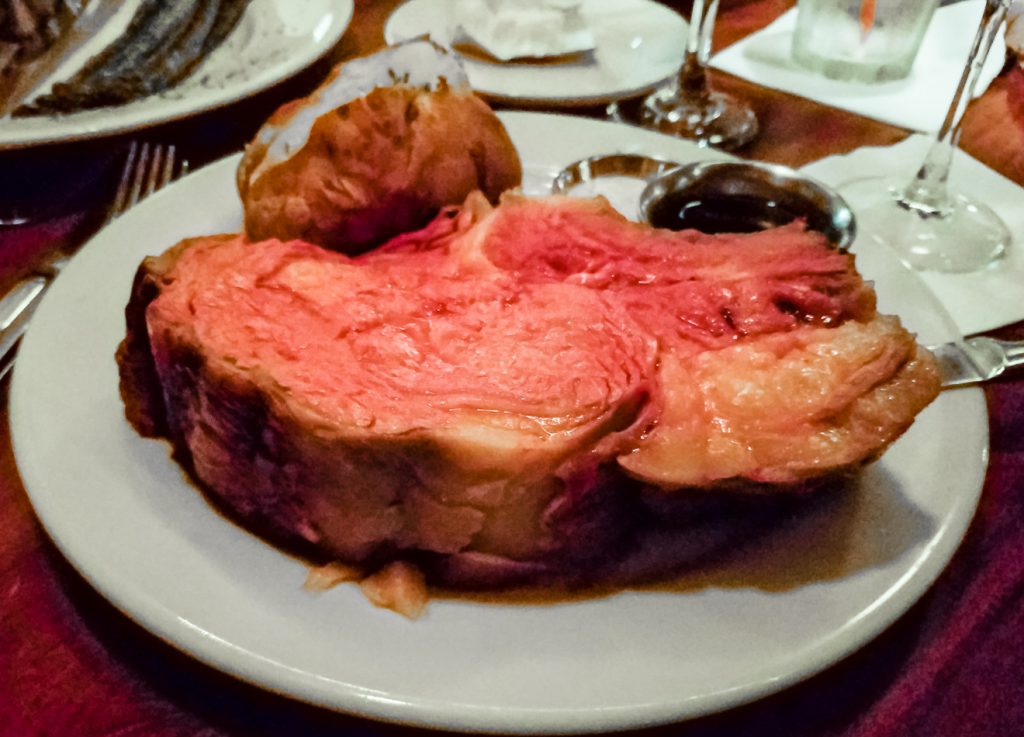 Next came the star attraction, the 40 oz of beef! As you can tell, it was pretty big and perfectly medium rare and served with house-made horseradish cream and a jus. We started our attack by cutting off the cap and sharing it. Then we went for the center, the prize to many, the eye. It practically cut with your fork it was so tender. With little fat in this part of the steak I used some of the horseradish to give it a little kick. We took our time working around the beast, but couldn't finish. We ended up taking about ¼ home, including the bone. We both think the bone is the best part so we wouldn't have left it behind in any case.
To accompany all this richness Kelly suggested we shared a bottle of a 2013 Russian River Pinot Noir from Rodney Strong Estate Vineyards.  She likes Pinot's as do we so no arm twisting needed. The wine is not as full as we are used to from Oregon, not like the Stoller Pinot's we love, but it was pretty good. The finish was weak, but it did hold up well to the richness of the meat and sides. You should know, Bully's is more about the cocktails than the wine list. Go with an open mind and you'll be happy.