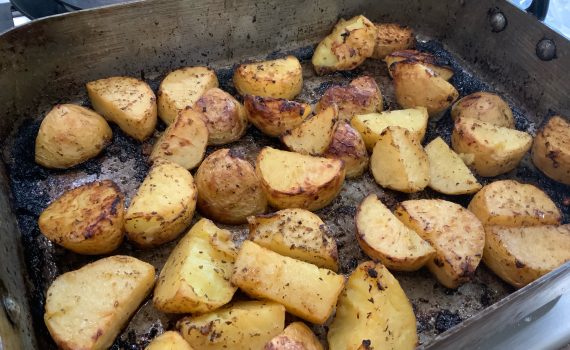 Category:
Food
If you're a fan of lemony Greek potatoes you have to try this out and take a go at one of the two 'adjustments' er, hacks I've listed.
The beauty of addictive Greek potatoes lies in the lemon, garlic, and herbs the potatoes absorb while roasting. I've tried several recipes found while searching online and none of them matched the savory, lemony, crispy ones we've had on vacations. Here's the line to the base recipe I've been using for home meals, dinner parties, weekends on the Puget Sound coast when friends crave a true comfort food after a day of hiking.
I'm always being asked for the recipe. Sometimes a friend calls in a panic from one of their weekends away with friends to discover they can't get the taste or texture right (you know who you are). Hat's off to Nagi, the recipe creator, videographer, and web designer for RecipeTinEats. Check her site out. Good stuff. And don't forget to watch her video with instructions; very helpful.
I chose round largish Yukon Gold potatoes. I tried baking potatoes (aka Russets) and they just fell apart. I've also tried par boiling, thinking that would be smart to speed things up. NOT. Just stick with Golds and roast as instructed. Oh, and I don't peel these potatoes but feel free.
I ended up having a little over 3lbs of potatoes so I increased the ingredient amounts in the recipe slightly. Since this isn't baking, adjust as you see fit, the basic proportions won't fail you. Oh, don't you think about skimping on the fresh squeezed lemon juice. Buck up and buy actual lemons to zest and squeeze. Another helpful hint is find a roasting pan deep enough to hold your potatoes and the 2 cups of liquid you'll use. The pan should be big enough so the potatoes won't have to stack on each other – no crowding.
And this brings me to my adjustments to Nani's recipe. Even with a great recipe like this one, I just cannot resist tinkering.
Adjustment One: I zested the 3 lemons I needed for the juice – I needed 3 lemons to get the 1/2 cup lemon juice I used – and added the zest to the chicken broth. Give the liquid a good swirl and pour over your potatoes chunks. I prefer chunks, not wedges, again, you do you.
Adjustment Two: I didn't have enough fresh garlic, so I used pre-chopped garlic from a jar. Nagi notes that you should microplane the garlic to make sure it dissolves when roasting, instead of having little burnt chunks of garlic at the end. That's true, but I kinda like the crispy bits.
Adjustment Three: I used more salt to assure it would be absorbed into the potato rather than adding more later just before serving. You know you will. For 3 lbs of potatoes I used 1 tablespoon of salt…and I did use low sodium chicken stock, btw.
Adjustment Four: This one's kind of an advanced move and totally not necessary. The hack is to take out the potatoes just before all the liquid has been absorbed remove from oven being very careful not to burn yourself and place potatoes in a very large heat resistant bowl. Toss in a little more olive oil (1/4 cup at most) and…wait for it…2 tablespoons of Semolina. Yep. Semolina will stick to the outside of the potatoes and give you a crazy crisp finish. Kick up the heat to 500F put the coated potatoes back in the original roasting pan for about 15-20 minutes depending on your oven, turning once. I used the convection roast setting, so things go fast. Turn once more to make sure at least two side are really crispy. This version not pictured here.
Adjustment Five: Actually not an adjustment but a leftovers hack. So the next day I heated up some duck fat to 375F and popped the chunks I needed in for about 5 min to reheat and get an added layer of good crispiness. You can't ask for anything more sublime than a duck fat roasted or fried potato, can you?