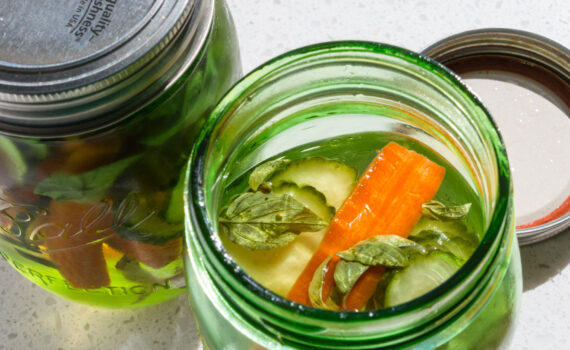 Category:
Food
I'm a lover of pickled vegetables. All pickling starts with the same process: create a brine, cut vegetables in the shape you want, pack into jars or containers and wait a few hours or a few days. Oddly, I'm not a fan of olives, which are also brined, but that is another story.
The balancing of salt, vinegar (acid), and sweet is as varied as there are home and professional cooks. This basic, easy recipe on pickling cucumbers has been altered to suit my tastes. Below is Teri's original list of ingredients. After, I've added my changes.
Food52 Take Off of Quick Cucumber and Shiso Pickles, by Teri
(https://food52.com/recipes/4891-quick-cucumber-and-shiso-picklesf)
1/4 cup sugar
1/2 cup apple cider vinegar
3 tablespoons mirin
1 tablespoon salt, preferrably sea or kosher
5 Japanese cucumbers, or 2 English cucumbers
8 shiso leaves (or substitute basil)
Kevin's Basic Asian-Inspired Pickled Cucumbers
1/4 cup white sugar, though palm sugar could be used, but you have to grate it or buy it that way
3/4 cup apple cider vinegar
1/2 cup mirin (Sweet Japanese Rice Wine)
2 tablespoons salt, I used kosher salt because it resolves easily
1 large Japanese cucumber
1 medium zucchini
4 small carrots
3 stalks of Thai basil
Mix the first five ingredients in a glass bowl, or some non-reactive bowl. Stir until sugar and salt are dissolved.
Slice cucumbers and zucchini in whatever shapes you like. I made discs of the cucumber and zucchini. Keep them thin. Use a mandolin if you have one.
Peel and quarter the small carrot, cutting them to the right length to fit in your container.
Remove the basil from the stalks, saving the purple flower heads if you have them. Since Thai basil can have smaller leaves than typical basil, you don't have to chiffonade them.
Place the vegetables in your container or split even among two or three, depending on the size you want to store.
Add basil to brine and stir.
Pour into a glass measuring cup, then pour over your vegetables.
If you need, take a chopstick and push down the basil deep into the containers to evenly spread them.
**Option: crush one glove of garlic and break up evenly between containers.
Seal up the containers and refrigerate for at least 4 hours, preferably overnight. Use as condiments for burgers, rice dishes, or grilled meats such as hotdogs! Be creative. These are fast and wonderful. Thanks to Food52 and Teri for the inspiration.