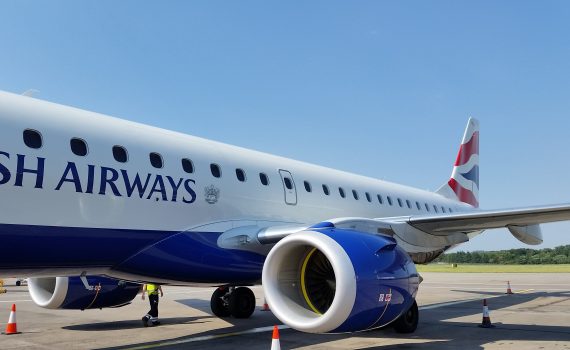 Category:England,London,QM2/Scotland,Scotland
23 August 2015
by Kevin
We're nearing the end of our vacation and are a little exhausted, a little ready for the next and last leg, a little fearing getting all our bags down the steep hotel stairs and onto a tram for the airport. Last minute packing always brings its stresses. Though we've traveled enough together to know each other's packing rhythms and eccentricities, on big travel days it always seems like we've never packed before. There are the showering and grooming rituals followed by dealing with an incoherent melee of dirty close, some wet from the drenching received last night, and don't forget the Scotch whiskys small and large, and assorted gifts needing to be crammed back into our luggage. I might be exaggerating just a little, but you get the picture. Controlled chaos? Barely.
Breakfast was the same; rushed servers, slightly irked patrons in the sunlit front room. All in all, this now seems comforting and I think I'll miss this lovely, Scottish-infused confusion. Back at the room, my back is feeling better so I'm managing to wrangle some of our now grossly plumb bags out the room and downstairs. It took us a few trips, but we finally got ourselves sorted and out the door after I checked us out…an easy process. Thank you hotel staff for making our stay enjoyable and blog-worthy.
We walked out the door to see the exact tram we needed for our trip to the airport. We were advised that Sunday travel was light, so no need to call a cab. The tram gets you closer to the terminal anyway, while cabs or other hired cars have to stop a distance further from the entrance. Our ride was nice, even pleasant. The tram was clean, certainly not crowded, allowing us to have all the space we needed with our bags.
Getting from the tram to the airport turned out to be quite quick, giving us plenty of time before the flight. A light lunch near the gate was in order.
As we get ready to board, Steven reminds me of this sign we saw in Scotland on our trip to Oban. Indeed, we hope to come back again soon, we had a great time here.
Our flight was with British Airways to London City Airport. We were surprised to find the airplane seating configured as it was. This was an Embraer 190, for you airplane aficionados. It had coach seating throughout but with seemingly more leg room (though Seatguru.com doesn't say so) and 2x2 seating, a bit wider than most coach seats as well. We thought it was going to be one of those little pea-shooter jets but this was more 737-sized. And, get this, free beer, wine, and cocktails! This is how economy class should be – at a minimum.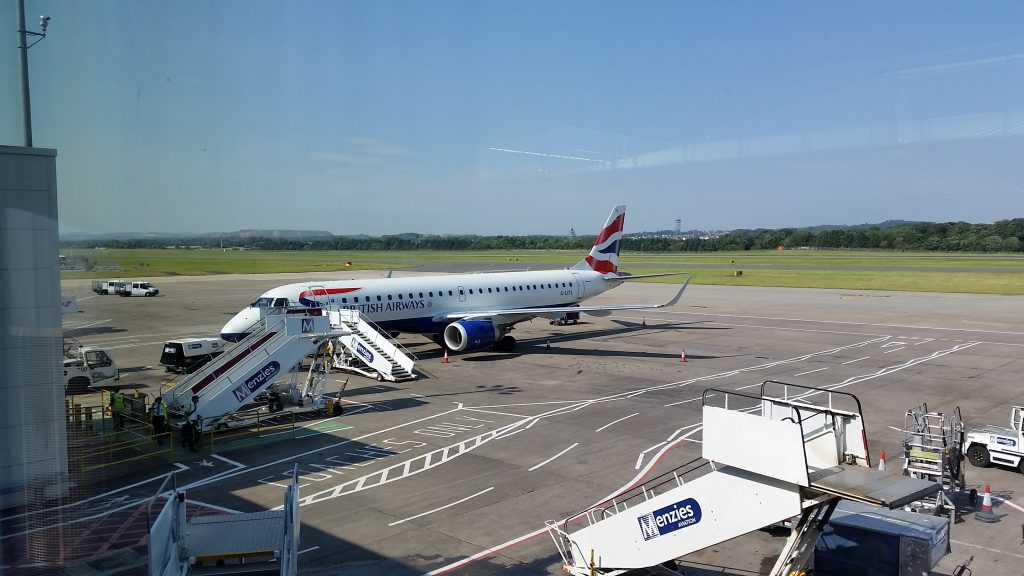 Nothing too much to report about the flight except that we took off in a window of clear skies and relatively calm winds…not at all the weather we'd experienced yesterday. The flight was quick, just over an hour and we landed without a problem at London City airport. Coming into the final approach we had wonderful views of London city and most of its iconic landmarks.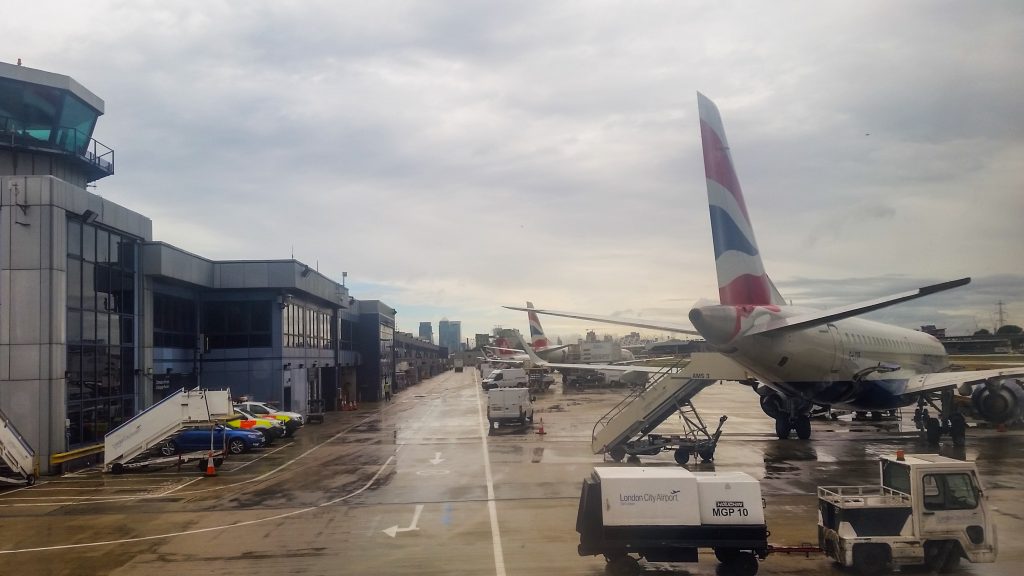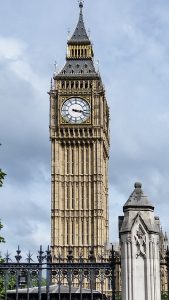 Meeting us at the airport were friends Darren and Ian after our bags were the last two to show up. Just a short walk from the airport to the car and we were on our way, gingerly making our way to their home in Clapham. I could feel the sense of our trip coming to close. Maybe it was being driven around and watching the city go by, or heading to the home of friends, or just having time to slow down and review the entire time away from our home – I don't really know, but I was in a nostalgic mood by time we arrived.
Darren, Ian, and Neil's home is a pre-war (WWII) Victorian that they have been remodeling steadily for a few years. The Clapham area has one of the largest parks in London, Clapham Commons, where dogs and humans ran freely about, all 220 acres of it!  More of that in a minute. After we met the dog and kitty, and settled in to our room, we ventured back downstairs to enjoy some adult refreshments: some wonderful Champagne Darren had selected, Neil offered up a perfect Bloody Mary. It was so good to not be moving any more, though I swear I could still feel the motion of the airplane. Sitting in their modern kitchen, surrounded by good company is never a bad way to wind down a trip and a day of travel.
After a suitable number of cocktails – just enough to vanish that weird sense of being in motion - it was time to gather up our lagging bodies and head to dinner. Since it was a Sunday, Darren had picked one of their favorite places that served a traditional English Sunday roast. I have to say, just writing about it, makes me wish for that roast again. The boys took us around the neighborhood, seeing occasional pockets of 1950-60's housing, so different from the Victorian surrounding them. The blitz on London left parts of neighborhoods bombed out and housing needed to be put up quickly to accommodate the dislocated.  Hence, a very noticeable trait of the city are these pockets of rather plain housing amidst the curving lanes filled with Victorians.
Crossing back to the park, we angled toward our destination cutting across very large greens bisected by paved and gravel pathways. Still in Clapham Common, we arrived at The Rookery ready to eat. The Rookery. It's fashionable in America to call this type of establishment a gastro pub, but this one had none of those cloying attempts at creating an attitude with food. This was a neighborhood place first and foremost, which served hearty English fare turned up a notch.
We were sat at a round table near the kitchen and out of the main bar/seating area, allowing us to hear each other better. We had several rounds of small plates of deliciousness; a generous charcuterie of meats and other savory, salty, sweet treats…and of course wine. Lots of wine. Sunday Roast's and pork were ordered, but we were told that the kitchen had run out of Yorkshire puddings. Darren thought that was simply not a thing that should be missing from our meal…plus we both knew that making the pudding isn't all that troubling and since we had no time rush, was completely possible. Darren ended up, politely, suggesting the kitchen could make it for us. To their credit (and Darren's), the chef saw no problem, and we were all delighted to get our puddings as expected. It pays too, to have regulars with us who knew what was what and who was who. Thanks Darren!
Fully sated and a little tipsy, we made it back through the common in what seemed record time. Why is it that return journeys always seem faster? Something to do with the elasticity of time I suppose. Back home, Steven and I tucked into bed and were fast asleep.
The next morning saw a pretty mixed bag of weather. We talked about strategies for the day given that it would occasionally pour down buckets of rain with strong winds, then dissolve into sun breaks. Darren and Ian did a lot to help us figure out what was open on a Monday and what wasn't. Buckingham Palace, "Buck House," was out, so we settled on taking in the Victoria and Albert Museum.
Mickey didn't want to be in any pictures this day - he was just a frightful mess after being up so late the night before. It think he caught a cold in the rain, poor fella. Have you ever heard a mouse sneeze and blow it's nose? I would be funny if it weren't so sad.