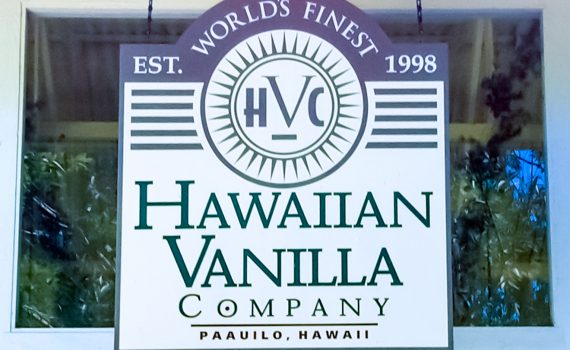 Category:Food,Travel
In Kevin's article about making our Thanksgiving Cranberry Compote he mentioned our vanilla extract. This gave me the idea to write a quick note about it as well.
As you may, or perhaps not, know that Kevin and I are fond of travelling to Hawaii when we can. Our favorite is the Big Island. It's one of the more diverse and for us, the most interesting and relaxing. But having been there so many times, we are always on the lookout for new things to do and try. There's always some we haven't done. Our visit a few years back was no exception. What we found was that there is now a vanilla farm on the island. It's the first, and at the time only, vanilla farm in the US. Simply called Hawaiian Vanilla Company. Check out their website for more info: http://www.hawaiianvanilla.com. It may not sound terribly exciting, but we've certainly never seen where vanilla comes from. Luckily, they offer tours with lunch. We booked for a few days after we got settled on the island as it's on the Hilo (east) side of the island, a couple hours' drive from where we're staying.
We arrived in good time and after checking in we were escorted into the humble dining room along with a number of other groups. Lunch was simple and of course featured their own vanilla in a number of dishes. During the meal introductions were done by the proprietor, Jim Reddekopp. The operation is a family affair. He and his wife quit their hectic careers at the resorts on Waikiki to start this farm and brought their kids with them. All of whom have some hand in the operations and activities of the farm.
After lunch we were treated to a tour of the gardens, kitchens, and vanilla greenhouses led by Jim himself. Before this, we had no appreciation for the level of detail, care and patience that goes into growing some much as a single vanilla bean, let alone thousands. I seems to recall they mentioned having to pollinate the flowers by hand. If you've ever grown orchids at home, you'll know how long they it takes to get a new flower stalk. The vanilla plant, being an orchid itself, takes a while as well.
If you ever find yourself on the Big Island, this is worth the trip to the "cold" side for a day off the beach.
So back to the point of this article. One of the things we learned on the tour was how to make vanilla extract and the difference between pure vanilla and imitation or artificial vanilla. I won't go into this distinction here, but you may want to stay away from anything that says 'vanillin' on the ingredients. The making of vanilla extract is really quite easy. It just takes time.
Here's how.
Ingredients:
8-10 whole vanilla beans
175ml bottle of vodka, rum, or bourbon
Slit the vanilla beans length-wise, you can leave the halves attached at the stem, or not. Do not scape out the seeds. Place each bean in the liquor of your choosing. We prefer vodka as it doesn't impart its own flavor to the vanilla.
Now, place it in a cool, dark place just let it sit, for the most part. I lay the bottle on its side so the beans stay submerged completely. On occasion, when you think of it, give the bottle a little rotation to move things around a bit. You don't need to do much, just enough to redistribute the beans and liquor. In time, a few weeks, perhaps a month, open the bottle and give it a sniff, if it still smells like liquor and alcohol, it's not done. If it smells mainly like vanilla, by all means start using it.
Since we're making it in such a large bottle, it's not convenient to keep this in the spice cupboard. So what we've done is to transfer some into a smaller, brown glass bottle (UV protected) to keep in the kitchen. We keep another whole (slit open) bean in this jar as well.
As you use the extract from the large bottle, it can always be replenished. When about 1/3 down, add another bean or two and refill with more liquor. This will yield a never-ending supply of extract.
We even made up small bottles of extract one year to give as Christmas gifts for friends and family. We used the Amber Boston bottles from Specialty Bottle here in Seattle (phone/internet orders only): http://www.specialtybottle.com with the shrink bands to seal them shut. If I were to do it again I would get the ones with a dropper cap.