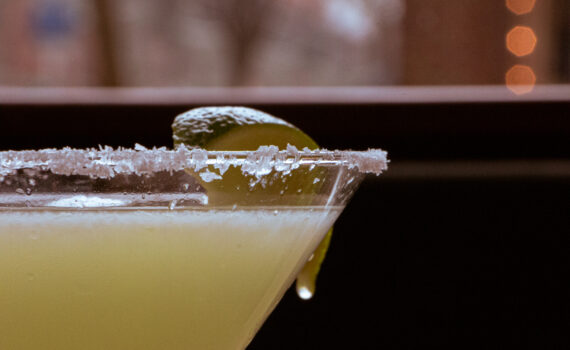 Category:
Food
23 January 2016
by Steven
One of Seattle's preeminent restaurateurs, Tom Douglas, has a program of classes and seminars that he runs out of a kitchen classroom in Belltown. He calls the program The Hot Stove Society. Today they put on a class in food photography to which Kevin had signed me up.
We met at the Hot Stove Society kitchen at the Andra Hotel. Here we were introduced to our teacher, local food photographer, Sarah Flotard. She presented a short talk about her take on food photography including props, color, styling, and some in-camera techniques. Following this talk, we headed over to the Palace Kitchen, one of Douglas' earlier endeavors. Here we were given the opportunity to set up our own food shots using props and ingredients provided by the restaurant. They provided granola & fruit breakfast items as well as the makings for nachos. With an hour+ for each of us to grab a table to set up either or both scenarios, we had to do our own styling and settings before making as many photos as needed get the best shots we could. Sarah and some of Douglas' marketing and cookbook staff were on hand to consult.
We spread out in the front of the restaurant where we had natural light to work with, such as it is in Seattle on a cloudy, rainy day. Some used the tables, others set up their shots on the floor to make it easier for straight over-head shots. When all was done, Sarah asked each participant to submit to her our own best photo we took during the class. Here are, in mind eye, the best photos I got. With the input of you all I chose one to two to submit. Unfortunately, Hot Stove Society never published any of the participant photos and the blog page for the event is no longer online.
Regards,
Steven
Click on the images to enlarge; click on the stars below each to rate.