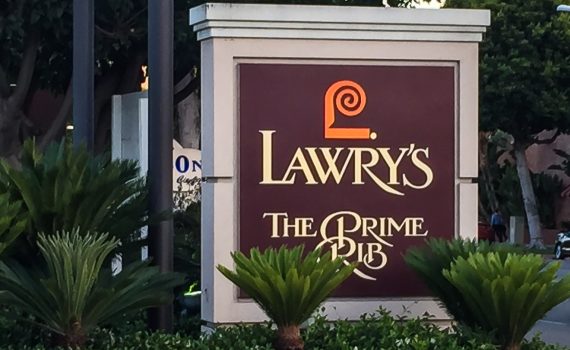 Category:
Dining
May 21, 2016
Seven family members descended upon this Beverly Hills steak house. We had ourselves, Steven's parents, his aunt and two of his cousins. Lawry's The Prime Rib Beverly Hills describes itself as an 'occasion' restaurant, and that it is. From the uniformed efficiency that greets you when you drop off your car with the valet, to the slightly cloying interior spaces evocative of a Hollywood movie set, to the enormous shinning stainless steel steak carts dotted about the several large, open rooms of the restaurant itself, you do indeed sense 'occasion'.
Because Steven and I and his parents arrived a bit earlier than the rest of our group, we sat in the dark wood paneled bar area and nibbled on the free meatballs (yes, meatballs…though there is nothing Italian about the menu) and wonderfully fresh-fried potato chips. After a perfectly executed Manhattan for me and a Bombay Sapphire Martini (up with olives), the rest of our part of seven arrived and we were seated.
 
 
We wanted a round table instead of the one we were to be seated, they moved us no problem. There is a general buzz of activity, made more exaggerated by the large open space of the main rooms. This was a place for happy, convivial dinning with little expectation of intimacy, though there were a few two-person tables, these were in the minority.
Service as prompt, courteous, and not too interfering but not too distant either…at least at the start of the meal. The menus are of the large format, plastic sheathed kind, sort of like handling the Book of Kells. The wine list was separate, but there were also house wine selections on the menu itself. We chose a California, Russian River Pinot Noir, Iron Horse Vineyards Estate 2012 which turned out to be a nice choice that went well with the variety of dishes at the table.
The Lawry's BH is old school in just about every way that implies, reminiscent of some Dean Martin & Frank Sinatra movie set. The waiters and waitresses dressed in cream and brown uniforms, the servers and back waiters in black, and the carvers in their Chef whites. The remnants of a high dinning LA culture, and one you still find in many cities having the iconic steakhouse of old. Of course, the upside to the uniformed regularity, is precisely that it's easy for the diner to know who to ask for what and I imagine it's likewise easy for the staff to recognize who's 'made it' and who's not yet.
 
| | |
| --- | --- |
| | |
The general tone of the menus is old school as well. Nothing surprising, nothing too creative. Bread and butter comes free, a passing reality in many restaurants these days. Plus, the breads were good quality and the butter kept coming. In short, if you're happy with meat and potatoes with a veg side…and who isn't occasionally?…then you'll feel right at home, and more than likely, very satisfied with the experience.
Back to the meal.
Our server came to explain the menu options. There are options for each category of food. For instance, if you want the Prime Rib, then you don't tell your server how you want it cooked. That you will tell the carver when they arrive table side.
Just about everyone gets a chance at the spinning salad, Lawry's small floor show presented by the wait staff. If, like me, you happen not to want to indulge in the meat side of Lawry's, there are seasonal seafood options. I chose the triple lobster tail dinner. I didn't want the rice pilaf…too 90's, so I got mashed potatoes with gravy and al dente broccoli and carrots. I know, pretty strange but oddly it worked.
Steven decided to go all in for the meat and chose the 12oz Jim Brady cut Prime Rib with their mashed potatoes, gravy, au jus on the steak and side of creamed corn…medium rare.
Our wine came quickly and poured for those drinking. The Iron Horse was a nice choice, very balanced with some oak on it and not too fruity. Not knowing much about California Pinot's I had somehow gotten it in my head that it would be too fruit-forward. I was pleasantly wrong on that one…at least for this Russian River example.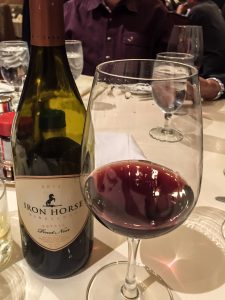 The spinning salad came shortly after the wine. They are efficient. Okay, I am the first to enjoy a bit of theater at my meal, so I have to admit to liking this. The salad itself on the other hand, not too inspiring, but what do you expect from a mélange of salad leafs and a little too much of what looked and tasted like French dressing, with a few croutons. I ate it up for sure, it did hit the spot…like I said, don't expect fine dining by today's standards and you won't be disappointed. As you know by now, Steven is not a salad dressing kind of guy, so he passed on that course.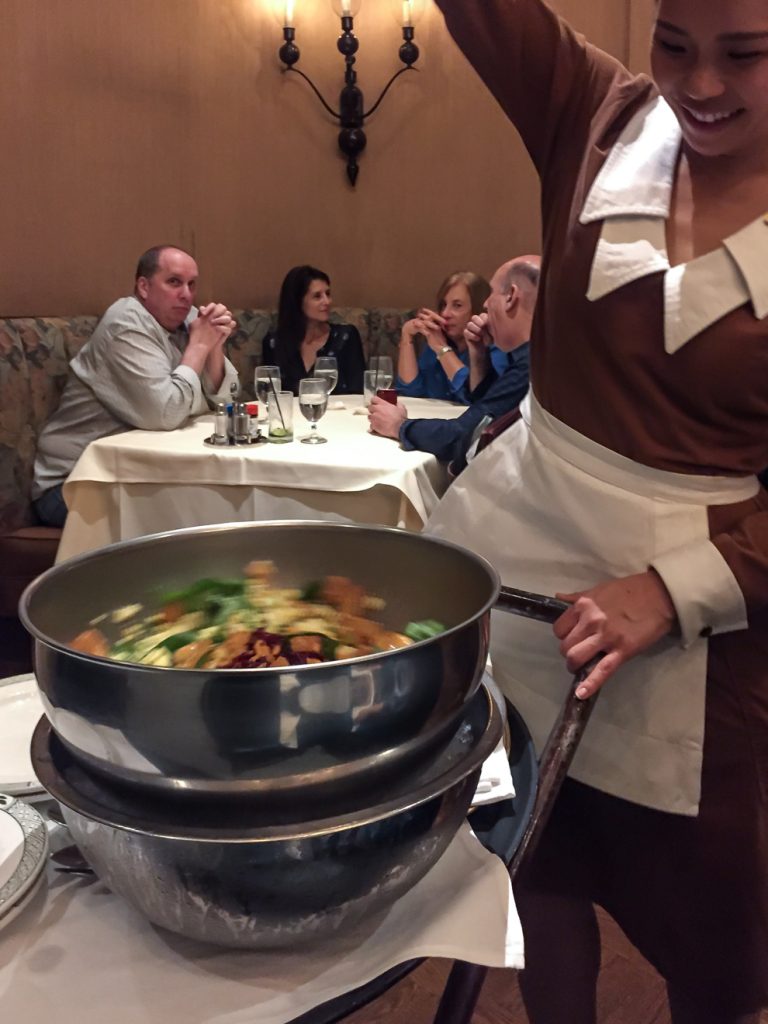 Ah, now to the main event. I'm going to let Steven tell you about his Jim Brady, and I'll get to the lobster trio. Here's a picture of the little sea bugs on my plate.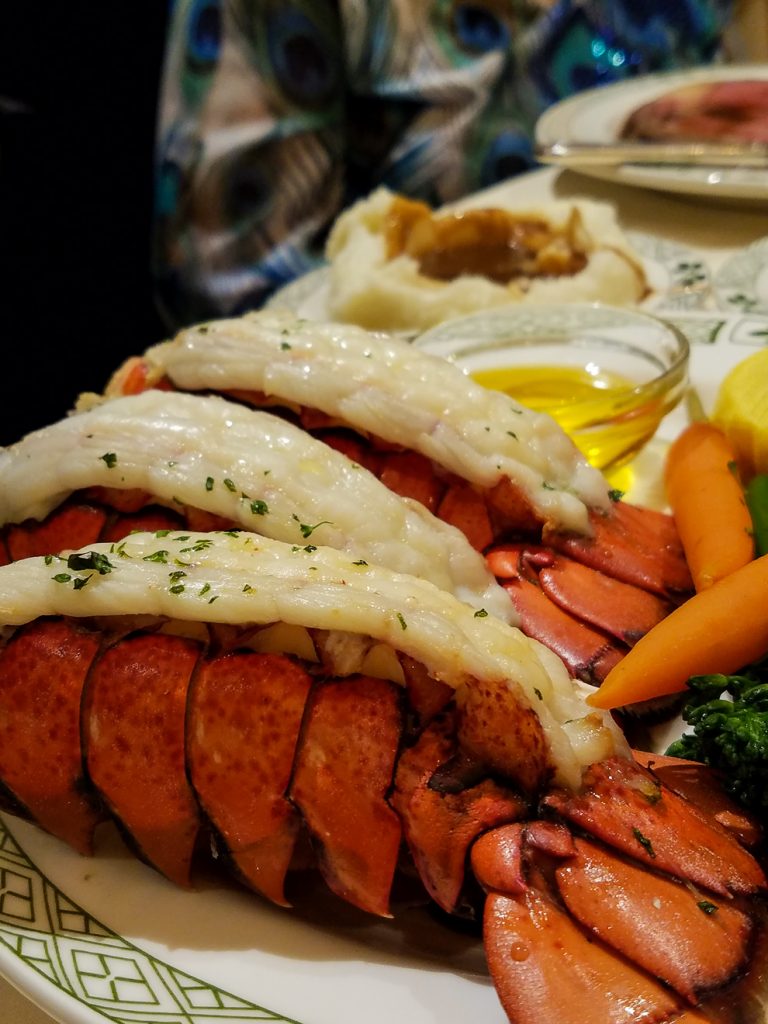 Not bad looking. The presentation of the lobster meat put them up on top of the shells. Knowing seafood gets cold if left too long, I did wait to others got their slabs of meat off the carving trolley, a mistake. The first bites of the lobster were tender, juicy, and just what I'd hoped. The melted, clarified butter…a perfect accent. The veg, well, okay. Not overdone, that's a good thing, but really didn't add much except green to the plate. My mashed potatoes were served on a side plate thankfully. I don't think a plate swimming with gravy would do well sitting with the lobster. Of course there was plenty of conversation, and not to blame the kitchen at all, but by time I shared a few bites with Steven and headed onto the last tail, it was cooled off. I powered through and cleaned my plate. One thing about eating seafood, this protein doesn't get you as full feeling as beef protein, so I was left with a bit of a wondering eye as I finished and the others were still happily chewing and cutting away.
Here are Steven's comments about his meal.
Kevin says the cut I had was 12 oz, I think it was more – at least it seemed like more! Also, as he mentioned, it came with creamed corn and mashed potatoes. There was no real sense of artful presentation – just heaps of sides with a big slab of meat. The wow-factor came largely from the size of the portions. This is truly a Midwest take on a steak dinner. I ordered my prime rib medium rare and indeed that's what I got. It just kills me to hear someone order beef, especially prime rib cooked beyond that. The meal also came with a generous side of Yorkshire Puddings and we also ordered sauteed mushrooms (an odd combinations of white buttons and shitakes - tasty, just a little odd). I think I was about the only one who had any.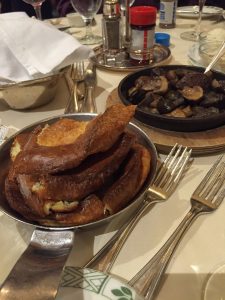 As you can imagine, it took me a while to work through it. Those who know me of chide about how I eat one thing and then move on to another (OCD much?). With this much steak to get through, I had to take time to rest and make it around the plate from time to time. By half way through, the plate was kinda a hot mess. The au jus was getting thickened by the mashed potatoes and the creamed corn was starting to run. But I ploughed on determined to eat it all. Of course sharing a few bites with Kevin. Also slowing my progress was the fun time I was having chatting with my cousins Linda and Grady.
By the time I got near the bone, Kevin had enough with me struggling to get the last bits of meat free, he stole it from my plate to cut it for me claiming I was having trouble because I'm left handed – which my Mother chimed in the her version of "ain't that the truth!" He quickly found out what I had already know: even though the bulk of the steak was perfectly done, near the bone was a little under cooked and sinewy. We both gave up and called it done.
Next up – dessert.
There were the standard fare of selection that you would expect from such a place: Crème Brulee, Cheese Cake, Ice Cream. But what they are most proud of is their Chocolate Fudge Cake – What could be wrong with that??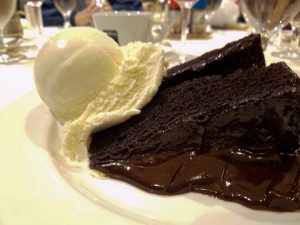 I dug into the cake while Kevin headed for the Crème Brule. Kevin's portion was reasonable. Mine, on the other hand, was insane. But it was sooo good!! Perhaps not terribly original. Dark chocolate cake smothered in fudge sauce. There were even still partly un-melted blocks of chocolate fudge still in the sauce. The ice cream tasted like homemade.
I'll let Kevin tell you about his dessert.
Crème Brule. Not exciting, little vanilla scent or flavoring, and a rather basic custard. Nuff said.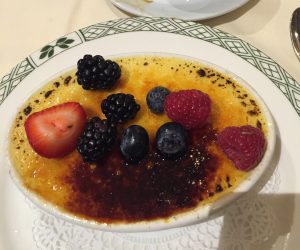 With that, our dinner was over and our credit card company happy to have joined us this evening.
It was now time to part ways with Grady and Linda with hopes of seeing them again soon.
If you find yourself in LA and want to have a dinner with a bit of mid-century nostalgia, I can't imagine where else to try with the Brown Derby long-since gone. Don't let me mislead you, it won't be cheap. But it will also be an experience you won't soon forget.