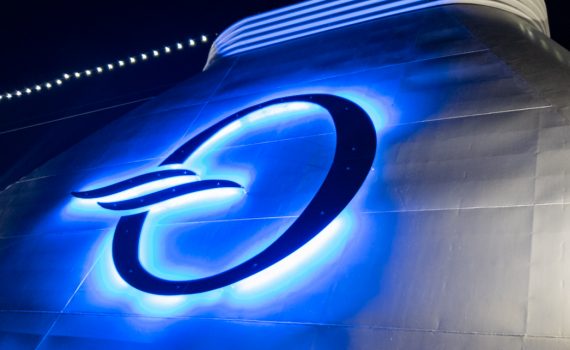 Category:
Travel
Barcelona, Spain
November 2018
Here are a few more photos of the Oceania Riviera from our trip from Barcelona, Spain to Miami, Florida. November 13-28, 2018.
The Riviera has an amazing number of dining venues for a ship of its size. There's The Grand Dining Room, Terrace Café (the buffet), and the poolside Waves Gill. All are open for breakfast, lunch, and dinner. No reservations needed. Additionally there are four specialty restaurants: Jacques (Pepin) Bistro, Red Ginger, Polo Grill, and Toscana - all open for dinner only by reservation but still without cover charge. On top of all that you will find Privée which seats 10 for private dining; $120 for the entire room, and La Reserve in collaboration with Wine Spectator. La Reserve offers wine pairing dinners for a nominal fee, by reservation as well as hosts wine tastings and other wine-centric events during the day.
If that is not enough, you'll find Baristas overlooking the pool deck for an espresso or other barista style beverages. At 4:00 you'll be able to attend Afternoon Tea in Horizons, the large lounge toward the bow. If you're booked in a Concierge Stateroom you will have access to the Concierge Lounge with coffee, tea, soft drinks and snacks. Guests in the various levels of Suites will be able to visit the Executive Lounge with similar amenities.
And of course you can dine in your room.
All these venues offer great food in beautiful surroundings. The staff usually attentive with senior staff being particularly helpful (Thank you Nino Lieassi and Maximilian!) even if their more junior staff at times could use a little more training.
All-in-all, we really enjoyed the food. Very few misses but many dishes hit out of the park! It's not revolutionary, for the most part, but excellently executed. The most adventurous we found was in La Reserve. We did not take advantage of Privée as we didn't have a large enough group, early enough in the cruise, to make it worthwhile.
We'll post more about the food in future posts - stay tuned.
The Bars
As mentioned above, Horizons sits at the bow on Deck 15 (highest deck without being outside). During the day, this is a open and bright lounge to just sit to read, chat with new friends, or enjoy and afternoon cocktail/mocktail. It features a champagne-starring Afternoon Tea at 4:00. Later in the evening you'll find dancing to live music, whisky tastings, and friendly bar staff. In all a great gathering place!
Martinis sits at mid-ship on Deck 6 with comfortable sofas and piano music in the evenings. This place was always full whenever we passed through after dinner. Next door was the Casino Bar (with it's original Picasso etchings!). Opposite this was the Grand Bar which was a favorite spot before dinning in the Grand Dining Room. During the day you'll get your G&T, Bloody Mary, or a beer at Waves Bar next to the pool.
The Art
This ship is a floating museum! We didn't take many pictures of the art, but rest assured, this ship is well decorated. Most of it is modern art is from the 19th and 20th centuries, including the already mentioned Picasso etchings was well as pieces from Miró. In the spa you'll even find a couple of 12th to 13th century statues from Angkor Wat. The collection was curated and collected by the cruise line's founders and their wives. Read more about that HERE. One fun activity onboard was the art scavenger hunt. We were given a booklet with about 60 images. Each image was of a painting, photograph, sculpture, or sign, or just a minute snip-it thereof. It took several days of working at it off and on to find and identify (piece name, artist, and deck number). It was fun meeting other people about the ship wandering around with their sheets. Most people were happy to help others out with hints and pointers. The best part about it was just getting so many of us to actually look at the art. We noticed it, of course, but probably wouldn't have otherwise really lookedat it.
A book about Oceania's art throughout the line is available on Amazon:
One thing you can't miss is the main atrium. You can't help but notice stunning the Lalique starcase!