Category:Dining,Food
It's been a while since we've been to Orfeo but we wanted to finally get around to writing up about it. We've enjoyed the food here immensely and the staff has all been more than welcoming.
First, Orfeo is located in Seattle's Belltown neighborhood at 3rd Ave at Blanchard (2107 3rd Ave, to be precise). They're open daily from 4-10PM with Happy Hour from 4-6PM. This is the old Brassa location.
The claim-to-fame here is their wood fired oven and charcoal grill. Much of the menu is centered with a focus on Italian dishes. The wood fired pizza is to die for! More on that later.
Our first foray in Orfeo was with our friends Todd and Mark just after they first opened. I'm sure it's not the case, but it seemed like we had just about everything on the menu - from the Charcoal Grilled Octopus to the Seared Scallops Alla Puttanseca and the Pork Chops with Foie Gras Butter. We really could hardly stop ourselves from ordering more right down to the molten chocolate cake with cherries and the house made sugar donuts.
Our next time in was several months (a year?) later when we got an email about their wood fired oven. Apparently, Chef Davis, has devoted many hours to perfecting, of all things, wood fired pizza. How could we resist?
Kevin emailed me: "Hey Steven, let's go for Happy Hour and get some pizza!" What a treat. Great crust, pepperoni cut just thick enough to become little cups of pepperoni "juice." And a sauce that's not too sweet, not too tart. Of course, we had to have some oysters on the half shell while we waited for the pizza. And great conversation with the bartender.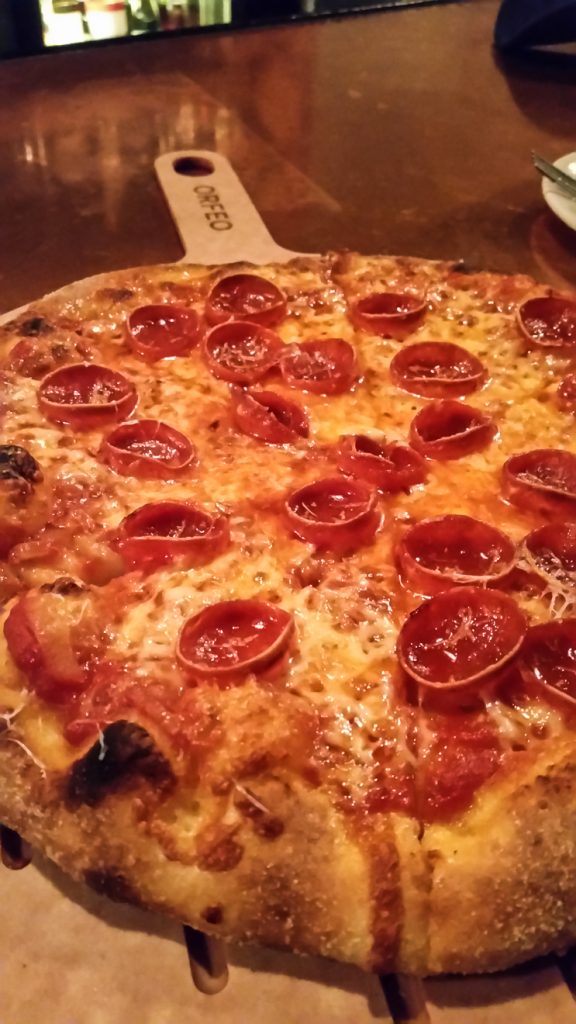 Our last trip to Orfeo was once again for happy hour. This time we enjoyed some clams from the wood oven then shared the Pittsburgh Style New York Strip with garlic butter mushrooms.
A little bit of background - Orfeo is owned by the husband and wife team, Kevin and Terresa Davis. Check out their other places in downtown Seattle: Steelhead Diner in Pike Place and Blueacre Seafood in Downtown. Both are excellent places for "standard" and "unique" seafood respectively. Steelhead also makes a darn good burger.
Once you make a reservation through their website, you'll begin receiving emails announcing their weekly specials. They offer up some truly amazing original dishes.
Perhaps you'll find us at the bar for happy hour some time soon.