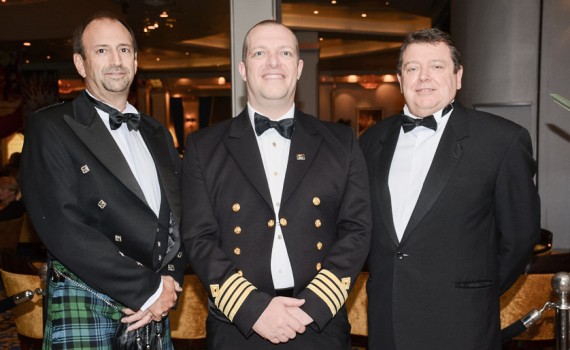 Category:QM2/Scotland,Queen Mary 2
By Steven
So, we've already covered our departure from New York and the food aboard. But we haven't talked much about the day-to-day life and activities on board the ship. I'll try to keep this as brief as I can to cover the six days on the ocean in one post – partly as that's all there is to say and partly because we want to move on to writing about our time in England and Scotland. I'm writing this on day 19th day of our trip, but the crossing ended on the 11th – yes, we're a little behind in getting things posted.
We had expected that life on the QM2 would be a little more than relaxing and being fed – we were a bit off on that assumption. There was certainly plenty to do – too much even. We had three Formal Nights, the remainder being Informal, which weren't exactly casual. We fairly quickly got the hang of the layout of the ship (mostly).
Each evening, as Kevin mentioned, we received the ship's newsletter for the next day. It talked about the ship's path, a brief weather forecast, and then the list of the day's activities. This list was extensive; shows, guest lectures, seminars, shopping specials, afternoon teas, dance classes, drama classes, bridge tournaments, ping-pong tournaments, and on, and on. And something called "Friends of Bill" which we never could out what it was. Thanks to seasoned traveler friends David and Tony, we knew what Friends of Dorothy was – a gay/gay-friendly gathering in the forward Commodore Club each afternoon at 5:00. We tried to make it to this each evening but often time got away from us and we didn't get there. On the nights that we did, we were really quite surprised at the number of gay men and women who were aboard. In fact, on the first evening that we went, there were so many of us that we had to create and "annex" to the area traditionally allotted in the bar. We met a number of people with whom we hope to keep in touch with. Now I've digressed from how a typical day progressed.
We had the option of having breakfast in our suite or at a number of restaurants. The first morning, we opted for breakfast in bed having hung our order on the door before going to bed. We over-ordered just a little. It didn't seem like much on paper but it arrive with five domed plates, two pots (coffee and tea), orange juice, enough toast and bagels for an army, or so it seemed.
After that, we limited ourselves to maybe a bagel and the meat/cheese plate or even just juice and coffee early followed by a trip to the Princess Grill where we were entertained by our pastry lady – "You like lovely pastry this morning? We have beautiful pastry – you will like. Just one? You should have two, they're delicious pastry – beautiful…….." (pic below) – we saw her again at lunches, but nowhere else on the ship or at any other meal service – steadfastly, she was there with her beautiful pastries and red glasses each morning.
| | |
| --- | --- |
| | |
While having our room-service coffee, I would take a few pics of the morning's weather from our balcony. As you can see, they mostly started out rather grey and overcast, but warmer than one would expect. Other than the first day (or was it the second?) the day's turned out just gloriously sunny. It must have been the first full day at sea that was cloudy as that's when we bought the 6-day Canyon Spa pass thinking that we would be in the spa the whole crossing. We may have over-bought as we only ended up there a few times. But it sure was nice to sit in the relaxation room in our warm robes and slippers with our hot tea watching bundled up folks walk around the Promenade Deck just outside the window – Oh, so sorry, this seat is taken!
Back to the daily routine, such as it was. After breakfast, in whatever form, there was just a short time to either relax, in the room, on deck, or in the spa, before it was time to eat again. It didn't help that we had a one-hour time change five of the seven days at sea, always at noon. At 12:00 it was suddenly 1:00 and an hour closer to missing lunch.
A couple of times when the sun was out in the morning, we would find ourselves on the Grills Deck on deck 9, aft. This quiet deck, set up with plenty of deck chairs and a hot tub was a couple decks above the main pool. It was quiet, but the main pool was visible a few decks below and further aft. While the main pool was always lively with families and others, the Grills Deck was peaceful. Snacks were served around noon and a server was always on-hand for a Bloody Mary or whatever your fancy. – nicer pool towel, too.
| | |
| --- | --- |
| | |
Otherwise, there were haircuts to be had. Kevin made an appointment with the ship's chiropractor about the shoulder he strained somewhere along the way. We tried a couple times to get tickets to the planetarium but apparently you need to be in-line well before 9:00AM to get tickets for that day's showings. We missed out a couple of times until we found out that the Grills Concierge always had tickets for the Grills cabin guests. So we finally saw one of the planetarium shows near the end of the crossing – interesting, but not worth getting up early to stand in line for tickets. It was a movie about mapping the cosmos, narrated by Tom Hanks. The earlier ones were about the search for alien life and manned space exploration (I think).
Invariably, the morning was gone before we knew it and lunch in the Grill was over. So we were left with our only choice being the buffet in Kings Court. This was hit or miss. Some things quite sufficient and some, like the hot-and-sour soup, were the worst things we had on the ship (in fact that particular soup was about the worst I can remember, ever, anywhere). Then, it wasn't long before it was time to get ready for Friends of Dorothy, if we remembered, or get ready for dinner.
One of the mainstays for the QM2 is afternoon tea. We only planned on going to the Champagne Tea that Kevin mentioned in the last post. Other basic tea offerings were available in The Queen's Room which Kevin B and Charmaine report as being packed. On the last day, they also found that Queens Grill Lounge also had a lovely tea – who knew?
As I mentioned, three of our nights were formal. The first one also coincided with an invitation to the Captain's Champagne Reception in the Queen's Room. We got all dressed up and met up with Kevin B and Charmaine and headed down. We ended up in the line for meet-and-greet with the Vice Captain, which we did. But not to be thwarted, we went to the other entrance to get our photo with the Captain as well – but it didn't turn out well so we didn't buy that one. The reception was short, though with sufficient champagne and included a short talk by the captain and introduction of the heads of the major departments: purser, chef, hotel manager, etc and an accounting of how many passengers for what countries. All was translated into German and French. Then off to dinner. Then back to Queen's Room for a few more cocktails and dancing at the 175 Ball, in commemoration of the 175 years since the founding of Cunard Lines.
[Kevin here, just as a quick side note; we danced together at the 175 on the big ballroom dance floor, drawing a bit of attention, though it seemed pretty positive. Picture a grizzled old fellow with medals on his dinner jacket (half sleeping) opening any eye to seeing us move about the dance floor, only to shut his eyes again the next moment. I guess we really are passe now. We caught the attention of one of the dance partners for hire that Cunard supplies who gave us a little nod of appreciation. Later at another event, he came over to us and thanked us for getting out on the floor and dancing together.]
Most evening weren't this busy; typically Friends of Dorothy (if we remembered to go), dinner, and then most likely back to the Commodore Club with Charmaine, Kevin B and Bruce and Nancy. Or some variation thereof.
So, all said, there wasn't much time for naps and massages.
I just happened to wake up early on the morning we were to arrive into Southampton. I was, well, you know…doing as one does in the mornings, when I felt a difference in the vibration of the ship, as if a reverse thrust was momentarily engaged. Looking off the balcony, I saw that we were going quite slow. Then a pilot's launch rounded the stern and approached the starboard side out of view due to the life boats. Our harbor pilot was now on-board to get us into port. No going back to sleep now as I was wide awake. By the time we were maneuvering to dock, Kevin was up as well. [Actually,I (Kevin) was rudely woken up when Steven said it was already 7am and we needed to get ready to leave...turns out is wasn't even 6am yet.] It was quite something to see how this is done. We pulled up along and perpendicular to berth at mid-ships. Then quick as you please, the side thrusters at the bow and rotating propeller blades as the stern pivoted the entire ship and backed us into the birth. So gently and precisely done – as if they've done this once or twice.
Quick to breakfast and final packing. The main bags were packed the night before and placed in the hallway by midnight to be transferred off for us. If we had been in a hurry to disembark and could get our own luggage off the ship, we would have left as early as 7:00AM – though we heard that was delayed slightly due to problems on the dock. Out of the rooms by 8:00AM and to our assigned disembarkation waiting zones by 9:00. We were off the ship by 9:30. Luggage waiting and ready for us.
A far too quick farewell to Kevin B and Charmaine as they head for the train station and London, we were soon greeted by our friends who live in Christchurch near Southampton, Karen and Digby, to begin the rest of our adventure.
I fear I haven't been as brief as I set out to be, but at least it's the last post about the boat.
Oh, I almost forgot to mention one other thing. On our first night I awoke around 2:00 and saw flashes of light coming in around the curtains. On stepping out on the balcony, I was greeted by one of the most brilliant lightning storms I've seen in a long time. Kevin and I sat out watching it for quite some time until it got a little close for comfort. So we watched from inside for a while. I think the closest it got was maybe a mile or two away.
Final thoughts: don't try to do too much. It was fine to learn about all the options on this first go just to get to know what can be had. But if we do this again, as I suspect we may, we'll spend more time just relaxing and being pampered.
As unreal as it seemed to us to actually making this crossing and being on the QM2, it was just as unreal to believe that it was over - until next time.