Category:QM2/Scotland,Scotland
21 August 2015
by Kevin
Friday, we woke to partly cloudy and humid day. Roving showers tested our ability to plan our wardrobes for the day. In the end, we went with our Seattle experience and layered up. On our docket this day was visiting two sites and more if we could: The Royal Yacht Britannia and the Palace at Holyroodhouse. Edinburgh Castle would wait until the next day.
Breakfast at The Place was, well, another interesting adventure that started with high expectations. The breakfast is held in two areas, one at the front of the hotel with nice views of the street scene with all the early morning off-to-work crowd and the other at the back that functions also as a passageway to the part of the hotel in which we were housed. We found seats easily and settled in to take in the morning commute outside our window. The occasional ruggedly handsome, kilted businessman passed by but mostly there were saggy jeans on the young and very tightly tailored jeans of various pedigrees with tasteful jackets on those we could assume were heading to some office. Back to the breakfast.
Once again as had been our experience previously on this trip, the staff seemed nearly out of control with all their rushing about and panicked looks. They appeared to be only capable of doing one thing at a time. First the coffee, then, oh, right, forgot the teas. Overhearing a table of retirees on their way shopping that morning, I gathered they took the matter of not having enough tableware into their own hands and pilfered what then needed from where ever they could. I decided to order something hot, two eggs sunny side up and homemade lamb sausages, as I really don't like 'trough food' that has been sitting out and been handled by the guests. Steven does well enough with the orange juice, toasts, hard-boiled eggs, and charcuterie available. Eventually, my order came after a complete change of diners in our room. The food was pretty good though and I devoured it straight away.
Our first task after food was to go down the hill to Princes Street Gardens and purchase our combined tourist bus and attractions tickets at the blue kiosk by all the buses awaiting their customers. It took a bit to locate the very small, almost hidden and closed looking blue kiosk, which had been described to us by the helpful folks in the tourist office as a blue building. We were looking for something well…more like a building. Our mistake. Having our tickets in hand and glancing at our watches to see when the next bus would take us to the Royal Britannia, we thought we had about 15 minutes wait so we just started to look around the area, take a few pictures and wait. I noticed, when we were about half way down the bridge crossing a long-since drained and filled swamp separating Old Edinburgh from the new, in the shadow of The Scott Monument, that our bus had pulled up…a full 10 minutes ahead of time. Catching Steven's eye, we rush forward through the aimlessly wandering tourists, establishing our 'we mean business' formation and skirted by most of crowd, which somehow had managed to quadruple in size in mere moments.
ARVE Error: Mode: lazyload not available (ARVE Pro not active?), switching to normal mode

We were nearly the first on the bus, so we had a good choice of seats. Note to anyone traveling this way to the Britannia, taking the upper deck is worth the effort, if it's not raining. Being it was threatening rain and very humid, we were quite pleased we'd kneed and elbowed our way on to the top deck….just kidding, no infirm or older adults, children, or pets were harmed during our egress.
The trip out to the mouth of the River Leith where the Britannia is moored at the Ocean Terminal is about 30 minutes by bus and wasn't all that interesting. I passed the time looking at the guidebook and maps trying to keep up with all the hairpin turns we were making on our way there. I lost track. Steven donned a pair of headphones (provided) to listen to the recorded commentary as we whizzed by the sites; he readily admits that he doesn't remember of word of it. We arrived slightly refreshed and eager to get on with it.
Cue music: Rule Britannia, Britannia Rule the waves….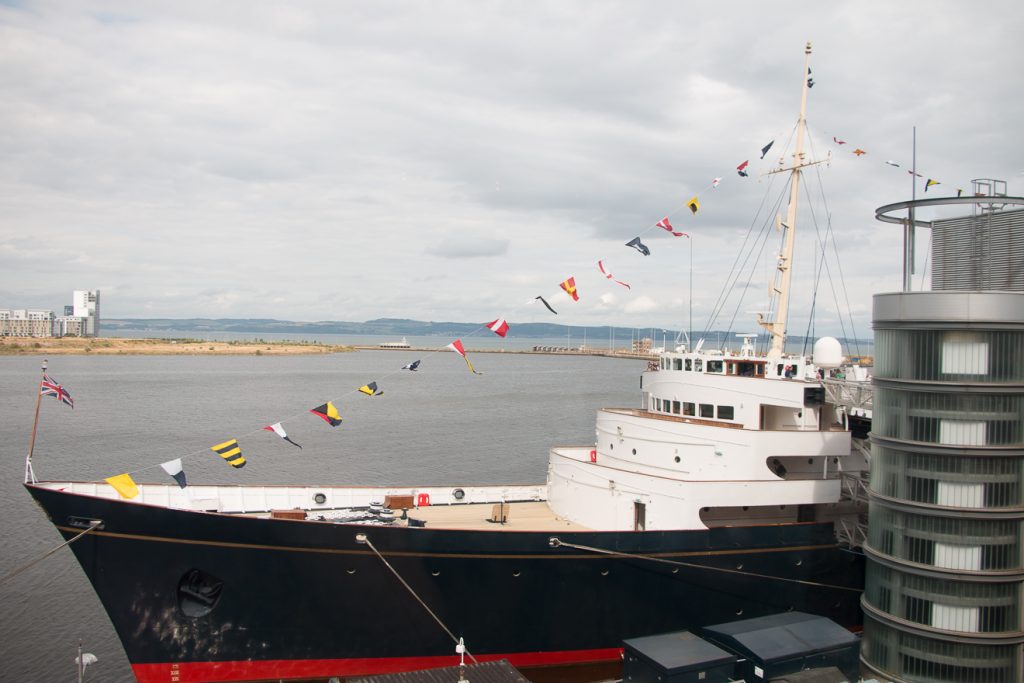 The Royal Yacht Britannia has a fascinating history for it's relatively short time in service to HRH Queen Elizabeth and the Royal family. You can go here to read more if you like: http://www.royalyachtbritannia.co.uk. It is now permanently moored at a modern shopping mall and is a very popular tourist attraction as the crush of buses could attest. Finally on board we passed a very nice short history of the vessel and those who were lucky enough to travel upon her. You know the names: Lizbet and Phil of course, Diana and Charles, the boys, several US Presidents including Clinton #1…perhaps there will be a President Clinton #2????
The assorted pictures here tell something of the experience, but frankly, they can't convey how stately she appeared even in her waning years. There are the main rooms open to the public, but two additional levels not open to tours and held for overnight guests. The Queen's and Prince Philip's bedrooms are across the center hall from each other amidships, the most stable place on any ship. Light colored fabrics in hers, a single bed (no trysts on board I guess), a small working desk. The main dining room ran the width of the vessel and was set as if a party were to soon begin. Just aft from here was a small reception room set up as a champagne bar (yummy) that lead into a large and very comfortable looking living room complete with fireplace. Ah, life aboard must have been sweet.
If you do go, look out for the hidden corgis. Small stuffed versions of the Queen's favorite dogs are all over the place; some stuck up high on shelves next priceless gifts from on of the former territories or just sitting sprightly on a bed.
There was of course lunch to be had about now, so we climbed up to the Royal Deck Tea Room and were seated quickly. Tea was a must, how could one not? Soups and sandwiches did the trick along with a ginger beer. After a bit of people watching – hoping secretly to see a Titanicesque young child being shown how one folds ones napkins on the lap just so. Alas, we were only treated to see many texting or engaged in some social media postings.
After lunch, we headed to the lower decks. As sumptuous as were the upper quarters, these were just as Spartan and cramped; minimal room for personal belongings and a small cot for each seaman. The various ranks of officers, of course, had more space, if not even their own stateroom. Each level of officers also had their own lounge with bar. These were actually quite nice. After the tour, we disembarked, passing Her Majesty's beautifully restored tender complete with gold plated lions and shiny brass cleats.
Back down through the mall to find a bus, not a long wait. We decided to next visit The Palace of Holyroodhouse. The twisted journey took us past the Royal Botanic Gardens and back across town near Holyrood Park with its Salisbury Crags and Arthur's Seat, the ancient volcano, hanging above the city. A hike up that way will have to wait for another visit. We arrived at Holyroodhouse once again rested.
The Palace is a royal residence to this day and known to be one of the final residences of Mary Queen of Scots. Like most well-used castles and great houses, Holyroodhouse Palace was built over successive centuries and it shows. There is little blending of architecture and interior style, with each addition still fairly distinct. You really got the sense of traveling through history while walking the vast, square building finally ending in the oldest part of the palace where Mary was kept.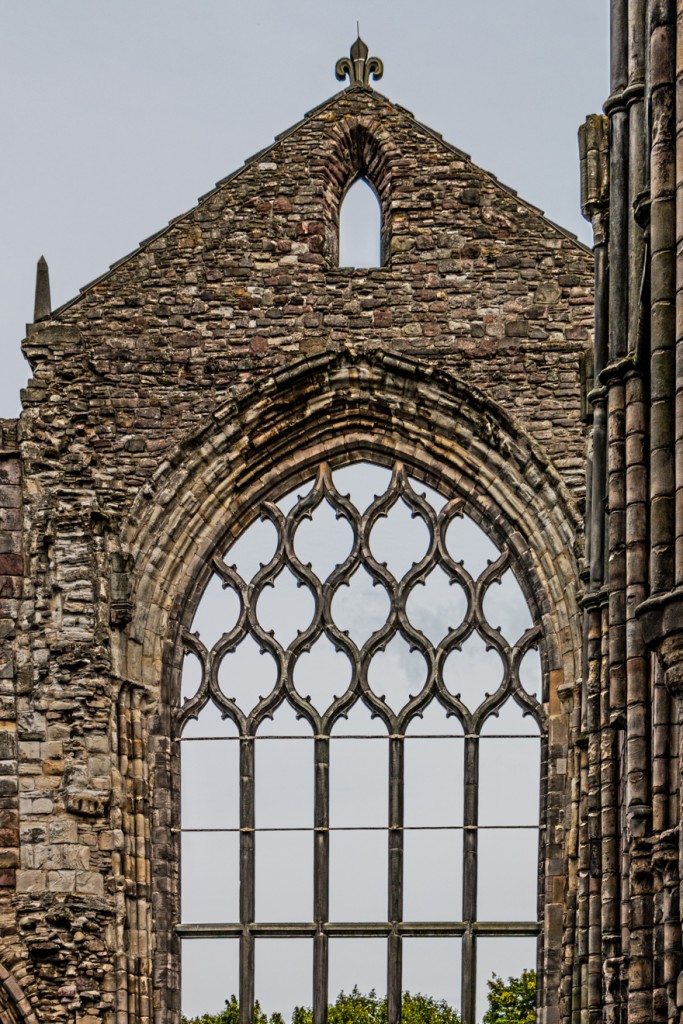 After walking a bit around the gardens, it was getting late, my back was aching and my feet were humming, so we decided to catch another tour bus that would hopefully end us close to where we were staying. But not until we've sat down for a moment for an afternoon tea in the courtyard.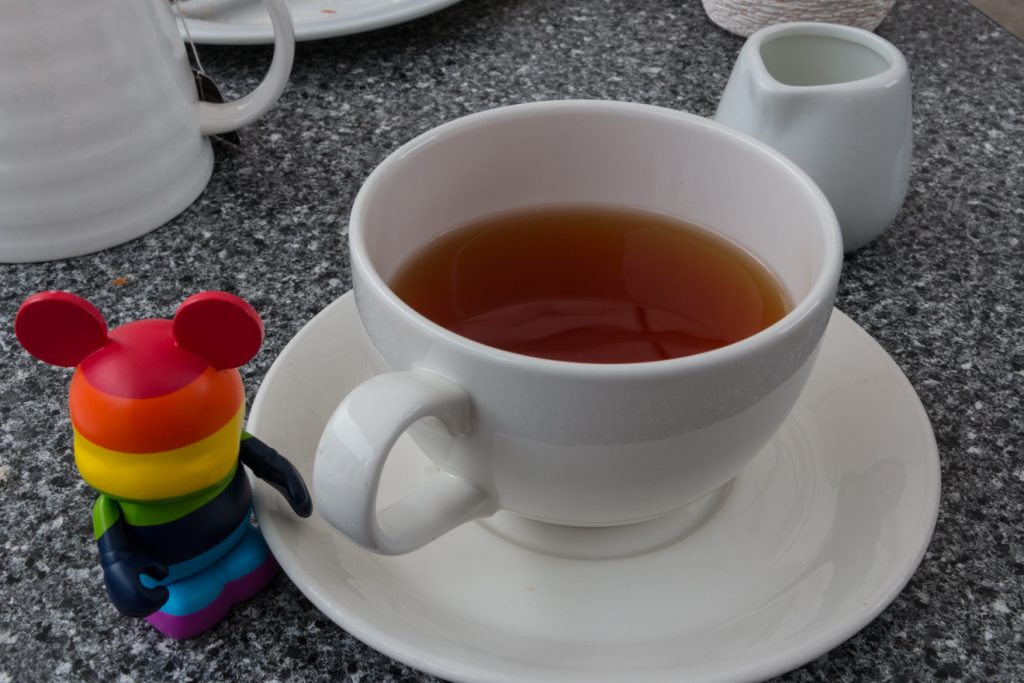 What a surprise to quickly be engulfed in the massive crowds gathered in Edinburgh for The Fringe Festival. The regular bus route was altered to avert the Royal Mile, which was currently used as a giant venue with mini stages set up all along its length. I was particularly grateful to see it all, as colorful and wonderful as it looked, from a slight distance. We ended up crisscrossing several of the cities bridges, each affording us great views. The bus dropped us at the bottom of the old city, and a big hill climb up to the Mile.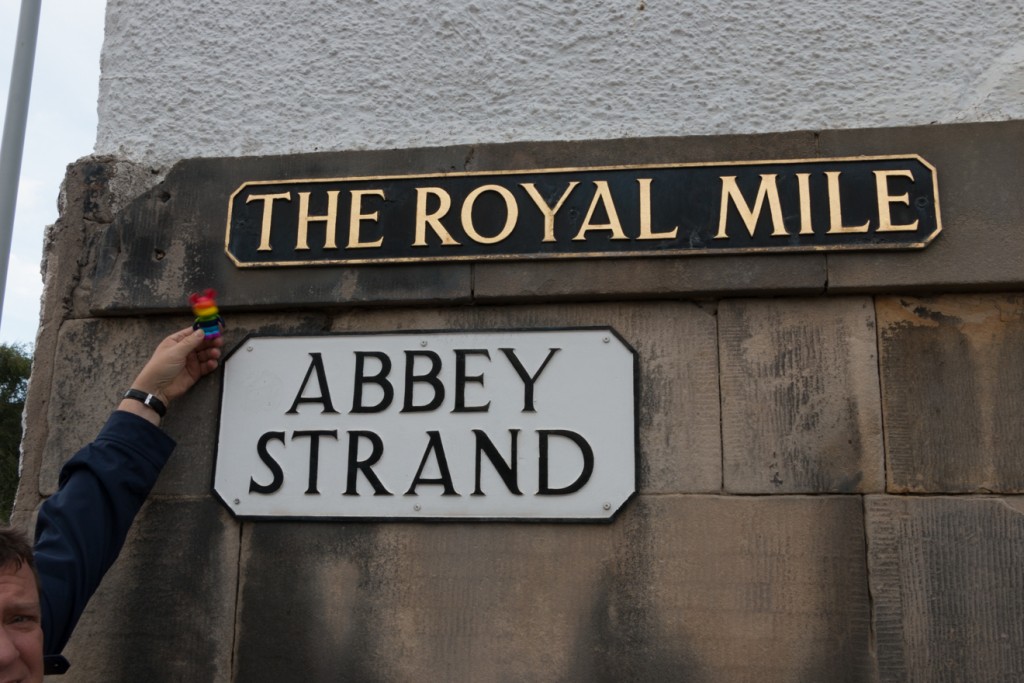 Finding our way up the hill to the crowds wasn't hard…just follow the steady streams of humanity and you're there. Once back on the Mile we just wandered about; listening to street performers, watching a Japanese troupe entirely clad in white with white faces tease tourists with their trailing white veils, and taking in a local cathedral requisitioned this week for the Fringe.
We popped into St Giles Cathedral for a quick look. We found a flyer for an organ concert on the next night which would have been interesting, but we had other plans.
This kid, couldn't have been more than 12 or 13 years old, was really killin' it up on the Royal Mile.
ARVE Error: Mode: lazyload not available (ARVE Pro not active?), switching to normal mode

I was pooped and my back was getting progressively worse, but I knew Steven could go on and on and on. Gracious as he is, I held out probably too long, not wanting to end the day too fast. By time we headed down the long, steep close back to the other side of the city, to make another climb up to our hotel, I needed some down time. We had dinner at an unremarkable Italian place, Amarone. Inside was a great bustle of noise so we chose the more immediate outside seating as it was quite pleasant out still. After dinner we headed back for the evening through the seemingly on-going party in St Andrew Square. A quick stop in the hotel bar for some ice for our nightcap. I enjoyed the last of our gin & tonic while Steven sampled from our otherwise growing collection of mini-bottles of whisky.