Category:QM2/Scotland,Scotland
22 August, 2015
by Steven -
After a busy day the day before and knowing that we will be having another long day, we decided to take our time getting going on this second, and last, day in Edinburgh. Last full day in Scotland, actually.
We did make it down for breakfast in the morning. Same routine as yesterday: a harried staff with too many guests to serve in the completely full breakfast room. We managed to get enough to hold us over for a few hours then headed back to the room to get ready for the day.
First order of business was to find out where to pick up our tickets for this night's show (I'll tell you more about this show in a bit). I pulled up the confirmation and you won't believe what I found. It had been so long since I bought these tickets that I had forgotten a very important bit of information. Along with the show tickets I had bought 2-day passes for the hop-on-hop-off buses with admission to Britannia, Holyrood and Edinburgh Castle. The same package Kevin bought us for yesterday! What to do? Certain that they were non-refundable, we thought it worth the try to see if we could get a refund. So much for having a leisurely morning. Off to the ticket office.
We found the ticket office without too much fuss and explained the situation. Sympathetic as they may have been they didn't think there was anything to do other than try to talk to the bus people. So back to the bus ticket window we go. But no luck there as we had already used the tickets we bought from the them and they couldn't do anything about the tickets I bought with the show. Back to the show ticket window. As I say, the people there were really sympathetic. To the point that the manager offered to take back the bus and sights tickets and sell them to anyone else who might want them. If that happened they would refund our money. Though it was late in their run, she was hopeful. Since we had no better option, we accepted her offer.
Lesson here: review your confirmations!
When we left the hotel this morning, we knew we wouldn't be coming back until late in the evening and I wanted to wear my kilt to the show this evening. So it was going to be a full day of knocking around Edinburgh in a kilt. Fun for me, perhaps a little embarrassing for Kevin, c'est la vie! The annoying part of that though are the shoes. I bought a higher quality shoe than I perhaps need, but thought these should last a lifetime. The only problem is that they have a little brass bit on the heel. They are the clickiest things on concrete and stone! Click…click…click, every step I take. Perhaps a good thing if you're in a military bagpipe band, not so much when you're trying to be an inconspicuous tourist. But I digress.
First stop of the day is Edinburgh Castle. We still have the bus passes but the route would take us all around the city before getting to the castle. Quicker to just walk up the hill. We easily found the alley, "close," as they call them, that we came down yesterday to take us back up. This put us right back into the middle of the fringe festival street fair with the myriad street performers and buskers. We took a moment to check out a few before heading on to the castle.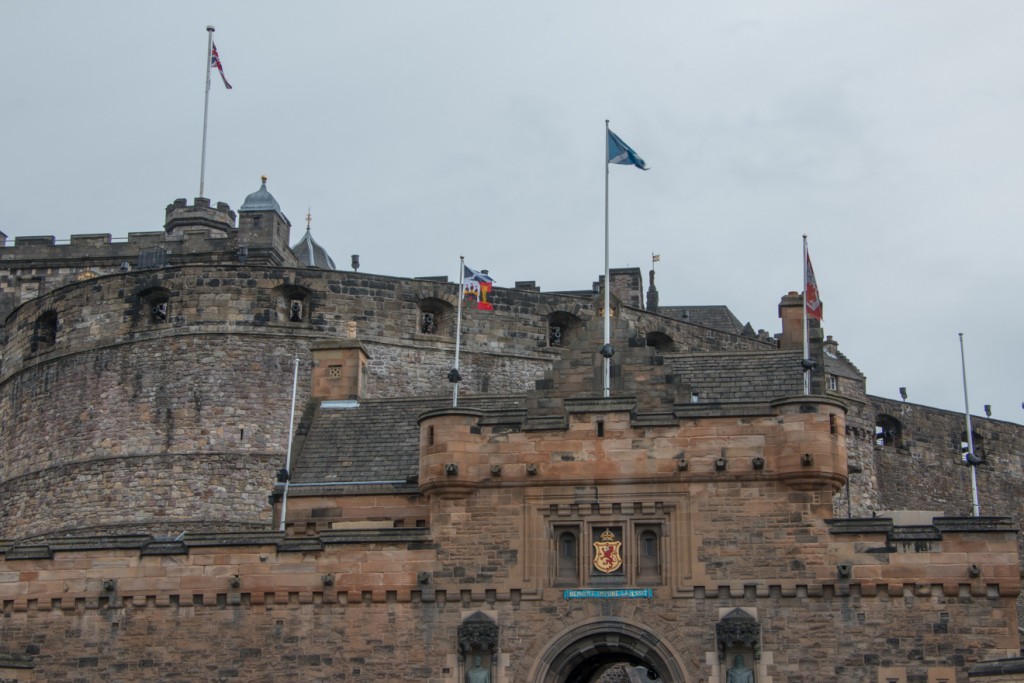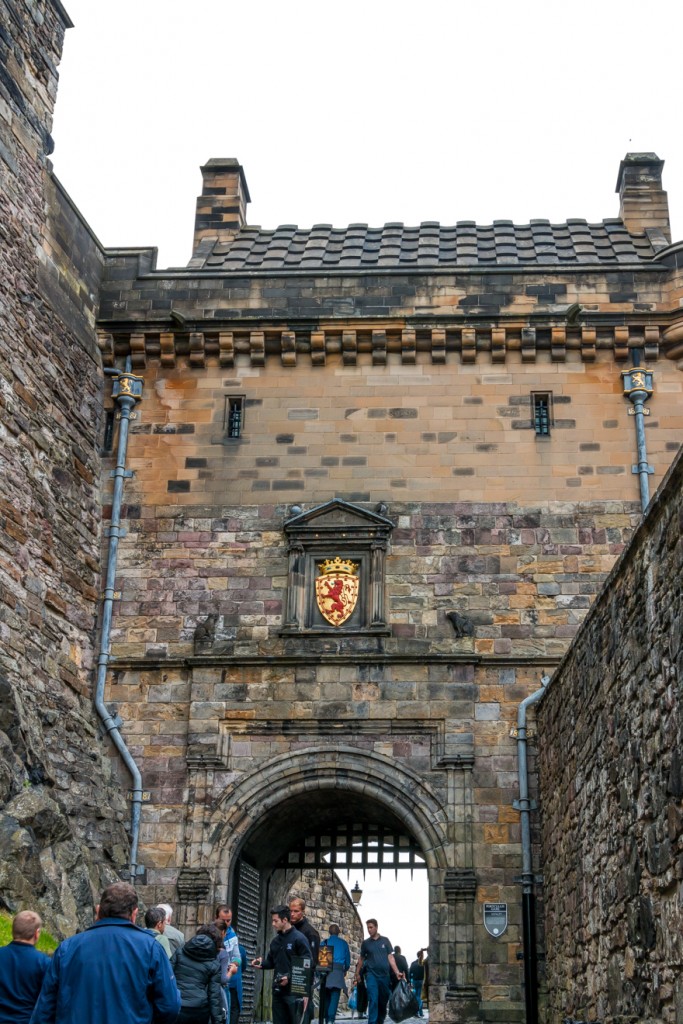 As luck would have it we got there just before they shot off the 1:00 gun. We weren't certain what all the gathering was about at first, but when I saw the gun and a regimented man beginning a talk, it came back to me about this traditional ritual by which all of Edinburgh is to set their clocks and watches. I'm happy we caught this. Yes, a touristy thing to do – as in there really is no other reason for them to do this anymore. But fun, none-the-less. The gentleman in uniform who shot off the gun with such pomp and circumstance also gave a presentation beforehand, but I couldn't make out a word of it.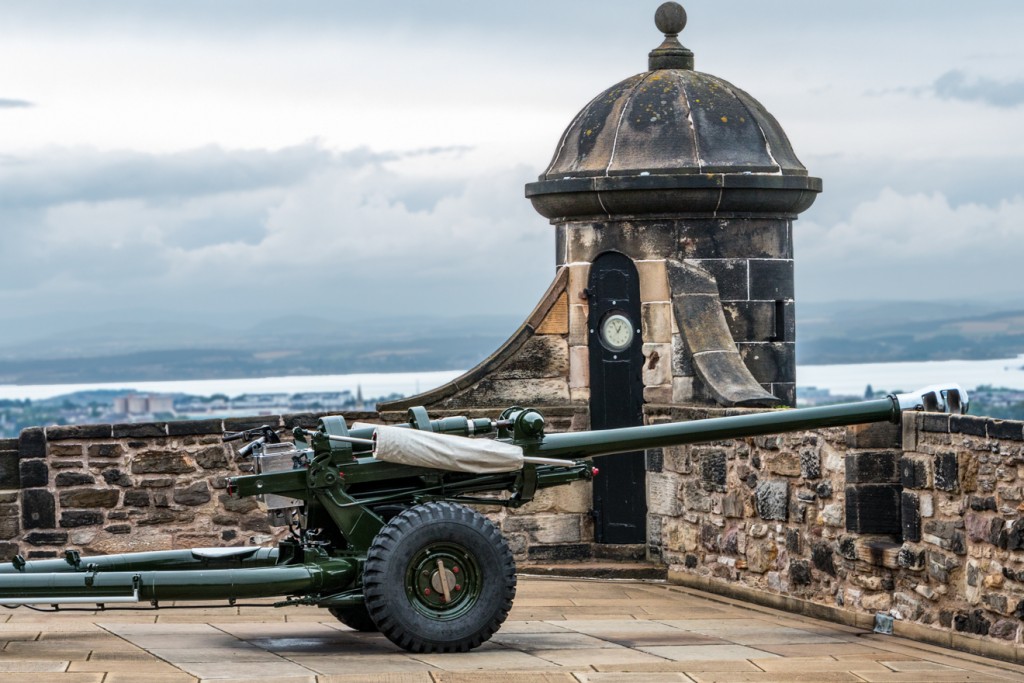 ARVE Error: Mode: lazyload not available (ARVE Pro not active?), switching to normal mode
We continued to explore the castle and learn a bit of its history. I won't try to go into too much here, but more can be found on the official website: http://www.edinburghcastle.gov.uk/
We didn't go into every building that one could, but we did check out the Crown Jewels, though impressive, hardly hold a candle to those found in London Tower. Also impressive was the Scottish National War Memorial. This was a former barracks that was transformed into a memorial for those who lost their lives in both world wars. It's quite moving for its remembrance of the wars but also its architecture. The outside is largely medieval with a few art deco embellishments. The inside is a combination of classic, gothic and art deco. I know that sounds like a lot, but it actually works.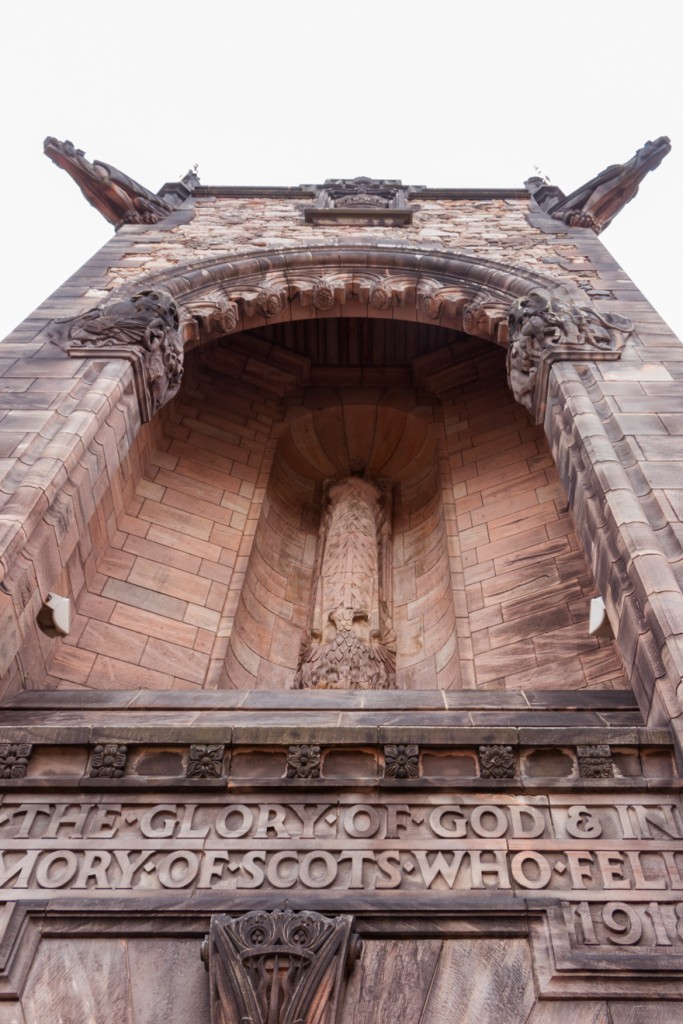 The other thing that stuck me about the castle is just how evident it is that the whole thing is built on a big rock. As you walk around, you see where the rock of the mount still sticks through and the buildings are just placed right on top. Of course, all the courtyards and walkways are stone paved, but peak around the corner of any building and you'll see the raw outcropping. This is a magma plug from an extinct volcano after all.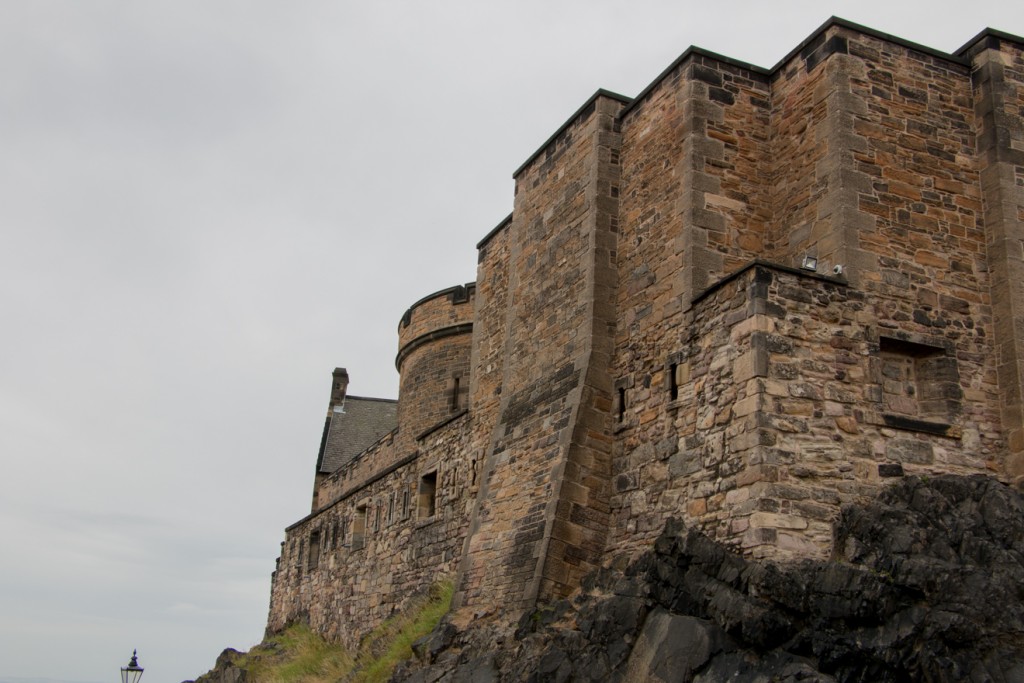 Having made the rounds to the parts of the castle that interested us, it was time for lunch. So we were off to search for something a little different (as in not Scottish). And found that we did. Just near the entrance to the castle, we found a Thai restaurant. Some curry and a Singha hit the spot. And we got some entertainment from listening to the German couple at the next table, who never have seemed to have eaten Thai food before, trying to navigate the menu and avoid the landmines of anything spicier than soy sauce. The waiter got quite the interrogation!
The day before, we came across a well-known tourist attraction that we really hadn't planned on seeing. But on the recommendation of our friends Mark and Todd, we went ahead and bought tickets. After lunch we made our way back down the Royal Mile a few blocks to Mary King's Close. This is a tour of the underneath world of old Edinburgh. As the city was built on Castle Hill, one building was placed upon another and then another on top of that and so on. This left warrens of rooms, stables, alley ways, and shops where the poorest of the poor of Edinburgh lived and worked. It was fascinating and tacky all at the same time. Not something I would do again but if you find yourself in Edinburgh, but with children (not too young though), this would be a fun diversion for them. Sorry - pictures not allowed.
When we arrived at Mary Kings Close it had been sprinkling a bit, now it was raining. Normally, we wouldn't care so much and just head back to the hotel. But this wasn't just any night. Tonight was the Royal Tattoo up at the castle for an evening of bagpipe bands and other performances from around the world followed by a fireworks show. Being the (former?) band geek that I am, this was to be a highlight of the trip for me. I wasn't going to let a little rain chase me off. But as we got closer to the entrance – and then sent around the corner to get in the very, very, long line further from the entrance- it began to POUR. This was no longer a little bit of an annoyance but a full-on drenching, wind-blown rain! Kevin stuck it out for a while but as rivers of rain started coming down the street and his shoes thoroughly soaked, he had enough. Back to the hotel for him.
I decided to stick it out. Most everyone else, either in ponchos or under umbrellas, were just taking it all in stride. It made me think about how Americans will head for a stadium to see their favorite football team, come rain or shine. If they can all do it, well then, so can I. I trudged forward, nearly giving up at least once or twice, getting ever so closer to the point of no return and ever so much more soaked. I was even starting to get wet inside my "waterproof" hoody. I had come this far. I can always leave if I'm miserable so on I went. But in my mind I'm thinking "why haven't they cancelled this yet?"
I knew my seat would be on the top row – that's all that was available five months before when we bought the tickets. What a surprise - it's right under the catwalk for the spot lights! I'm not going to get rained on – at least not directly – the wind was still howling, at first from behind, blocked by a wall. But as the night progressed, the wind increased and shifted to blow right in my face at times.
Rather than imagine the rain, see for yourself.
ARVE Error: Mode: lazyload not available (ARVE Pro not active?), switching to normal mode
The show was quite a spectacle of pageantry from around the world. Of course, much of it was British Isles-centric. There were also performances from China, India, Switzerland, China (yes, again), among others. There were a couple of performances on behalf of the US. The only US military showing was a small honor guard doing a rifle twirling exhibition. The other US participants were from The Citadel Military College, nicely done. The show-stopper was the Top Secret Drum Corp from Switzerland – A M A Z I N G !!
Here's a professional vid of them performing (click here if the Youtube video doesn't show):
And then here's mine:
ARVE Error: Mode: lazyload not available (ARVE Pro not active?), switching to normal mode
My apologies for the quality of my videos, I'm just getting the hang of filming.
Additional shots of some of the other performances.
They even managed to pull off the fireworks in the driving rain!
I stuck it out to the bitter(ly cold) end. By the time I got out of the stadium, wouldn't you know, the rain let up. But still it was a long, wet, clickity-click walk back to the hotel to find Kevin warmly nestled in bed.
Oh! And by the way. Less than a week later, I got an email from the ticket manager who took my bus and sightseeing tickets on "consignment." She had been able to sell them and a refund was on the way. This would have never happened in the US, I'm sure.