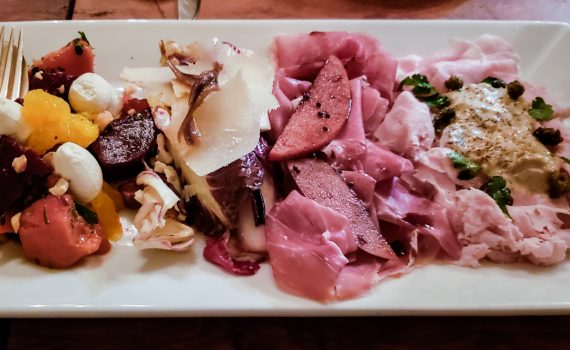 Category:
Reviews
Celebrated two birthdays with friends. It was snowing so our friends were delayed, we were seated without them. That's a big deal when the website clearly says all in the party need to be there to be seated and your table might be released after 15 minutes. Who knows if we just benefited from the bad weather or not, but we were glad.
We brought our own wine, so we didn't pick from what was on offer. The food was everything we'd heard about it. In many ways the best Italian we've had, including in Italy. The approach was fresh, innovative, calm and uncomplicated, and represented the best of this winter season. Kudos to all.
Here's what we had. Everything was exceptional. We ordered the sampler antipasto that gave tastings of all four on the menu: prosciutto de Parma, Insalada cicoria, Bietole e Formaggio Di Capra (roasted beets), porchetta tonnata). Because we needed to gild the lily, we also ordered the Uovo con Fonduta (crazy cheese fondu with a poached egg). There was plenty to share. We noticed other diners with just one antipasti, and the portions were substantial.
For the Primi or pasta course we ordered two at the suggestion of our gracious and helpful wait staff; the Tagarin con Butrro e Salvia (thin pasta with butter and sage) and Agnolotti Di Coniglio (braised rabbit stuffed angnolotti with double brodo). Secundi was off the hook: Capunet (Swiss chard wrapped braised beef) and Anatra (pan seared duck breast). Finally, we had all four of the desserts on offer that night; Torta al Cioccolato, Zuppa englese, Tiramisu, and Panna Cotta. I should note that reservations are pretty much required, but there was space at the bar throughout the evening. Perhaps it was all the snow keeping folks home, but you might get a bar seat without planning ahead.