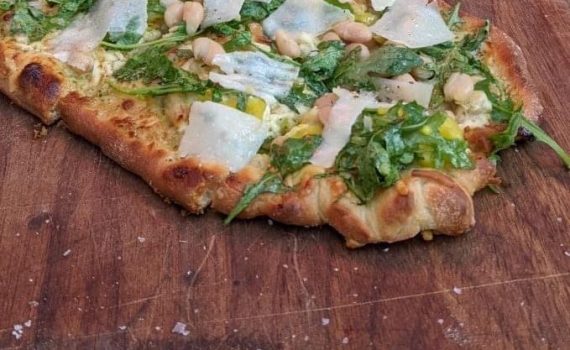 Category:
Food
Want a 'light' pizza? Try this white bean and arugula salad pizza. Mine is a riff of Bryan Gardner's recipe posted in NYTimes Cooking. I make my own crust, but it will work fine with a good quality store bought. Don't go for those so-called pizza doughs in a tube. Just don't. You need a really high gluten dough. Pick up a fresh or frozen dough ball from your grocer. I used 6 oz for each little pizza. Shape how you like. I wanted a rectangular shape, so I used my hands and a rolling pin to get the right shape and thinness.
Gardner's recipe doesn't call for any sauce at all. I added a healthy schmear of Bon Appetit's amazing white pizza sauce – no flour and no cheese (link below) – on the dough. It's incredibly light tasting but packed with flavor. Sprinkle on some freshly grated parmesan or in in my version, grated Pecorino Romano. Also verging from Gardner, I added some of the white beans (recipe calls for 1, 15 oz can) on top of the white sauce and Pecorino in the bake.
This baby was baked at 550F for about 8 minutes. While the dough is getting all crusty, toss the arugula, left over white beans, chopped pickled peperoncini and 2 Tablespoons of the juice, with 1/2 cup olive oil and salt and pepper and toss to coat. When the pizza is out of the oven, mound the salad on top of the crust with some shaved Parm or Pecorino in my case, back in the ripping hot oven for just a minute or two. Cut and serve.
We enjoyed this with a very dry and crisp champagne-style white.
Hope you enjoy it.