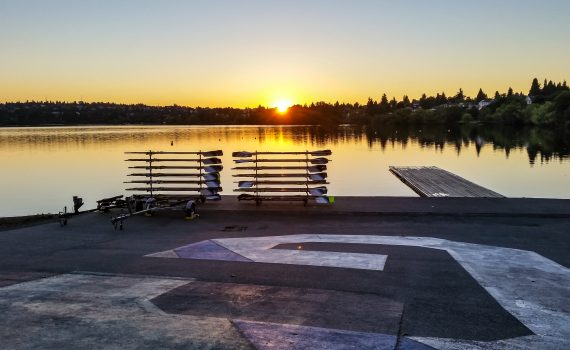 1 August 2015
Day 1 – Seattle to New York via San Francisco
by Steven
Wow! After over a year of planning and anticipation, this day has finally come – we leave on our biggest vacation yet. It's hard to believe this is actually happening! To be honest, we've been talking about a transatlantic trip for many years but one thing or another intruded on our plans.
A little background: our dear friends from Texas, Charmaine Simpson and Kevin Barnard (I'll call him Kevin B) had this brilliant idea of making a transatlantic crossing on the Queen Mary 2 for Kevin B's 40th birthday year celebration. He was in the Navy for eight years and crossed all the world's oceans except the Atlantic. So why not do it in a celebration year. They asked if we would like to come along. This being my 50th birth year and me and Kevin's 20th year together, we decided it's a perfect time to check off a biggie on our bucket list.
So here we are, the four of us heading for New York to catch the QM2 for Southampton. Charmaine and Kevin B are coming up from Dallas tomorrow and Kevin K's niece Stacie will join us in NYC for a couple days knocking around the city. Also looking forward to seeing Kevin's cousin-but-not-really-a-cousin, Jerry, who lives in the city.
But before we head to the airport, we've got a few things to do. Finding time to pack has nearly been impossible this week! Kevin's been in various phases of a conference (including being on the planning committee) at the University. And me with my rowing practices and, yes, a regatta this morning! Up at 4:00 f***ing AM to head to Green Lake for a 9:20 race. And, oh yes, I'm still not done packing!
Took 3rd place in our race – grabbed my medal and ran home! Three hours until leaving for the airport!
I needed a vacation just to get ready for my vacation.
Last things thrown in bags, not necessarily well organized, but in. Now off to the airport. First stop will be San Francisco. Why SF? Yet another new experience: JetBlue's Mint service on the red-eye transcon flight. We're treating ourselves to fully flat seats in individual compartments. Quit posh – this is the way air travel should be! Tomorrow we arrive in New York about 6:00 AM
A note about SFO – do not expect to find a broad selection of food choices in International Terminal A. Only one fresh-cooked food option – pizza. All else is in plastic clamshells, salads and sandwiches. Very limited seating. They really could do better  – the architecture isn't even very interesting. I still had some work I needed to get done before setting sail. The airport had free wifi, which is nice, but access to VPN to connect to office was blocked – Really! But SeaTac was the same in that regard – sigh! Work will have to wait.