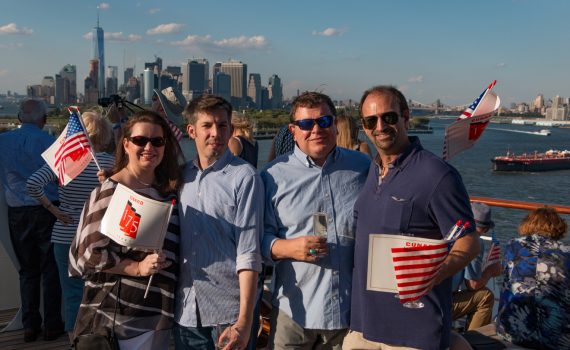 Category:QM2/Scotland,Queen Mary 2
4 August 2014
New York and Brooklyn
by Kevin -
Embarkation - Caught cab a little after 11am going speedily across town to the FDR where we encountered traffic due to a stalled car and road work. Made it just after Noon to the docks. Seeing the Queen for the first time as we crossed over the Brooklyn Bridge was memorable. She is a massive ship, still-looking, tethered to the pier, fighting to break free being spurred along by a powerful current that day. The current would be responsible for us leaving an hour behind schedule. The Captain explained later at the Captain's Champagne Reception Wed. night, that he was concern over the strength of the tidal current and was waiting for a bit of slack to build. Still, he had some time of it apparently getting the Queen to push off from the dock…even with both pivoting pods turned toward the dock, a maneuver that would normally get the ship away easily. This time though, the Queen took her time to beat the current. Better late than run aground!
We moved off from the dock almost without notice, except that the party on the stern decks got really going about then. Of course the four of us travelers flowed out onto the Grilles deck with Champagne in hand and then down to join our other shipmates for some revelry. Brilliant day to be departing. The City sparkled as we passed off Battery Park and Liberty Island. I've seen this view only from Staten Island once, its was captivating.
By this time we had found our stateroom, 10-117, which is a 1 numerologically speaking. Ask your favorite numerologist what this means, but for my money it is obviously about setting out in a new direction with all that that brings and means. Apropos don't you think? I was just taken by how beautiful this ship is. We peeked over the gangway railing just before entering the side of the ship at deck 3 looking down one very long expanse toward the stern and then toward the bow. You really can't take it all in, it's so massive in scale that when you're that close, all you really can appreciate is the sturdiness of it all, the huge scale of the steel plates and windows at that level – we'd later find this to be on the the Queen's passenger promenades with quiet seating up against the side of the ships hull, looking out the port side.
by Steven -
I can't believe this day is finally here! Nervous and excited at the same time - it's hard to keep myself from mentally spinning so I can keep it all together - "Be Calm and Set Sail" as they say.
As many time as I've seen it on TV and in movies, this was the first time I think I've been across the Brooklyn Bridge (may have when 2 or 3 years old - but certainly don't remember that!) But as much as I wanted to take that in, there was The Queen now in view. It won't be long now - I still can't believe this is happening!
The business of getting through security, checked in, and boarded went quite smoothly - almost as if they've managed this process one or two times. Through the main entry into the Grand Atrium. Everyone in queue for the first set of elevators. We've studied our maps of the ship, so head further aft to the next set - no waiting here! Off to our stateroom.
And a lovely stateroom it is. More room than I would have thought. Full tub and shower, walk-in closet and plenty of other storage. Kevin says I took most of the closets and most of the hangers - but he is mistaken [Steven's right....though only after my pointing out how little of the walkin I had]. Sofa with coffee table and a desk to the side. Bar, refrigerator and a cabinet full of glasses and stemware - just in case. We had a bottle of bubbly waiting for us on ice. It said for cabin consumption but it ended up on deck with use for shove-off - oops!
We were on board by 1:00ish. Kevin B and Charmaine beat us by a few minutes. But after a freshen we were off to lunch. The Maitre'd helped us all get reassigned for our table seating so that we could be at the same table. We should have linked our reservations but it all worked out just fine. We'll tell you about other fabulous table mates later. Photos of lunch are below.
Back to the cabin to unpack and rest for a minute before heading to the aft decks for the Bon Voyage Champagne party. Stunning views of Manhattan, Brooklyn Bridge and the Statue of Liberty. Stayed up on deck as we passed under the Verrazzano Bridge. It's quite the close call to get under the bridge but fortunately the ship's height is specifically designed to just barely clear at high tide. I have a video of passing under but it needs to be edited - I'll post it later.
Gorgeous sunset as we head out of the harbor and towards open seas! And our first dinner on board.