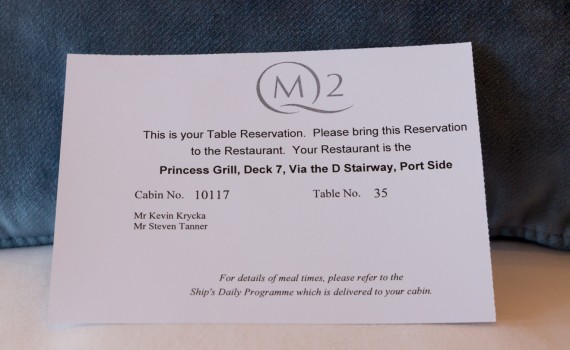 Category:QM2/Scotland,Queen Mary 2
by Kevin -
It's easier to disdain than it is to be fair.
After several days at sea, it's become far harder to step back and put in perspective the many meals, service, and general impressions of our culinary adventures on the QM2. One caveat: we've had little interaction with Britannia food options, other than the Kings Court on odd hours when we were starving with only very few options open.
On the main, the Cunard Service in the Princess Grill is quite good, even exceptional in some ways, which we'll note below. There is an evenness to it all, not too routine but dependable and yet always a bit surprising.
The words that come to me in summing up Cunard service are gracious, accommodating, engaging and thoughtful.
Could you ask for much more? Okay, maybe gold plates? I really don't think so, that's not our style anyway. The grey/silver rimmed Wedgewood china will do just fine.
I think I should mention, that Steven and I tend to agree on most of our notes, but not always. He hates salad dressings of any kind for instance, claiming as he does often, of their smell. Me, well, I'm eager to taste the smelliest of cheeses and pickled or brined things offered.
The first few days at sea were a whirlwind of sights and sounds, most all having to do with orienting to the ship, the daily schedules (delivered to our stateroom in the early evenings), the passageways, and destination points…like 'Where is the Princess Grill again?' and 'How do we get to the Commodore Club, was it on Deck 7 or 8 or…, oh, right stairway B or A, Deck 9 forward'. All this was pretty exciting for us if not a bit hectic. Then there was preparing a day ahead for the first formal night of the cruise. I rented a tux, which turned out to be a kind of disaster as they only had sizes bigger than mine and somewhere along that first formal evening I lost my cummerbund.
We've reconstructed our meals during the cruise..or at least those highlights and low points we can both recall and decided to organize our thoughts into commentary and photos on Starters, Mains, and Desserts. Breakfasts are in their own category. But first a bit of context.
Our first meal on the Queen was lunch before sailing. After finding the Princess Grill dining room…not quite as easy as you'd think since there are no clear markers for it, only a sign for the Kings Court that is on the same level with entrances across from each other.. I guess you just have to know where it is.
We were greeted by a head waiter, showed him our card left in our stateroom that had our dining room listed (this is Cunard's subtle way of keeping track of who can enter or not). Since we were traveling with friends Charmaine and Kevin, we wanted to be seated at the same table. None of us had thought ahead to request seating together. After a very short time and with the help of the Maitre'd were we able to be seated together at table 35, located toward the back of the dining area or aft on the ship. This became our home base for the next seven days and where we met our new friends Nancy and Bruce from Charleston, South Carolina. We turned out to be a very well match group and enjoyed the time we had in the Princess Grill and often closing out the night in the Commodore Club.
Each meal you're presented with a printed menu for the day. You can ask for anything you'd like and the chef will try to prepare it for you. I don't know, but I doubt you get this kind of service on most cruises these days. In any case, we didn't know about this option until the final days of the cruise, but frankly, I doubt I would have ordered off the menu like that given the range of choices we had every day. A Sommelier was assigned to our area too who got to know our leanings very quickly.
Starters:
Okay, finally to the starters. At first, we were giddy with all the tasty-sounding options and so we indulged…my, did we indulge. What's wrong with having a couple of starters, soups, and salad every meal? Nothing we said to ourselves…unless these are followed by even more tasty looking mains and sweets. Needless to say, we chose differently further into our trip.
One of the great options is the lower calorie Canyon Ranch menu. I tried it several times and was not disappointed. Charmaine loved that they had many vegetarian options at each seating. Seared rare Ahi with micro greens and seafood reduction one day, Shrimp Cocktail of course served with Sauce American (roughly cocktail sauce), Pan Roasted Scallop, baby white asparagus, dressed with a light aioli, a Seafood Terrine – these are just a few we chose over the week. Too many to recount in full here. The soups became our table's mainstay for starting our meals. Eventually you do get tired of such extravagance as you tummy reminds you you're not accustomed to living the Edwardian life.
Ah the soups. Lovely pureed vegetable soups (often with no cream thank goodness), some more complicated looking than others. But our real love were the very simple clear broth or consomme served. Necessarily, they were variations on a beefy theme, but each day we loved the pure cleanness of the taste. I'm sure that under seasoning is the way chefs have to prepare foods these days…after all, we're talking meal planning for a couple of thousand folks daily. We did find we needed to add some salt or finish the pureed soups with a little EVOO (extra-virgin olive oil).
ARVE Error: Mode: lazyload not available (ARVE Pro not active?), switching to normal mode

Desserts
By this time we sometimes just couldn't bare thinking of more…but, we did push on to sample Cunard's offerings. I particularly enjoy a cheese course at the end of meal. The choices were just okay…yes, they had the Stilton Blue but that was the tastiest by far. I wonder if they just catered to a palate that didn't like stinky and strong cheeses? Can't blame them, but I only had that option once…besides take a look at the pictures, there was much more to enjoy.
The Pyramid pictured is a raspberry parfait that Steven had….scrumptious. Molten White Chocolate Soufflé. Fredrik came over and opened the top, pouring in vanilla laced crème anglaise. It was a good as this sounds. Then there was the Baked Alaska Cunard style….on the last formal night, the same meal at which we consumed the lobster. That put us over the top and resulted in a general commitment by our table to rejoin our fitness routines that were most conveniently left on land!
Notes from Steven -
As I agree with what Kevin says above (except perhaps about my disdain for thing brined - I do like certain pickled things though I will stand firm on my opinions of salad dressing and mayo), I don't want to add much more to this already length post. But I do have a few things to add.
The service was nearly impeccable with white gloves and all. Platter service from the left and plated dishes served from the right, etc, as it should be 🙂 though a few times dishes were presented to the wrong person. The food itself was, for the most part, exquisitely (or even dramatically) prepared. Classic preparations, so nothing terribly groundbreaking or adventurous but delicious an elegant nonetheless. The only molecular gastronomy happening on this ship was with some of the martini concoctions in the Commodore Club.
As for the kitchens, we had suspected when we booked into the Princess Grill that the food would come from the same kitchen as the large Britannia Room. We were wrong on that account. The Princess and Queens Grills have there own kitchen to server these 70 to 80 or so tables. I imagine that this is why they are able to provide personalized service and more nuanced presentation though with many similar base dishes. Todd English has its own kitchen as well.
We have a couple of the dinner menus which we can provide on request once we get back home.
Bon Appetit!