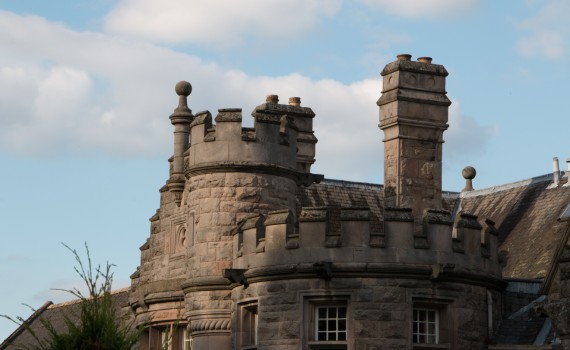 Category:QM2/Scotland,Scotland,Travel
Tuesday - Thursday, August 18-20
Kevin alluded in our last post about to the interesting time we had at out hotel in Elgin, Mansion House Hotel & Country Club. It was of such idiosyncrasy that it really does deserve a short post of its own. I'll think you'll agree with us as to why we've dubbed it "Scotland's own Fawlty Towers." I really did have expect to see a crazed man with a skillet in his hand chasing a diminutive Portuguese staff member onto the front lawn.
Once we found the place, as Kevin mentioned, by following the car's navigation system that send us down the narrowest of alley ways and cart paths, the approach up the drive was quite impressive. A big manor house on the edge of downtown Elgin with a vast front lawn. The house exterior actually reminds me of Dr. Frank N. Furter's castle  in Rocky Horror. Fortunately we didn't arrive in the middle of a dark and rainy night. We park and go in.
The oddly tiny front door leads into the foyer and then into a massive entry hall. A grand staircase leading up on side and a small hallway leading further in on the other, this is where we found the check in desk. A young lady was there just finishing up with another guest. It takes her a while to get organized to help us. While doing so, we make the usual chit-chat including asking a bit about the mansion. "How old is the house?" We ask. "Oh at least two or three hundred years, but I'm not sure, I've only been here a few weeks." A little older than I would have expected but ok, wow! I leave Kevin to get us checked since this reservation is in his name as I go out to start bringing in the bags.
As I head back in, an insignia above the door catches my eye. It has the date the house was built: 1882. Two, or three hundred years, indeed! Has this girl never looked up when she comes to work? Perhaps the help has to come in the back so she's never seen this, perhaps.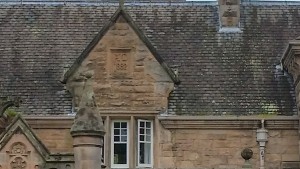 We must have booked one of their finer rooms. It was quite large. And, oh my! The Victorian red velvet everywhere: the sofa, bedspread, bed canopy, chairs, curtains, and even the wall paper. Despite the abundance of ceiling lights, the room was as dark as if lit by gaslight. The bathroom was quite modern with a shower/tub combo at one end and shower stall at the other. All clad in white marble. Once the CFL bulbs warmed up, the room was sufficiently lit, except in the one area that had a burned out bulb. One out in the bathroom too. BTW, Kevin says he sensed we weren't alone in the room when he entered. But that's for another time.
| | |
| --- | --- |
| | |
You may have notice the words "county club" in the name of this fine establishment. We don't know all the particulars, but this facet of the operation involved a pool, workout room, and spa. All located at the back of the ground floor, beyond the billiard room. We didn't make use of these facilities during our stay as it all felt little unwelcoming. I poked my head into the pool area when Kevin was checking us in. As I did, the eyes of about half a dozen men, all well in excess of 70 years of age in and around the lap pool, turned to inspect the interloper. Otherwise, the place had a very clinical feel to it, not a resort or even what I've come to know in my limited experience in the US as a County Club. I'll pass.
Opposite the reception desk is a wee bar, really, that's it's name, The Wee Bar. A tiny room with a full bar, floor to ceiling, and only room for one or two tables and a handful of seats at the bar. Fawlty Tower's bar was much bigger.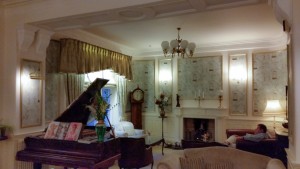 Not knowing the area and other dining options, we chose to eat in the hotel. Kevin had made reservations while checking us in where he was lead to believe the place would be packed and we were lucky to get in at all. The instructions, and this is where it starts getting odd, were to report to the salon, opposite side of the entry hall from the dining room, at the appointed time. Not ones to argue, we dutifully complied. Upon arrival we were seated next to the fireplace in this elaborate and large salon. Several other groups of guests were here ahead of us, also awaiting their tables.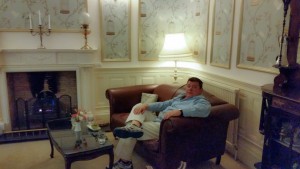 After some wait a waitress came by to take our drink orders. OK, fine, I'll have a scotch, but why are we doing this here and not going through to the dining room? Are they that busy, is it that few tables? After an inordinate length of time, or cocktails arrived along with nuts and an amuse bouche of sorts- actually very tasty. In the meanwhile all the other groups have been escorted to the dining room. And we waited…alone. Menus were presented. And we waited. And waited some more…alone. Nearly an hour later, well after finishing our appertifs, (no seconds offered on the snacks or cocktails) we were finally escorted across the foyer where the double sliding doors of the dining room were opened for our entry. And quickly closed behind us.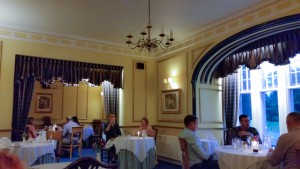 The dining room wasn't huge by any means, but there were more than a few empty tables. And lots of staff. Running everywhere. What a circus! We were visited by a number of servers and waiters, we never could figure out who was in charge of our table. But our drink orders are taken, Prosecco, I believe.
Let me now take a minute to rant about something we saw repeatedly in the UK. Please indulge me. In the US any enterprising restauranteur will want you to have the drink and wine menu as long as you will have it. After all, this provides the highest profit margins in the place. Here in the UK, once you place your initial drink order, say for a prosecco or martini while you peruse the menu before deciding on a wine, the drink menu is snatched away and the preset wine glasses cleared from the table. You practically have to wrestle the waiter to get the wine menu back. Could someone from England or Scotland reading this please explain why this is?
We eventually flag down one of the harried servers to place our order. This puts a loom of fear on her face in an instant and she runs off mumbling something about needing to get the order pad. No chance this time of asking for the wine menu back. She returns shortly with what appears to be the one and only order pads in the place. Orders taken and we surprise her another time by asking for the wine menu. We must be Philistines in this land! But she complies.
We quickly land on a choice while she waits. Apparently our English isn't very good, or our US English accent pronunciation of French throws her off, so pointing it will be to the Côtes Du Rhône – a safe bet we thought. She smiles graciously, and briskly off she goes to the other room.
A few minutes later, another server, whom we haven't seen before, approaches carrying the precious wine menu to confirm our order, pointing to the item again. Yes, that is what we would like. Off she goes.
Then, get this, our original server runs back into the room, out the double doors, carrying our bottle of wine. Where's she going? Does someone at the front desk need to approve the sale? A short while later, back it comes, right passed the table and back to the kitchen. Looking for the bottle opener perhaps? If nothing else, at least we're getting a floor show with dinner. By the way, no other guest seems to be as enthralled or taken aback by the high level of performance we are witnessing than us.
In a minute or two, the wine comes back in the hands of yet another server with proper glasses to pour. Finally!
Dinner arrives. And it couldn't have been more elaborately presented, just beautiful. Someone has spent a great deal of time and effort to garnish and plate these dishes, the likes of which we have seldom seen. When you see this much attention put into the visual, you have to wonder if it's just a distraction from food that isn't well prepared. This was not the case, far from it. All was delicious!
Kevin had the seared scallops with speck followed by lamb chops with lamb bacon and basil mint sauce. Lamb bacon, who would have ever thought?
I had ham terrine and a perfectly medium rare filet of beef with grilled Portobello, onion rings and fries (yes, I know - "chips").
Another successful dinner under our belts, we head back to the room.
We get settled in for our couple nights here. Furniture had to be moved to get to the few plugs in the room to recharge our various electronics, and we try to figure out the bath fixtures (you would think this an easy task, but for some reason the shower installer got really creative). Pulling back the covers on the bed was the most surprising. I know it can be cold and gloomy in Scotland but this was crazy. These were the heaviest covers, blanket, duvet, and bedspread. I mean really heavy, the likes I've never seen before, even at a ski resort. But minimalist pillows. All made for a restless night for me, though I think Kevin slept soundly as usual. At least the heavy drapes kept the room nice and dark.
From here I'll depart from our normal chronology and skip ahead to dinner the following night so as to continue with our Fawlty Towers experience.
Not wanting to go through the same dining ordeal as the night before, we opted for the more casual cafe. We were shown around past the reception desk, through the billiards room, around the see-through fireplace, to a small closet...err...dining room. This room had maybe eight tables in it, packed fairly tightly together, pub style. We were the only ones here at this point. Leaving the menus, the waitress left us to our decision making. A slightly less formal menu than last night, but as we found out later we could have ordered from the main dining room menu as well.
In the meanwhile another guest is escorted into the room. And seated at the table right next to us. I mean RIGHTNEXTOTUS. We were so close, we could have shared an entrée, off the same plate! Why would they seat him so close? So the waitress saves 2 or 3 steps getting from one side of the postage stamp sized room to the other?
The waitress returns momentarily. "Are you ready to order?" So Kevin begins "I'll have the…" She interrupts with "oh wait, I have to go get the order book." Sigh. After a surprisingly long time, she's back and we try again.
In due course our meal arrives, the gentleman next to us having eaten his fish and chips is gone and we have the place to ourselves again to enjoy our dinner. No one here to criticize us for taking pictures of our food, no witnesses. Unfortunately, we only had our phones with us, so pardon the quality of the photos. Once again, lavishly presented, just beautiful, or dare I say, a bit over the top. Still delicious however.
Tonight's choices:
Salmon Carpaccio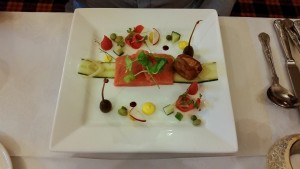 Soup (I just can't remember what kind, even with the picture)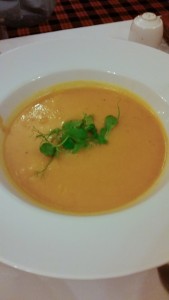 Steamed Mussels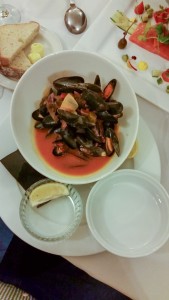 Bangers and Mash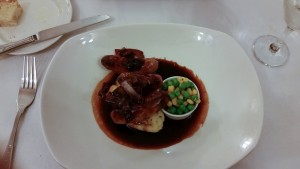 And something neither of us can fully remember nor make out in the picture, perhaps some kind of fishcake with whipped wasabi, sweet jelly sauce and the ubiquitous chips in a ornamental fryer basket (seen these in several places recently).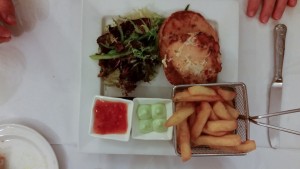 Honestly, I can hardly remember this meal, I'm sure I was quite tired after the long day we had. More on that in our next post.
Breakfast the next morning was as expected: part continental but with full menu available. The continental with all the cold starches and grains in abundance that one sees at such a breakfast was all set out in the main entry hall along with juices, milk, coffee, and tea. We chose to have a seat in the dining room, fully open and accessible this morning. The place was busy already even at this early hour (we're starting the day early as we know we have another long drive ahead of us). The staff, also as per usual here, were scurrying about back and forth. Never seeming  to be carrying more than a single item at a time, even when clearing or resetting tables. An elderly gentleman in blacks and whites, very carefully attends to setting the silver on a table recently vacated, dashes away, only to return to set his attention to the plates…oh, wait, some young upstart server has already placed some tableware on his table. He momentarily looked quite confused and perhaps a little offended. We could almost hear the inner dialogue that must have been going on in his head: what does she mean to put those plates that way? And who does she think she is anyway? He soon disappears behind the swinging door to the kitchen. We never see him reappear.
Always rushing in and out of the room just as we had seen at dinner two nights before, though largely different staff. At a place this size, you usually see maybe two or three wait staff handling breakfast where many patrons are opting for the continental. Here, there had to have been a least six that we counted. Amidst the flurry, one finally approached to take our order, "Have we decided on what we would like?" "Yes, I'll have…." "Oh wait, I need to go get the order book."  ROTFLMAO!!
<<Roll Credits>>
Epilogue
I hope this post hasn't come across as more critical than we really feel about the place. It was clean and, even though most were fairly new, the staff seemed to enjoy working here. They were (almost) always pleasant and helpful and everything was clean and reasonably well cared for, if not a little eccentric. It's just that the way they went about their tasks continues to make us chuckle and wonder how things got to be this way here. If we were back in the area, we would consider staying here again though we may want to see what else is on offer elsewhere just to experience something different.
Steven