Hello again! We hope these posts continue to hold your interest. It's been well over a month since our trip ended but we still have more than a week's worth of travels to write about. By reading comments or asking questions on these posts, for the most part, is the only way we know whether or not anyone is continuing to read these. We're also still looking for feedback that we can incorporate into a full-fledged food and travel blog to go public with. So please let us know how we're doing.
Thank you for your time….and now back to our regular scheduled programming.
Monday, August 17th
by Steven
We decided to take it a little easy today. Tomorrow will be a long day on the road so this is a good change to relax and not do much. We do have a couple things on the agenda, but nothing too difficult so a slow start to the day is in order.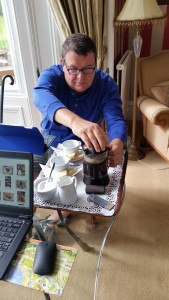 Breakfast as usual and then most of the morning was spent in the salon at the Thistle. Catching up on email, working in a couple blog posts and editing photos. It's amazing how much time that all takes! It wasn't long before we had gone through a couple pots of coffee that Jennifer graciously brought for us and then it was nearly lunch time.
In the meanwhile, it turned from a rather grey morning into a beautifully sunny and calm day. As you can see from the photo, the Loch was perfectly still, offering mirror reflections of the village and castle of Inveraray across the water. As amazed as we were at the stillness of the water, Jennifer was just as unimpressed as if it happens every day. Nevertheless, out comes the camera for a few more dozen photos that need to be edited.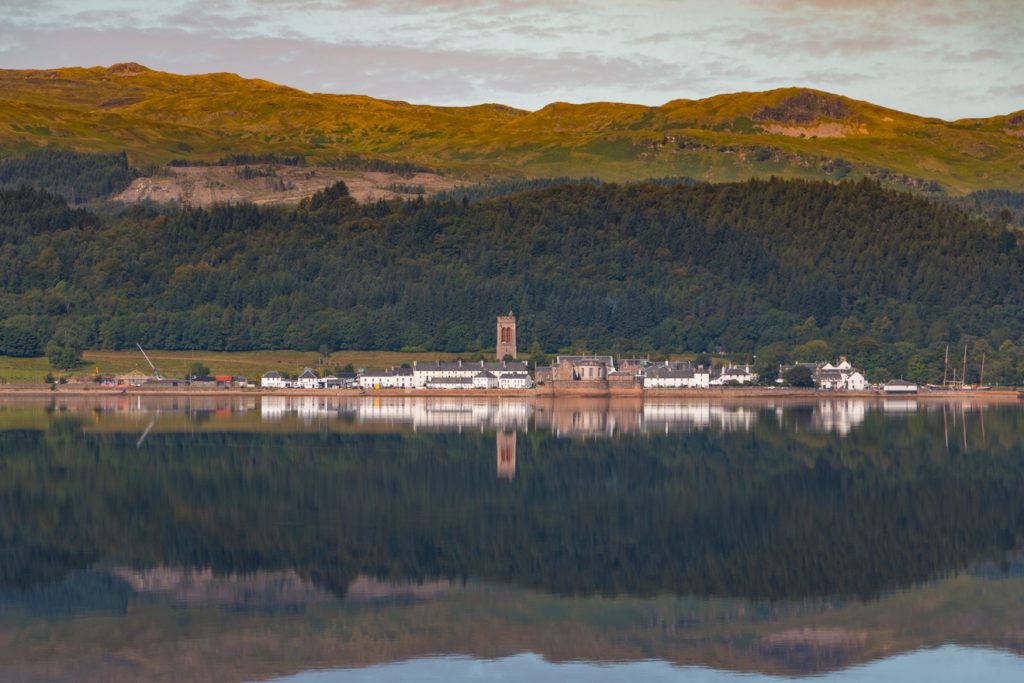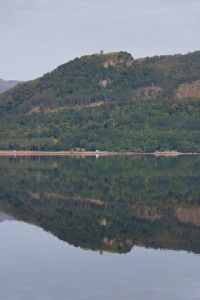 So those things on our actual agenda, as it were, for today. First up, a stroll through Inveraray village to see the shops and grab some lunch. Next is for me alone. I haven't had much chance to get exercise on this trip (don't get me started about the rowing machine on the QM2!) so was planning a hike up the hill out from the castle up to the look-out that you can see in the photos above.
I'm not going to have too many more opportunities to wear it during this trip, so why not put on the kilt for hike in the highlands? Why not, indeed! So that just what I did, as Kevin's eyes roll back in his head – and not just because he's going hypoglycemic waiting for me to get ready to go for lunch. Then off we had back around the Loch after a quick take on eateries from our hostess at the Thistle. Her suggestion would have been Samphire Seafood Restaurant, but unfortunately, was closed today. We wish we had put this on our schedule earlier as it looks and sounds quite good. As it turns out, according to Jennifer, the reason it's closed today is that the chef/owner is hosting a special event for a number of Michelin 4 & 5 star chefs from around Europe – top secret intell. Definitely on the to-do list if we ever return.
Back in the village, first order of business is finding food. Most things of interest, besides Samphire are closed. But off a little side street/alley we find a little café that appears to be more populated by locals than tourists and tour buses. Simply called the Cottage Restaurant, just off the main street, this little hole-in-the-wall offered up a menu of basic, comfort food. Kevin chose an au gratin dish with cod and langoustine. I just went for the baked potato roasted mushrooms. Nothing fancy but sure hit the spot, as they say.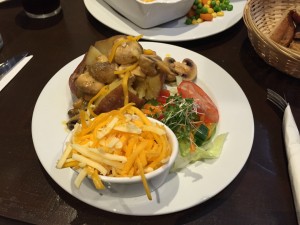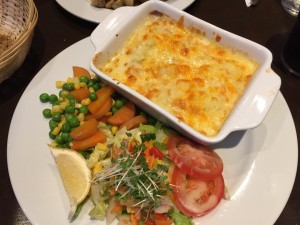 The restaurant was tiny! It seemed to be in the cellar of
some larger building, but as you can see from the Street View shot, there really isn't much to the place. You enter off the alley a few steps down into a long and narrow dining room. Cozy and warm, it would be a great place to just hang out with a pot of tea or coffee on a cold and stormy Scotland winter day. There's also a small bar (hence the "license" on the side of the building) that could easily add something more interesting to that said coffee.
After lunch, it's back to checking out the shops in town. The Christmas shop just around the corner was a bust but moving next door to the whisky shop proved more interesting. Shelf upon shelf of whisky from all over Scotland. So many bottles, so little time! The young many showing us around was quite informative and enthusiastic about the various whisky in stock. He explained a bit about the regional differences in distillation, drying of the malt, etc., bits of which we heard before but it's now all starting to sink in and make more sense. Perhaps we'll do a separate post dedicated to just what we've learned about whisky.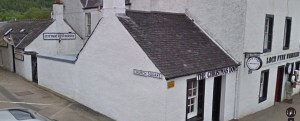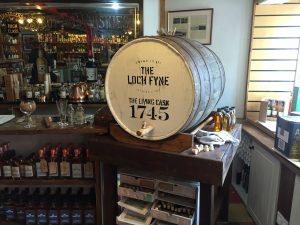 One new thing we were exposed to here at the Loch Fyne Whisky Shop and Tasting Room was the Living Cask. Perhaps this is just a contrivance for us tourists but nonetheless we found interesting. The living cask blended whisky that will never be the same from cask to cask or batch to batch. Each bottling will be unique. They stake a small oak cask, perhaps used to make a batch of American Bourbon (which, by law, can only be used once for American bourbon), and age some whisky in it. As the whisky is bottled, more is added. As the cask ages, the character of the whisky it produces changes. From Lock Fyne Whisky: "…the current batch contains five single malts from Islay. Stocks are topped up and then left to marry before the next batch – with its unique batch number - is released. These batches are always limited, always different…"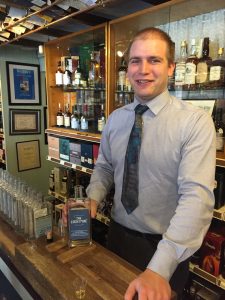 So being the perhaps gullible tourists we are, we buy a 1/2 liter bottle thinking it will be fun to have something so unique. We've yet to open it tough we did have a taste in the shop. That was fairly early on in our whisky education so it will be interesting to see if we feel the same about it when we crack it open.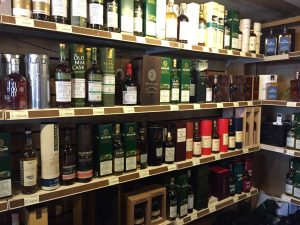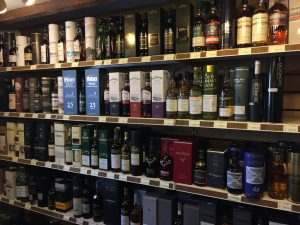 There are a few other stores open along the way here and around the small village. We poked our head in a few but most were just more of the same basic schlokie souvenir shops. Set a little away from everything else just as you enter town we found a woolen mills "factory outlet" store. This had a little bit higher quality finds so we ended up with a few items to bring home.
| | | |
| --- | --- | --- |
| | What do you think the odd are that this old sailboat could make it back to Seattle? I bet the seller is more negotiable than the sign suggest. | |
By now it was starting to get late in the day and I still haven't made my trek up the mountain. So back to the car to change into some appropriate footwear and make the short drive back to the castle. A quick check with the lady at the parking lot ticket booth confirmed what I'd been told by others that it would take 1 1/2 to 2 hours to make the round trip. She, too, checked to make sure I had on hiking shoes and nothing fancy (she liked the kilt though). If a 70+ year old lady can make it in that time as she says she does with her husband, I've got a chance at it too. And if I take any longer, Kevin may not be able to get back to the parking lot to get me. So now the challenge is on to make that happen!
The ticket lady also confirmed where the trail head was. We had seen it when we were here a couple days ago but now certain. Off I go.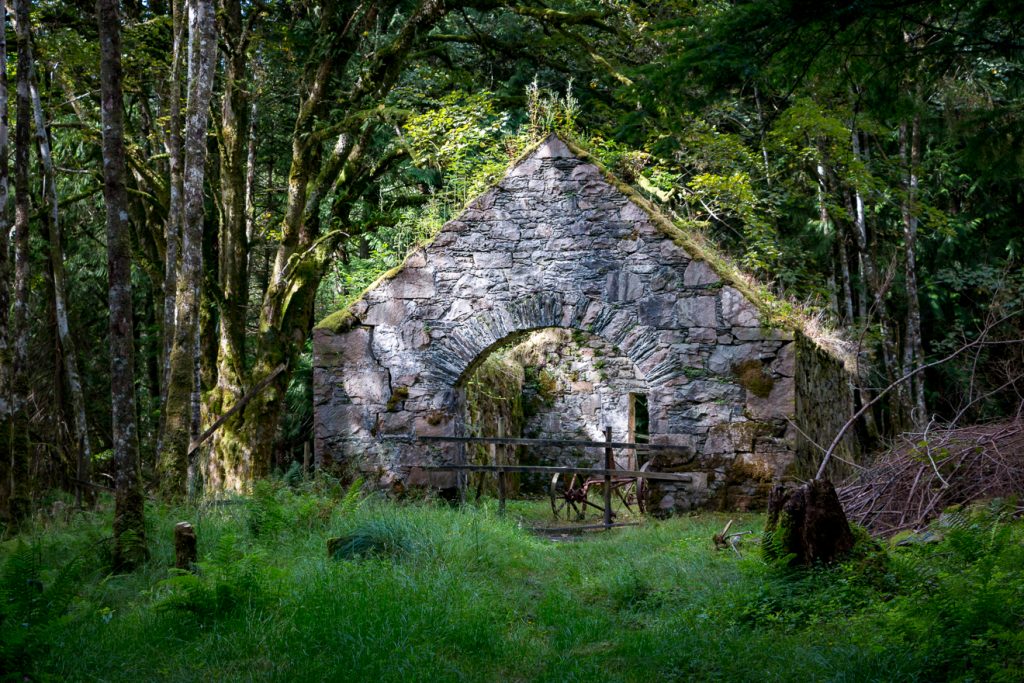 The trail starts off easy enough though the woods. Past some old ruins of stone buildings of uncertain age but clearly not used for quite some time, centuries perhaps? A little further along, the trail comes to a clearing for power lines where I find more sheep leisurely graving, hardly giving me a second thought. Once across the clearing and through another gate, the trail begins to steepen. Not by much, just enough to let you know you're climbing a hill. In and out of the woods with the occasional stream or spring. Not many other hikers out and about this late. I don't see anyone ahead or behind, just a few passing me on there way back down.

Just as I hope, I made the summit in 45 minutes. This gave me a little time to be at the top to enjoy the view and take a few pics before heading down. As you can image, if not see by the photo, this spot offers a commanding view up and down the loch. Not a surprise they would put a lookout up here. I can't imagine how miserable it could have been for the sentry assign here during the winter months! It's a small, windy knoll with only the small stone lookout. It looks as though the north-facing portal was bricked/stoned in at some point, perhaps to shield from the north wind. Hard to imagine a winter attack across the mountains to the north, so I guess no harm in not seeing out that way.
The walk back down by the same route only took 30 minutes as I had expected. Just as I arrived at our appointed rendezvous point, Kevin drives up. Perfect timing.
Back to the Thistle for a freshen-up, which, of course, includes a G&T, before heading for dinner. Many of the restaurants in the area are closed on Mondays so our options are limited. There is one, however, just down the road, that's open Jennifer had recommended it and it always looked busy when we drove to and from Out Of The Blue. Also at Jennifer's suggestion, a call for reservations was in order.
Some deer treated us to a visit while we chatted in the parlor before disappearing back into the woods.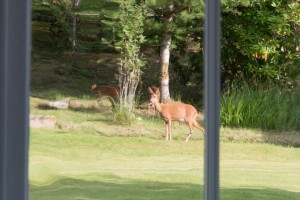 Apparently we were lucky to get in as the person on the phone didn't want to take any more reservations because they were too busy but reluctantly offered up a table as long as we agreed to be out by such-and-such time. Normally, we would have said "no thank you" to that but with so few other choices and the allotted time certainly being sufficient, we agreed. We're off to The Creggans Inn (http://www.creggans-inn.co.uk/).
This turned out to be a rather uneventful dinner, though the food was was quite good. Here's the menu. Kevin started with the Chicken Liver Parfait with port wine plum compote and toasted brioche, just the kind of thing he would like, and he did. I started with the Hand Dived Loch Fyne Scallops with Black Pudding. I always love a well-cooked scallop! And these were just that. I've "gotten used to" the black pudding, it can be good, but you sure don't need much. I'm not really sure how to describe the taste other than to say it's quite rich. For the sake of my vegetarian friends, I won't go into what it's made from, but feel free to ask me about it.
Appetizers were followed by Roasted Salmon with Linguine for Kevin. The Pan Fried Rib-Eye for me. The salmon, as you can see, had a very unfortunate plating. What's up with those brown schmears around the rim?? They certainly didn't add to the visual appeal of the dish, but taste-wise, spot on. The rib-eye for me was an easy choice. It didn't look like much for presentation either. It looked like something from any roadside diner in America. However, the steak was perfectly cooked and how can you go wrong with peppercorn sauce on a rare steak? I had been looking forward to trying some of the famed Scottish beef, this was certainly not a letdown.
We don't often go for the deserts but a couple options looked too good to pass up. For Kevin, the Warm Sticky Toffee Pudding. As I just now asked Kevin what he thought of it, I got a deep sigh of fondness. Enough said. I had the Dark Chocolate Marquise which was quite good in its own right, but once again, the presentation a little lacking.
In all, we'd probably go back to Creggans Inn if we were back in the area, but it may not be our first choice.
Not much to do otherwise on Monday night on Loch Fyne, we headed back to the Thistle for a night cap before getting ourselves packed up. The next day will be long, so we need to get up early and get on the road.
Next up is our trip to Glencoe, Loch Ness, Inverness and Elgin. But for now, a good night.