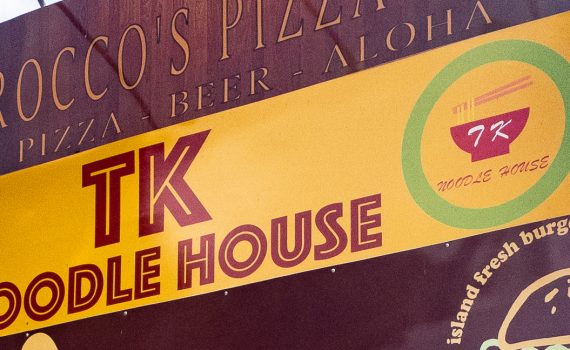 Category:Dining,Food
We're off to the Islands! The Big Island of Hawaii to be exact. This is a pilgrimage of sorts that we make every couple years.
First day - off the main drag of Ali'i Drive, on our way from the airport to our timeshare at the Kona Coast Resort II, we stopped by the crafts market just south of the main part of town. This is the Ali'i Gardens Marketplace where we found Greg, owner of Kona Natural Soaps whom we had met on a previous trip. After chatting and catching up on his new products we went away with two original design t-shirts, a baseball cap for me, and a soap made from flower and botanical essences – Greg's claim to fame is the high quality of the essences and the healing properties of his combinations.
The shopkeeper in the stall next to Greg offered up her favorite places for noodles and Thai food. You might think that given the culinary influences of the many Pacific rim countries who settled the Islands after the Tahitian's, that there would be a good number of wonderful choices. But alas, Kona has yet to to fully embrace it's multi-culinary roots and promoting authenticity and local products and produce. There are bright shining lights out there, but just a few. Most other eateries in Kona you could find anywhere in the USA, each with their own sad versions of 'localized' items, like frozen-then-fried calamari you'd find at Chili's but this time slathered in the sticky sweet-spice red chili sauce dowsed over items the kitchen wants to call 'Asian'.
The top recommendation was TK Noodle House not far away. We looked up the address after checking into the condo and set out. We headed for the Kona Village location, he also has a place in Captain Cook.
As I write this I'm making a breakfast of left over Braised Beef Short Rib Hot Pot. Pardon the occasional slurp.
TK Noodle House
Just up-mountain (Mauka) from Ali'i Drive sits one of the most memorable noodle houses you'll go to on The Big Island. The chef, TK is somewhat of a new comer to Kona side, opening this shop in a small shopping center in downtown Kona about 2 years ago.
The place was a bit hard to find for us. We followed the crazy directions of Siri and ended up in the parking lot of the small shopping mall where TK is located. The trick was deciding which door was TK and which went someplace else. In Hawaii many shop doors are on the outside of a building, not in some inside corridor. The signage was on a banner covering the former restaurant's name, very hard to tell if we were in the right spot. I stooped down to look inside a window and after see the plates of steaming food and bowls heaped with noodles and vegetables, we pretty much thought we'd found the place.
TK actually has three doorways and three distinct eating experiences, making it all the more confusing for first-timers like us. We chose door number one, the noodle shop. The second door we found out was for the make-it-yourself dinners in soup pots at the table and the third area was for their desserts. After looking at the cook-it-yourself menu, we decided on staying with the noodle shop. We might just have to come back for the others.
We were pretty hungry and after a look around to see what other diners were eating – trying to get a gauge of portioning – we order an appetizer, Fried Calamari. Nothing too adventurous I admit, but one of us wanted to play it safe at first. Plus, you know how it is when you're just too hungry and need to eat…choices are not your friend at that point. Pouring over the thickly laminated menu didn't help. Everything looked worth a try and a few stood out as must haves.
I asked our server for her recommendations. It's something I do when seeing too many good things, plus, when trying out a new place with a chef I don't know, it makes sense to ask what's good. Servers generally know that you are asking for what is best on the menu…admittedly a subjective thing, but I've not been disappointed that often by asking.
Depending on what I had a taste for, today it was noodles, she recommended the Charred Beef Noodle. For noodle soups, she thought the Oxtail was a good choice. There was also the Beef Salad to consider. After seeing the portions sizes coming out of the kitchen, we restrained ourselves and skipped the salad…a good thing we did.
Here at TK, they portion to share. Everything is shareable. A few tables started with a salad, which was served on a platter heaped up so it looked like a salad landslide could happen at any moment. Delicious-looking charred beef topped with more fresh greens and colorful local garnishes. Like I said, we restrained ourselves, but ate it up with our eyes.
Before the calamari arrived we settled on the Braised Oxtail Noodle soup and the Braised Beef Short Rib Hot Pot – I skipped her suggestion of Charred Beef Noodle.
The appetizer came pretty quickly, a criss-crossing stack of six, large calamari steaks cut into Lincoln log shapes drizzled with two sauces; one soy reduction (on the sweet side) and one creamy – an aioli by any other name, all settled on a bed of raw shredded peppers, cabbage, onion, cilantro. Most of the sauces had landed on the upper tiers of the stack, so Steven got the bottom stacks. He isn't a fan of anything mayonnaise – and we could tell the creamy sauce was definitely mayo-inspired.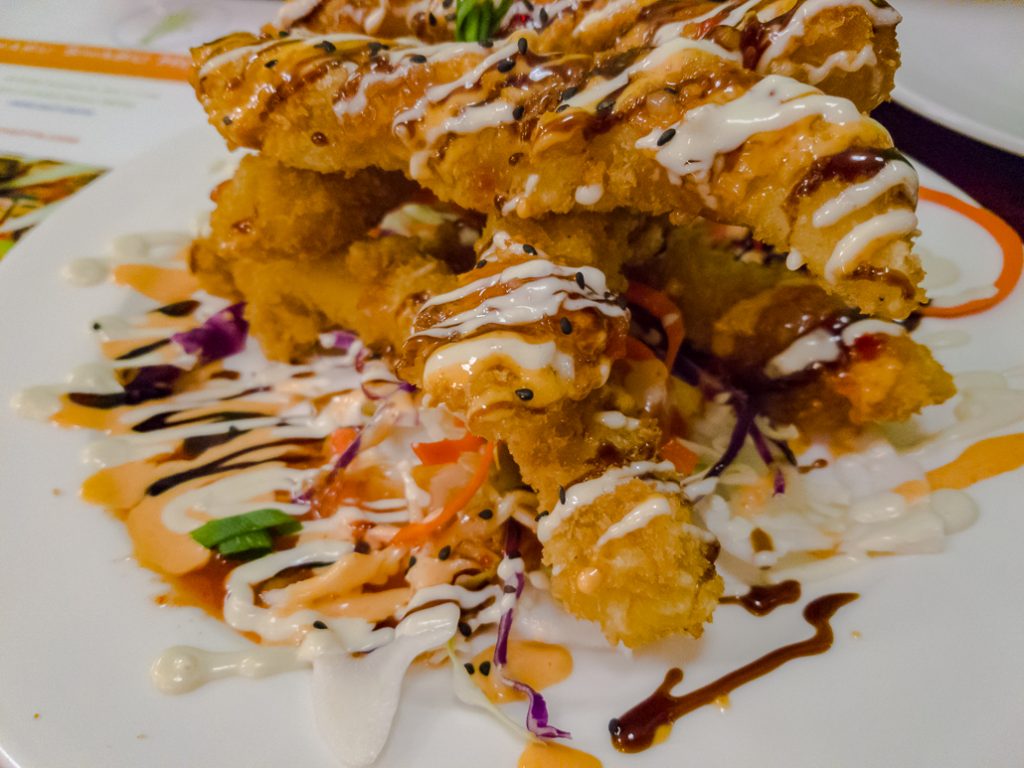 We both thought that this would be enough for a light supper. Once again, looking discretely to our neighbors table, I saw they had not only plowed through the towering salad but we now energetically working on two huge bowls of soup. I really do mean huge, filled nearly to the top with liquid and then piles of fresh veg teetering, defying gravity. Priced between $14-19, they are a value for sure, but maybe too much a value? We'd find out.
Steven's soup came piled high with crunchy veg – a mixture of cilantro, bean sprouts, and sliced onions.
My hot pot was in a low-rise bowl steaming hot. I could feel the heat coming off the bowl as our server deftly placed the crock pot in front of me. I dared not touch. The flavor of the broth was more savory than Steven's Oxtail Soup, not as much anise maybe? Nicely balanced flavors of ginger, garlic, beef and onion…to name only a few tastes. Besides being too hot to eat right away, the braised beef spare ribs could have benefited from cooking a bit longer before being plunged in the soup. The pieces of meat were a bit chewy – still flavorful though. My proof lies in how they became so succulent and tender after reheating them this morning for my breakfast.
Steven's Oxtail Soup, like I said, had a broth much more like traditional Pho that emphasizes the 'sweeter' seasonings like anise, cardamom, and cinnamon. It was a little heavier on the anise than we typically have in Seattle but the rich beefy-ness was able to balance the anise just fine. Under the two good-sized oxtail sections, was a bed of rice noodles. The one down-side of this dish was the oxtails. Flavorful? Yes. Hard to get the meat off without getting soup everywhere? Again, yes.
One last tidbit about our dinner. We saw Matt Dillon sitting across from us with two others. We later heard he's in town shooting a film and hanging out at the Sheraton in Keahou.