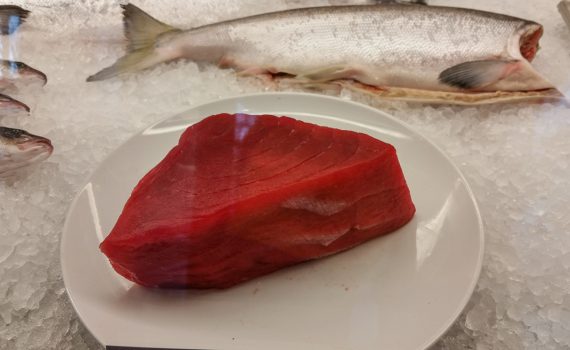 Category:
Dining
Chef Brian Clevenger, of Vendemmia, has opened East Anchor Seafood, a new, modernist inspired cross between a bodega and a fish mongers hangout with his girlfriend-partner Kayley. Reported late last year in the Seattle Met as opening before the holiday, it seems that East Anchor needed a few more months to feel ready to go. 
Tuesday, March 15, 2016 East Anchor will premier it's full menu of seafood-centric items, but do not neglect the fresh veg in the cold case or small collection of prepared foods. Of course, you can't miss the case of fresh fish as you walk in door, nor the piles of oysters, clams, and mussels ready for you. I could have walked away with the entire block of sushi grade Ahi Tuna (see above), but I resisted. It was quite accidental that we happened upon the soft opening of what is sure to be a new Madrona haunt.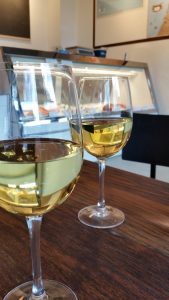 We had half dozen of the Compass Point oysters plus a glass each of Les Trouves Blanc, served with four accompaniments: Classic mignonette, sweet pepper mignonette, grapefruit granita, and wedges of lemon. Chef was there, attending to the food while Kayley ran the front of house. We were able to look into a Chef's Table private dining room, still under construction just behind the food prep area. According the Kayley, this reserved space will mostly take off from the Vendemmia menu, but she assured us that we could have a seafood focused meal there if we wanted. I look forward to Chef Brian and Kayley's new place in my neighborhood and wish it much success. Look out Columbia City, we've got eyes on you as the next hot destination!
You can find East Anchor at 1126 34th ave, Seattle. In "Downtown" Mardona. Open daily from 11 AM to 7 PM. http://eastanchorseafood.com/. Perhaps we'll see you there.