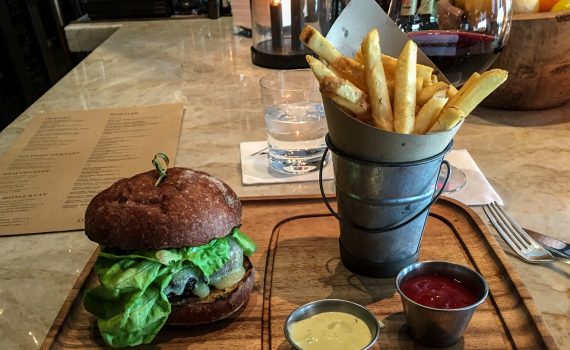 Category:
Dining
December 16, 2016
Steven and I met one day around lunch time to take in the SAM main museum's exhibit on fashion designer Yves St. Lauren. Steven had to return to work but I wanted something to eat. Since I don't get a chance to come downtown very often, I wanted to find a place for lunch I'd never been to. After wandering around the SAM neighborhood a little, considering this and that restaurant, I remembered that some friends of ours always rave about the burger at the Four Seasons Goldfinch Tavern. Steven also mentioned he had heard the same. That tipped the scale for me. Goldfinch it would be.
One thing about the Four Seasons, it's classy. On entering the lobby, you immediately feel comfortable without being at all 'fancy' in that Georgian, pillared look of some classic hotels. No gilded trim, just simple treatment of wood and stone.
The Tavern is situated to take advantage of a nearly unobstructed view of Elliott Bay. The 'nearly' unobstructed part comes due to the presence of our Viaduct. Once it's torn down, maybe in 2018, the expanse of waterfront and all the water traffic will be cleared for viewing. Like the lobby, the Tavern is simply designed and comfortable. The hostess was going to seat me in the main seating area, but I really didn't want to take up a table by myself, so I took the only seat left at the bar.
Water was set down almost immediately by some swift and nearly invisible back waiter. Swoosh the water appears…swoosh the bar menu is set down in front of me in a ballet movement of the bar tender. Ah, I thought to myself…I'm off to a lovely lunch. And I was. Here's the link to the full lunch menu: Goldfinch Tavern Lunch.
I looked over the wine and cocktail list, deciding on a red, a Pinot. They listed a red wine from Stoller Family Estates, one of our wine club memberships. Unfortunately the list just said Stoller Pinot Noir not very helpful. I asked the bar tender to say a bit more about the bottle, but he didn't seem to know that much other than it was a Pinot. In fairness, he wasn't probably ready for too deep of a conversation about Stoller, so I'll give him a pass. It turned out we have that one in the cellar already. I went for something new: Gloria Ferrer, Carneros Pinot Noir and the Goldfinch Burger.
The Carneros is a beautiful wine from a winemaker I hadn't paid much attention to in the past. I will now. Like most Pinots, they are light on the tongue but leave different impressions. This one was balanced, a bit toward the fruity side. VERY easy to drink. I should mention that the bar tender was not shy about the pour. He filled my glass over half way. I'm guessing it was 8-10 oz.
The Goldfinch Burger was not as much of a success as the wine. Swift service didn't outweigh the fact that my medium rare burger arrived medium. The saving grace were the fries with dill aioli and the fact that the burger was made from Waygu beef. Unlike Aqua's burger, this one tried too hard to be a success with having too many toppings: Beecher's cheese, fennel aioli, house made pickle (yum) and smoke onion marmalade. It was not a failure by any means, just not as good as Aqua's and it cost $4 more. Next time, I'm trying the Lobster Roll.