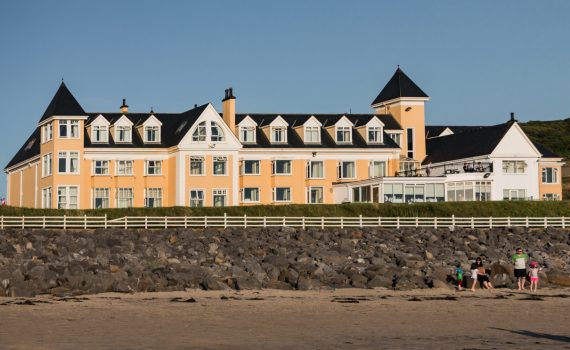 Category:
Travel
Places We've Stayed at in Ireland
Overview
Dublin, Ireland - July 14 & 15, 2017
The Merrion
21-24 Upper Merrion Street
Belfast, Northern Ireland - July 16, 2017
The Merchant Hotel
16 Skipper Street
https://www.themerchanthotel.com
Donegal, Ireland – July 17, 2017
The Sandhouse Hotel
Rossnowlagh Beach, Co. Donegal
Cong, Ireland – July 18-21, 2017
The Lodge at Ashford Castle
Lislaughrea, Co. Mayo
Castlemartyr, Ireland – July 22-24, 2017
Castlemartyr Resort
Castlemartyr, Co. Cork
http://www.castlemartyrresort.ie
Dublin, Ireland – July 25, 2017
Maldron Hotel Dublin Airport
PART I
---
The Merrion, Dublin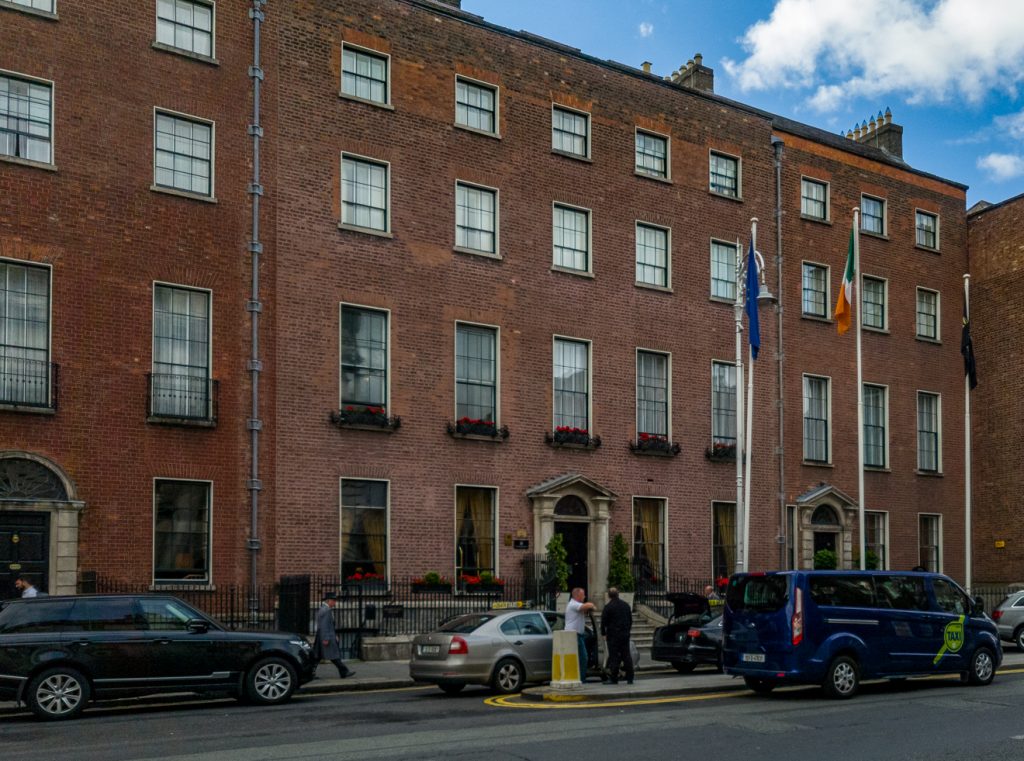 Our first night in Ireland. After searching the web for countless hours, Kevin finally asked his friend, Mary, who lives in Ireland what she thought about The Merrion. She had nothing but good things to say. We booked it before the summer rates really kicked in; lucky for us because it's not the least expensive place you could stay in Dublin.
Dublin in general, is NOT a bargain city, so don't go there expecting huge deals, either in lodging, restaurants, or shopping. Of course every large metropolitan area has its 'deals'. We wanted to stay central and within walking distance (that's an American walking-distance mind you) of good places to eat and tour. The Merrion was just right for us.
The Merrion is billed as a 5-star luxury hotel located centrally in Dublin's Georgian neighborhood, and we think it certainly deserves all its many accolades. The hotel was created from four Georgian townhouses and boasts 2 bars, 2 restaurants, a gym, a spa, a pool, a large art collection (they even have a guidebook and website of the art), and well, a lot of comfy furniture and quiet places to read, have a cocktail, or simply stare out at the gardens.
The Room  Our room was spacious and well-appointed. The king bed was dreamy; the bathroom gracious in every way. We were located in the garden wing, one of the townhomes adjacent to an outdoor dining area, which doubled as a venue for special events and served High Tea daily. The view was not spectacular, but that's what you get when you book a basic room, even at a 5 star! Please don't think we're complaining, it was a perfect room for us to rest after a long day of travel and seeing the sights in Dublin.
| | |
| --- | --- |
| | |
The Food  We had our breakfasts adjacent to The Cellar Room. As the name implies, if you're not dining in your room, you need to take a couple of different paths – including elevators -  and down some stairs to get there. Breakfast was generous. A large assortment of goodies of every kind. We were eating less carbs, so we passed on most of the bread and sweet pastries, with the exception of the brown soda bread and Irish butter. Don't skip these, you're regret it. We could order an entree if we liked, or just cruise the buffet. The servers were very attentive, and by the 2nd day, they knew what beverages we wanted and seating preference.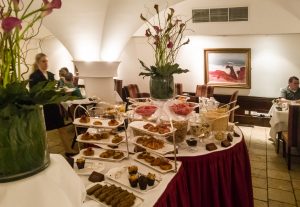 We didn't indulge in the other dining choices at the hotel, as we wanted to hit the Dublin food scene and find our own way exploring. If you're interested, The Merrion has Dublin's only Two Micheline Star restaurants, the Restaurant Patrick Guilbaud. One note of caution even if you're not hitting up this 2 star wonder; book your restaurant and High Tea well in advance. This is a popular place to stay and for locals to enjoy.
The Perks  Did I mention there was a spa and pool? Do not miss the pool. You can go even if you don't purchase a spa treatment. What can I say? It's worth the price of admission as they say. All you do is present your room key and you gain access to the amazing pool, steam room, and gym. You might notice that we try to stay at hotels with pools. We both deeply enjoy unwinding in the water and taking a steam or cold plunge. Pure relaxation.
We'll definitely return.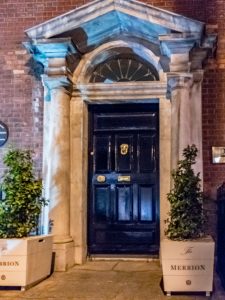 ---
The Merchant Hotel, Belfast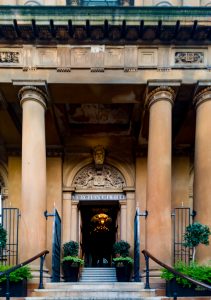 We searched long and hard to find something we thought we'd enjoy for our one night in Belfast. The Merchant is another centrally located hotel, earning a 5 Red Star designation – but without a pool, though it does have a really nice rooftop hot tub and sauna with a view.
It is, like many hotels in Europe, a collection of buildings that originally served other purposes. In the case of The Merchant, the stunning façade of one side of the hotel is a Grade A historic building that once was a fabulous bank. Looking at the carved ceilings of its main hall gives you some sense of its grandeur. This is where we had breakfast. Not bad, huh?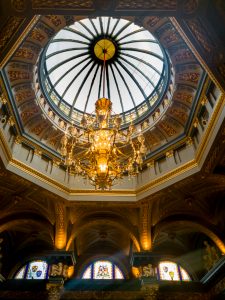 But, this grandeur is not the main entrance. You actually enter around the corner in an unfortunate 'Art Deco inspired' addition.
The Room  Entering check-in on a side street was just fine. Though we did have to go around the block twice to find it. We were greeted and quickly on our way to our room, guided by a handsome Doorman/Concierge, Michael, with our luggage. The room was well, weird. Neither of us are huge fans of Art Deco to begin with, but this was just plain odd – a black and white palate with an overt emphasis on movie stars and women's (bare-breasted) figures from the 1930's I suppose. Still, the room and bath were big, and we had a very comfy bed with soft linens and plenty of blankets. It was cool in Belfast, so these came in handy. I learned later that they also have Victorian inspired rooms. You might want to check those out.
The Food  Perhaps the most memorable moments of this stay were had, not in a hotel restaurant, but in the grand bar on the second level, next to the even grander hall where they served dinner and breakfasts, The Great Room Restaurant. Simply called The Cocktail Bar, the well-tailored, precise bartender served us a few yummy cocktails chilled by his very own ice cube creation – a hand carved, crystal clear block of ice. We chatted him up a bit and discovered he is known in the city for this talent. I wish I could remember his name to mention here, he deserves the shout out for this flawless cube. Plus, he is definitely a master craftsmen of cocktails. There are also an Art Deco jazz bar and Champagne Lounge, which we didn't venture into.
Breakfast was in The Great Room. The full breakfast is called the Merchant Breakfast and is also available to non-residents. Of course, we had to enjoy this treat. A small basket of fresh rolls came quickly as did our choice of beverage. I had tea and Steven had coffee. The breakfast was good, filling, and nicely presented – in all honest, the presentation was more memorable than the actual meal. From our trip to Scotland in 2015, I learned to appreciate the local variations of haggis and blood pudding. At the Merchant, the eggs nestled against two slices of these uniquely UK morsels. Unfortunately, these came a bit dry if you can believe that. Isn't the hallmark of a good haggis its fat content? Oh well, at least the service and setting were worth it.
| | |
| --- | --- |
| | |
Finally we come to The Cloth Ear. We booked this particular hotel because it claimed to server a traditional Sunday roast in its pub. Something told me to have the front desk check on our dinner reservation and our Sunday roast. It turned out that there was no indication of our reservation, but less any notation of wanting the Sunday roast with trimmings. We were disappointed to here that they may have run out of the roast, but could substitute another kind of roast if we'd liked. The waiter had a talk with the chef and eventually confirmed that there was definitely an order left. No one around us was eating anything remotely like dinner, only sandwiches and, well, lots of beers. We were noticed in our conspicuous attention to securing a damn Sunday roast. It was almost as if they didn't want to serve it to us. We persisted, and ate. I can't say it was particularly good, but we were starved and woofed it all down. We left quickly - we had enough of the old 1800's advertisement on the walls for women's undergarment.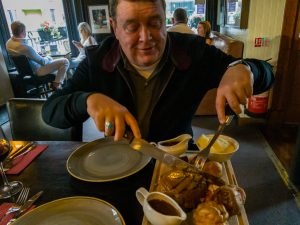 https://www.themerchanthotel.com
---
The Sandhouse Hotel, Donegal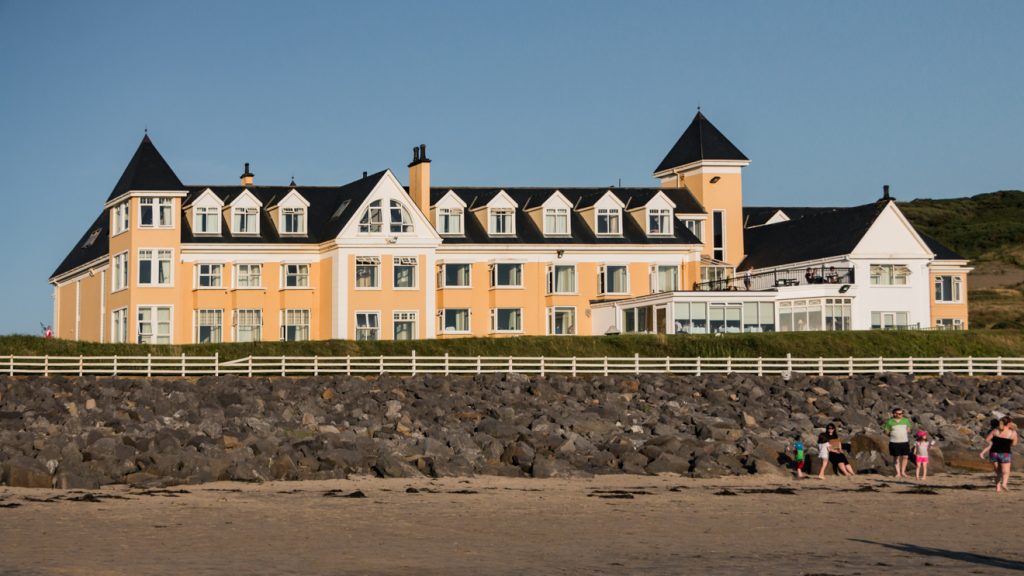 Steven took great pains to find us a place on the water to spend one night as we headed south to a several day stay at our next stop in Cong. We passed through Donegal city proper on our way, stopping to walk around the town square and find something to eat. It was after all, a very long day of travel, having left Belfast early and taking our time at the Giant's Causeway and meandering down the coast.
The Sandhouse is out of town, about 10 miles south of Donegal. The website claims it is a 4-star, family-run hotel and marine spa. Not sure what the latter means exactly, but the hotel part is right. Not sure what 4-star rating system they use. If you've seen the British comedy, Fawlty Towers, you kind of get the picture of what we encountered. She looked to have been quite something in her day, with a large veranda and rocking chairs on which to while away the endless, quite hours on the bay. The hotel fronts a huge section of nearly flat, pure sand beaches shaped in a gentle arch bending nearly as far as the eye could see in either direction. The view was really sublime.
If you got the Fawlty Tower reference, then you can fill in the blanks and skip this part. For those of you not so into British telly, let me paint the picture. You enter the hotel through two sets of glass doors having seen better days, each up slightly from the next, and into a sloping rise toward the check-in desk, stuck under the main staircase. Walls and wallpaper everywhere in need of cleaning or replacement. We dared not look too closely. On our way to the elevator (a nicely generous one I might add) we passed a narrow bar just off the entrance hall, peopled by a few ladies and gentlemen nursing their beers. I imagine they were in those same seats with those same beers for hours. In all honestly, we were very tired, and probably a little too hungry to be fair at this point. We both made the effort to buck up and get to the room.
I have to mention all this detail, because it should have been noticed by us as a foreshadowing of what was to come. We might have been better prepared.
The Room Ah, now to our room. Off the elevator at the very top of the hotel, down a long, slopped, creaky hall with worn floral carpets, we found our room. No electronic keypad, just a key (on a ridiculously oversized key chain) away from getting us out of the pent-up, radiant heat trapped in that hall. No luck. The room was hotter as it faced the setting sun. Normally, a very good thing, but in this case, it was the heat that distracted from the spectacular view. We pried open the one small windows in the once-cheery yellow room to get some fresh in and discovered we had to prop open the door with a piece of luggage to get some circulation (which, as it turned out, also helped with the wifi connection). It didn't matter. It was miserable. We were at seaside, so it shouldn't have been surprising to also find sand in the room and those little, terrible flies coming in the open window. We left our clothes in our zippered luggage.
Hot and sweating, we decided to head to the beach just before sunset.  It was worth it all. Just spectacular.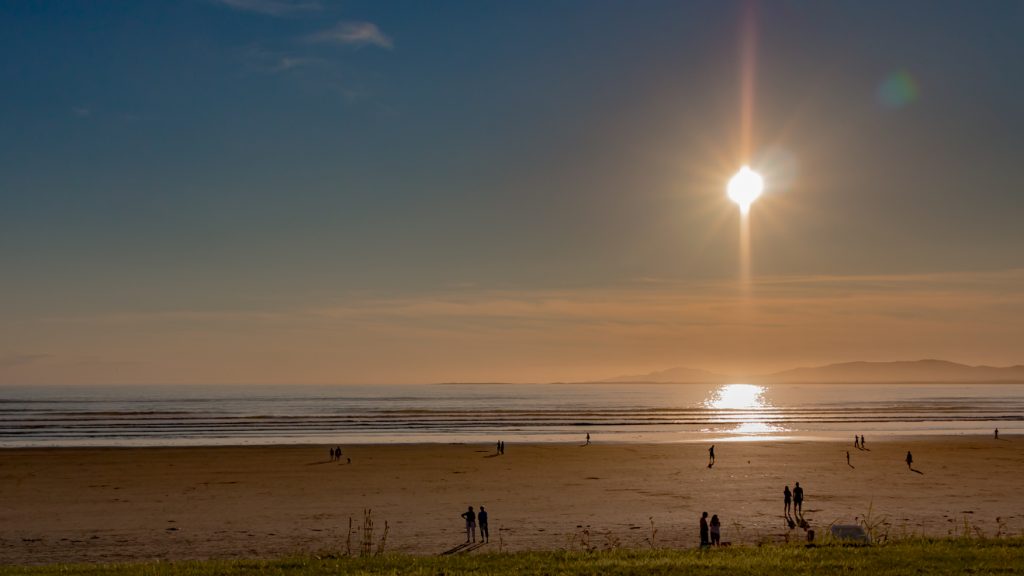 The Food  On the way back from the beach we tried to get to a deck we noticed while on the shore. We scrambled up a little path only to find a service entrance to the kitchen and loading dock of some kind. Not to be deterred, we soldered on and pushed aside a wooden gate barely holding on by a couple of rusted screws and found the deck! A few folks were sitting at equally worn wooden picnic benches, looking up just briefly to notice the newcomers and return to their half-empty pints and overflowing cigarette ash trays. I couldn't imagine staying here, so we ventured off to catch the sunset on another, small deck, this one at a half floor off the main staircase – sort of like finding platform 9 ¾ at Kings Cross. We found it and settled into the small, cozy space with a few others enjoying a couple of cocktails and light snacks for dinner. Nothing too bad to report; we made the best of it.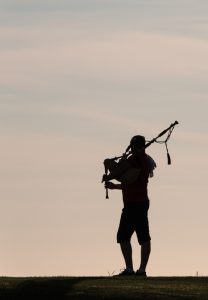 Breakfast was in the dining room, The Glasshouse Restaurant. Since we skimped on dinner the night before, we were ravenous and thoroughly delighted with our meal. I had the fresh kippers along with more traditional breakfast fare. Steven had the full Irish breakfast. We really did enjoy ourselves at our seaside table reading over the days itinerary and planning our route down to Cong and The Lodge at Ashford Castle. In retrospect, we should have explored the hotel more. It turns out there was a seaside bar, which we tried to find but couldn't, the Seashell Restaurant, and a spa.
| | |
| --- | --- |
| | |
A final note about The Glasshouse Restaurant. One reason we decided on skipping dinner here, aside from the price, was that it was quite the formal affair. Gentlemen were in ties and ladies in their finest dresses. The menu looked interesting but quite expensive. Apparently, this restaurant has won a number of accolades including awards from Lucinda O'Sullivan. These are quite prestigious honors within Ireland. By all appearances, The Glasshouse Restaurant is a destination in itself even if the hotel is a bit of a shambles.