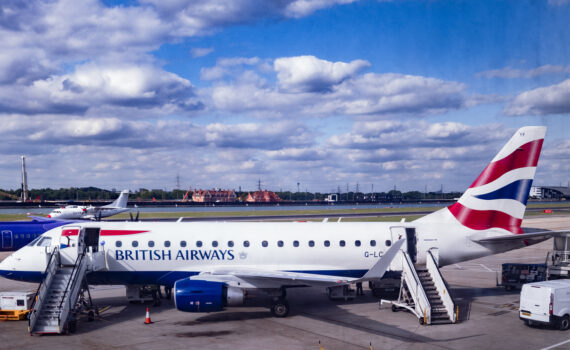 Category:
Travel
My trip to Ireland, as mentioned in my posts about Virgin Atlantic, started out in London visiting friends Darren and Ian. The next leg was getting to Dublin to meet up with Kevin. I booked British Airways CityFlyer from London City airport to Dublin. Even though it was a short flight (less than 1 1/2 hours), I decided to book in Business Class as it wasn't a huge difference in price.
With this being such a short flight, I normally wouldn't worry about writing a full post about it. But the service on-board surprised me! I hope somehow this makes it's way to the inflight catering group at Alaska Airlines. This service on BA just blows the socks off of anything I've ever seen on Alaska and gives a run for the money on other US carriers.
Getting to London City Airport was too challenging. Darren and Ian saw me off from Clapham Junction. At their suggestion, I grabbed the Overground to Shadwell where I could catch the Docklands Light Rail. The journey took about an hour, which really isn't bad for getting all the way across London nearing rush hour on a Friday. The trains got increasingly more crowded as we neared the airport. Luckily, the train terminates right at the terminal. A quick walk from the train puts you right in the terminal.
The security lines keep moving and everyone is expected to know the routine. There is no time here for novice travelers; this place is streamlined and efficient. It was mostly business people making what looked liked their normal commutes. No families fumbling with strollers and trying to keep kids in line. Of course I got secondary screening for something, I don't recall what, but was soon on my way.
The terminal was a mad house. The passenger volume has long-since outgrown the capacity. I did manage to find a seat in the packed bar area and settled in with a tonic & gin while awaiting my flight.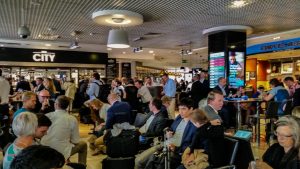 It wasn't long before my gate was posted, which turned out to be only feet from where I was. After chatting with the gate agent and finding my passport, which I didn't think would be needed at this point, she almost forgot to scan in my boarding pass - this could have been trouble had I not caught that! The actual gate area was down a flight of stairs. A dark, worn out room where we all waited a few minutes before boarding. My carry on bag was too big for the overhead bins so had to leave it at the door to be loaded in the cargo bin. These are small planes, but they are jets, Embraer E-170.
Once in the air, the efficiency of the inflight service became apparent. As soon as we hit 10,000ft, the young flight attendant was on his feet. First drink orders taken; then served with 10 minutes. Last time I was on Alaska Air (in First Class), it took over an hour for the first drinks to be served - and that was with two attendants working the cabin! Dinner orders were soon taken - yes, Alaska, here that? - there was a choice of two entrees! The whole cabin - all 12 of us - we enjoying a nice dinner within 20-30 minutes from wheels-up. Plenty of time for a second round of drinks before relaxing through the second half of the flight.
We made good time and actually landed at little early. Quickly off the plane and through immigration. Kevin was waiting in the baggage claim area for me having arrived from Prague on an earlier Aer Lingus flight.
The return to London at the end of our Ireland tour was also no BA in Business Class (Club Europe). The service on the flight out seems to have not been an anomaly. The service was just as quick and efficient this second time as well.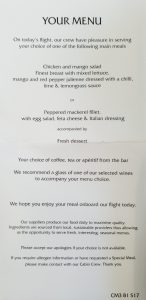 To Alaska Airlines if you're listening - get yourselves over to the UK and learn a thing or two about on-board service and step up your game!