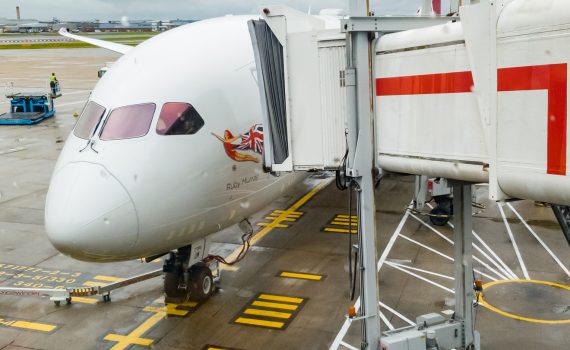 Category:
Travel
July 26, 2017
In my prior post about the Virgin Atlantic Upper Class Experience, I talked about the trip to London from Seattle. I also want to give a little more details about our return, from London Heathrow to Seattle.
We booked into Upper Class for our return home at the end of a whirlwind trip around Ireland - which we'll write about in coming posts. But I thought now would be a good time to write this followup. There's only a few things to add so this should be brief.
We were looking forward to is the Drive-in Check-in and the famed Club House. You can find all about it on their website.
Here are some finer points to help you along if you have a chance to experience Upper Class travel through Heathrow.
If you pay for Upper Class rather than using miles, Virgin will provide town car transfers for you upon departure from or arrive to London and select destinations around the world. If you're on miles you can arrange your own transport and still use the drive-in check-in. You will need to make a reservation however and provide the registration (license plate) of the vehicle in which you will be arriving. Call at least an hour before your anticipated arrival. You can book your time slot in advance but then call back as soon as you know the registration. If you get a representative that will not allow this, as happened to us, just hang up and call back. Because we were originally misinformed, we found ourselves arguing with Virgin while on the way and telling our driver to slow down.
Virgin promotes the security screening as "private."  It's more, "exclusive" than "private." You just happen to go through one of two dedicated queues off to the side of the general security screening area. There was certainly no waiting. When we came through there was just one other small family present. The general security lines looked to be a mad house.
The Upper Class website gives the impression that you would directly arrive into the Clubhouse Lounge straight from security. This is not the case, far from it. You're dumped right into the duty free shops with little guidance on where the lounge actually is located. Once past the bulk of duty free, we began seeing signs pointing the way - it wasn't much further.
The Clubhouse really is something to see! It's massive by comparison to other lounges we've seen. There are seating areas to suit anyone's tastes from quiet reading rooms to a giant "man cave" with overstuffed recliners and a wall full of large screen TVs. Stairs lead up to the billiards and rooftop viewing terrace. There were a number of different food areas, both buffet style as well as table service. After having our second breakfasts and a couple Bloody Mary's I got a haircut (yes! I still have enough to need them cut - thank-you-very-much) while Kevin enjoyed a face and scalp massage.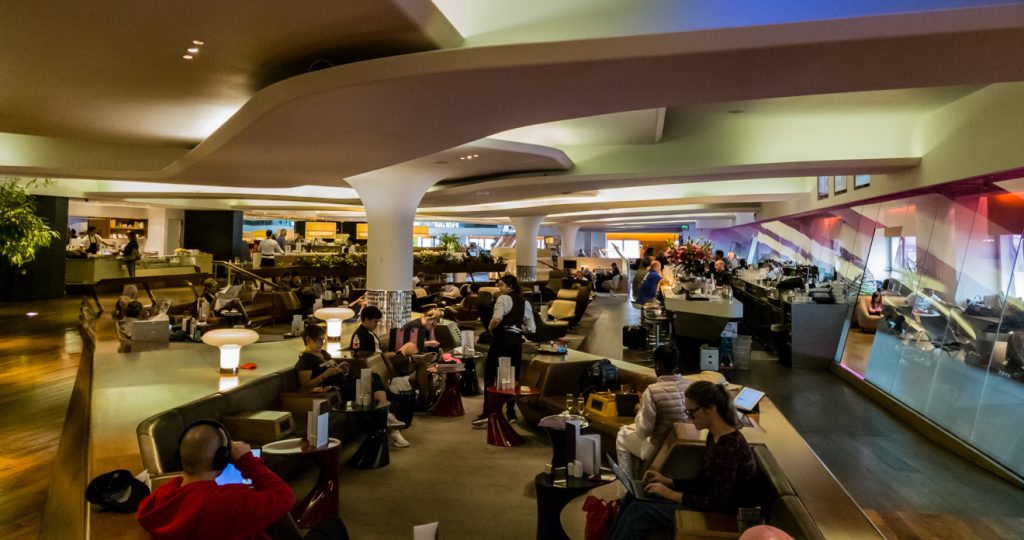 | | |
| --- | --- |
| | |
The rest of Terminal 3 is a dump! Once you leave the lounge and shopping areas the terminal is just a worn-out and dark excuse for a world-class airport. When we left the lounge, our gate hadn't even been announced on the departure monitors but the concierge in the lounge had informed us the gate. Somehow most of the rest of the passengers found out as well as there was already quite the line to get into the gate sitting area. No special line here though we did get priority boarding once boarding began.
A note about the duty free here in Terminal 3 (perhaps other terminals as well): Even if you don't have lounge access, there's a cheap way to get a buzz on before your flight. All the booze sections of the duty free have at least one counter offering free tastings. I swear we were already tipsy by the time we found a whiskey worthy of coming home with us (without breaking the bank)!
Wouldn't ya' know...it's the same exact plane as I came over in. I'll be going back in exactly the same seat. What are the odds? (I suppose 1:14 since they only had 14 of these 787's at the time).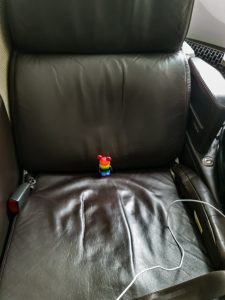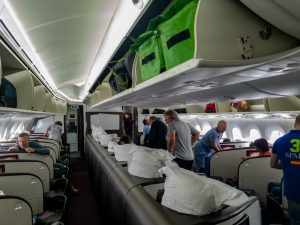 The flight back was just as nice as the flight out with friendly service and a comfortable seat. This time, however, the pajamas were not offered right up, but readily provided upon request. With this being a daytime flight, more people congregated at the bar and was quite lively. Some fellow passengers spent nearly the entirety of the flight there. Kevin & I, on the other hand, chose to get some sleep and catch a movie after a short visit to the bar after meal service.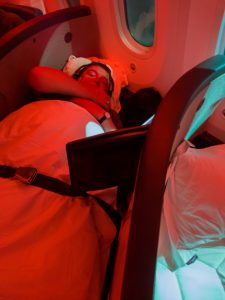 Dinner started with a little antipasto.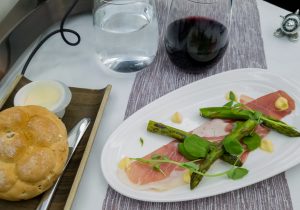 I tried the pot roast to see if they did any better with it than British Airways managed (see our prior post about BA First Class). I was sorely disappointed again. Perhaps it's a British thing about the ideals of how beef should be cook (someone please correct me if I'm wrong) but it really was inedible to anyone who likes beef. I politely asked if there was any of the mushroom risotto left, to which our attendant obliged. This was much better.
Dessert was delicious!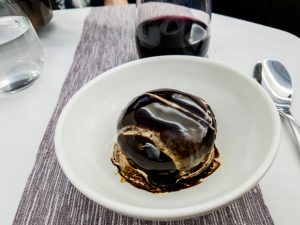 Afternoon snack was apparently a burger. I don't remember this really, neither does Kevin, but there it was in our photos.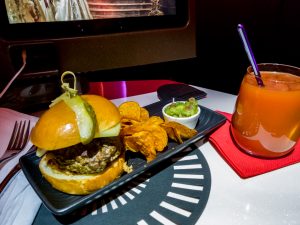 Overall, we could hardly have been more pleased with the experience. Virgin's Upper Class, as I stated in the first post, is meant as a business class level product. As such it compares very favorably to BA's Club World, but certainly more fun. It's not the level of service as BA's First Class, which really is a step up for those who can afford it or has the frequent flyer miles to burn.
We will absolutely look toward Virgin for future trips to Europe and beyond.
Cheers!