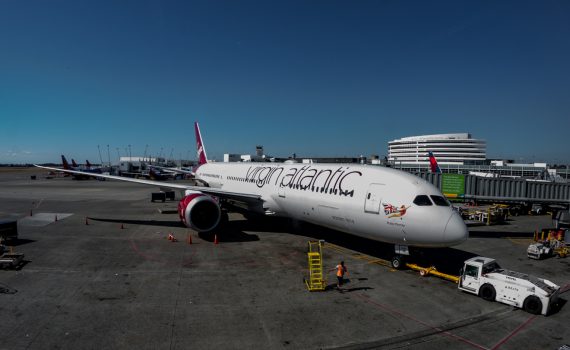 Category:
Travel
July 11, 2017
Another new airplane adventure! Virgin Atlantic, just this year, took over Delta's route between Seattle and London. After years of flying exclusively British Airways on this route, I thought now was a great time to try something new for a change. Besides, I could snag an Upper Class (they're version of Business Class and First Class rolled up into one) round-trip using American Express points. I also got Kevin's return flight with me. He went over on BA using points - I'll let Kevin do his own write-up on that if he's so inspired.
I've long-since wanted to try out Virgin Atlantic, looking all hip and cool as it does, but have never had the opportunity as they're an entirely newcomer to Seattle. I mostly knew what to expect in terms of services onboard and had seen plenty of video reviews online. I had nearly nine months of anticipation from booking to travel. Yes, we do book early!
The day of travel finally came. The day started off as any other, except for a huge sleep deficit from being up late finalizing the packing and getting the house setup for being gone and a clean return. Off to the office with camera bag and carry-on suitcase in tow so I could head straight to the airport from work. Departure at 5:50PM.
First stop at the airport was the Delta Sky Lounge. Delta is a 49% owner of Virgin Atlantic so they share a number of services. One of which is the Business/First class lounges. Virgin doesn't have their own here is Seattle, but Upper Class passengers, and I imagine higher status Virgin members as well, are offered use of the Delta Sky Lounge on day of departure. It's been years since I was in one of Delta's lounges so was looking forward to seeing this one.  The lounge is located in the South Terminal. Take the elevator to the roof-top level between gates S9 and S10. [I later found out that there's a new Sky Club lounge in Course A of the Main Terminal that Kevin confirmed on another flight later in the summer, is really nice.]
The lounge is quite spacious but not overly populated. Perhaps it was a slow time of day. Most of Delta's oversees flights had left for the day expect for a later Amsterdam flight. There was a small contingent of people who left when the Hong Kong flight started boarding. This left very few of us in the lounge, many of whom I would later see on my flight.
There was a small offering of snacks: meats, cheese, veggies, fruits, soup, and a number of carb options. Nothing spectacular. I grabbed a few bites and a cup of soup. They also have a full bar. Beer, wine, and simple cocktails are free. There's a list specialty cocktails for a charge. I tried to get a Negroni, but no dice. The bartender didn't know how to make anything except what was on the menu. So Gin & Tonic it is, oh well - life can be so cruel some times 🙂
A couple G&T later and a quick wonder about to see the whole place, it was time to head to the gate. It was SOOO FAR AWAY: down the elevator and next door, to gate S10.
As you would suspect, Upper Class has priority boarding, after family with children, etc. I was fairly early in the queue.
Upon boarding, the cabin crew was busy getting things set up for the flight. Pajamas were being handed out as soon as each passenger was settled. When I arrived at my seat, I found a menu, headphones, and amenity kit on the foot rest. Large pillows were stuffed behind each seat back.
More about the seating later. Once my bags were stowed, a flight attendant came by offering Champagne or juice - "Champagne, please!" This was actual Champagne, specifically, Gardet Brut Premier Cru Champagne, not California sparkling wine or prosecco (not that there's anything wrong with those, per se). Why can't US carriers manage actual Champagne?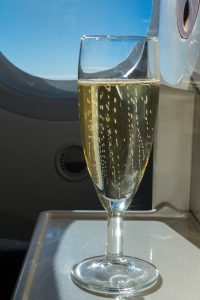 Once loaded we pushed back right on time, just to sit in the typically long line a planes waiting to take off. Soon after the 10,000 feet bell rang, the crew got back to work; refilling wine and champagne glasses or taking drink and dinner orders. I chose the Beaujolais to go with my Roasted Red Pepper and Tomato Soup and Asian Braised Shortribs.
The flight attendant came back through shortly and popped out the rather large tray table from the side of compartment and set it with table cloth, silverware, bread plate, and Virgin's signature salt and pepper shakers. Soon the soup arrived with a choice of dinner rolls. It was really quite a large bowl of soup that could have made a meal in its own right. A little under seasoned for my taste, nothing a little salt didn't fix. Tasty!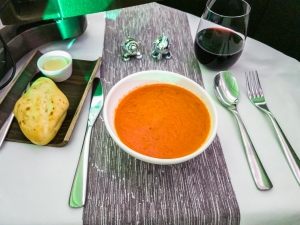 Next came the shortribs. To my delight, this we actually quite good. The meat was tender and moist with a nice housin demi glace. Hoisin is usually too sweet for me, but this was fine. I don't know what the mashed potatoes have to do with the "Asian" theme of the dish but that didn't stop me from enjoying them. The Beaujolais paired nicely. I think I chose well for this main, but it was a difficult choice; the Chicken and Porcini looked really good as did the Mixed Mushroom Teriyaki (vegetarian option). Kevin may have opted for the Salmon Nicoise Salad (despite it having Kalmata olives) had he been with me.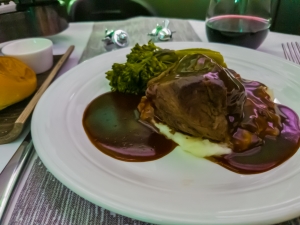 Dessert offered another challenging decision, a warm Lemon Pudding or Flourless Chocolate Cake. Of course I had the chocolate!
By the time I was ready for the Cheese and Port, most of the cabin had already lied down for the night or were deeply engrossed in their movies. The flight attendants who handled dinner service disappeared to the crew rest quarters and the smaller staff left behind were now mostly "hiding away" in the galley. I'm not one to use the call button unless absolutely necessary so it took a little while to get someone's attention. He was quite surprised I asked for it. I don't think many others had. I don't usually eat much blue cheese, but the Buttermilk Blue served here was quite mild and easy to eat and the port wasn't too sweet. A nice finish to the meal.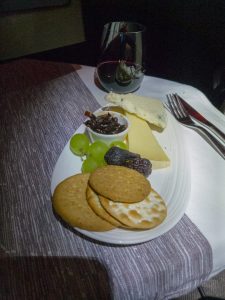 By now, I was done with both the meal and the movie (I don't recall what I watch but I know I couldn't bring myself to watch and airplane-appropriate edited version of Rocky Horror!). So, off to the highly-exalted Upper Class bar. I like the idea of having a bar area onboard. But I don't think it's exceptionally well executed here, at least on this red-eye flight. For one thing, it has only three of four closely set bar stools along the one side so really only two can sit comfortable while any others have to stand either at the end or on the service side. Secondly, there's minimal separation from the bar and fellow passengers trying to sleep nearby. Quite frankly, I think VA practically discourages passengers from using the bar during the night. When I got there, a few others had already arrived with drinks or empty glasses in hand that were brought from their seats. No barware or drinks were out except a few open wine bottles. Clearly the bar was configured to be fully stocked with glasses and an abundance of drinks for self-service; no flight attendants to be seen anywhere. One attendant did breeze through and when asked for service, he just said he'd find someone to take care of us and left. No one returned for some time, so we took it upon ourselves to find glasses for the wine. Some time later a flight attendant brought more wine and set out liquor and showed use where to find the mixers.  I was having fun chatting with a couple heading for holiday in Ireland. He was from Australia or New Zealand, she from Ireland. They were taking the kids for the first time. Despite the nice conversation, it was time to turn in for the night.
I changed into my pajamas in the over-sized Upper Class restroom. The restroom was about double the size of a normal airplane restroom with a separate bench to sit while changing - very handy! I had no idea how to get the bed into "sleeping mode" as it had no full recline button so off to the galley to find help which I did. I was surprised to find that the seat-back folds down forward so that you actually sleep on a completely flat surface. This is unlike other airlines where you just recline the seat back until fully "flat" but you're clearly laying on an unfolded chair, lumps and all. This was fully flat, no bumps, but padded with an additional mattress pad added under you and a warm duvet for a cover. The pillow was an actual full-size pillow like one would have at home. In the bag that had the headphones, there was a small vile of lavender aromatherapy pillow spray which was a nice touch. The water bottle holder was conveniently located. I have to say, Virgin has figured out the bed and bedding!
Not a great picture but here's what it looked like all made up.
I managed to get in a couple hours of sleep but woke up from time to time to peek out the window. Which reminds me to mention about the windows on the Boeing 787. You may have heard, or have been on one already to know, the windows on the 787 don't have a physical shade, the window electronically dims with the push of a button. In my own naïveté, I assumed that they went all the way to opaque. Not really! They do dim quite a bit and create a blue cast when light comes through, but by no means opaque. It's like have a really dark pair of blue sunglasses. I tried to get a picture of this but it really did strange things in the camera as you can see below, especially since the sun was straight out my window just above the horizon the whole "night." I dared not un-dim the my window for fear of lighting up the whole cabin full of sleeping passengers.
A note about seat selection on this aircraft. I was in seat 3A which seemed like a good place to be by the Seatguru.com advice. It's further from the noise of the bar and not near a bassinet. Virgin's Upper Class seats are set in a herringbone pattern. Everyone's feet are toward the aisle. Your are either by the window or in the middle of the aircraft, with two aisles. On the right side of the cabin, the middle and window seats each from the same aisle. On the left side, the widow seats don't have anything across the aisle but the back call of the middle seats. Everyone in this cabin has direct access to an aisle. For these reasons I chose an 'A' seat on the left. The three seats further back were occupied when I booked, and rows 7 has no window. Any further back puts one too near the bar from what I had read on various reviews. That left me with row 3. If I were to do this again, I would try to take a seat further back, even if on the other side. The reason: galley noise. For most of the night there was an endless stream of noise as the crew cleaned up from meal service and prepared for breakfast: clanking of plates and silverware, the beeping of timers, etc. This went on most of the night making it difficult to sleep despite the comfortable bed.
| | |
| --- | --- |
| | |
Virgin has changed this route to the Airbus A340-600 as of this writing. This aircraft has a larger Upper Class (45 seats vs 787's 31). Finding a seat further from both the bar and galley may be easier to accomplish.
A few hours before landing, the cabin was buzzing the activity. People setting their beds back for seating, changing back out of pajamas, and breakfast was being served. After a few glimpses of both coast of Ireland and the west of England, we were soon on the ground at Heathrow.
Once down, we had a delay in getting a gate, then a delay as no one was there to move the Jetway into place. But soon enough we were off the plane, just to find locked doors getting into the terminal. Clearly they weren't expecting us! Expedited customs process (as in just a shorter line) was offered for Upper Class passengers. With no need to claim baggage, I was straight off to the Virgin Arrivals Lounge for a shower and second breakfast (actually, it would be elevenses by this point). The Arrivals Lounge was beyond baggage claim and up to the mezzanine just before exiting to the car park. It was a fairly small, brightly lit room. Furnished with cafe type furniture in the thematic white and red. Nice enough for a quite bit to eat, but clearly not intended as a place to linger.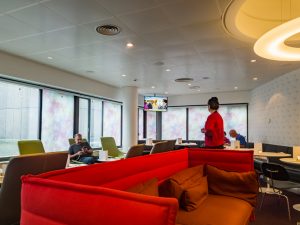 First the shower.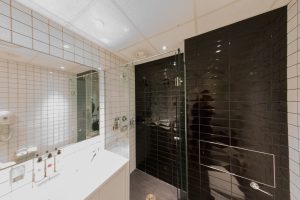 And then a full English breakfast.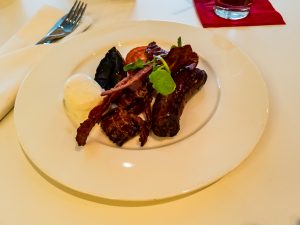 With that, I say goodbye to Virgin Atlantic for now. I'll add notes later about our experience on the return flight. In all, they did a nice job of making a long journey as pleasant as can be. To expect much more, would be nit-picky. Was it as nice as British Airways First experience? I would say, not quite. But then again it's intended as a different product. It compares more closely to BA's Club World (their business class). Besides, one would pay MUCH more for BA First. Virgin provides a more casual experience but no less refined than BA and Virgin's seat/bed definitely have the advantage. On BA, you only get pajamas in First - and they don't have a bar, even in First. Overall, British Airways is meant to be more formal where Virgin Atlantic wants to be more entertaining and engaging.