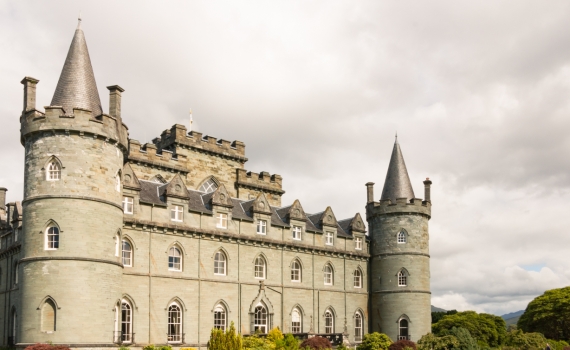 Category:QM2/Scotland,Scotland
Saturday morning, Aug. 15th
by Kevin (and some by Steven) -
We ambled down to breakfast at Thistle House. The room is bright and clean with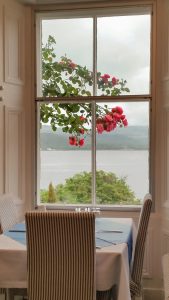 yellow walls, white trim, and white furnishings…and we were the only ones there. It was a little odd being the only ones there for a while, but soon enough another couple came in said hello in some heavy accent and sat down turning to talk to each other. This scenario repeated itself during our stay. It seemed that the couples or friends traveling together kept to themselves. So much for the adage of 'stay at a B&B and meet new friends!' Some of it was language no doubt as most of those staying at Thistle were Russian or French and spoke almost no English…at least to us or the staff. Some of this keeping to oneself could have to do with the arrangement of the tables, most of them being set up for two not a communal table where you're forced to interact. Nonetheless, I do wonder if that time when connections and friendships were made at these small homes converted to B&B use hasn't just simply passed.
The breakfast spread had a few offerings we would see just about everywhere we went in the next two weeks: Full Scottish, omelets, ala carte oatmeal (porridge), streaky bacon, and various smoked fishes – most commonly salmon and cod and a few times kippers - yum. In addition there were breads, yogurts (plain for me please), granola, and of course teas and coffees – white or black? We ended up varying our breakfasts, but did have the Full Scottish, smoked salmon (I had that since Steven would definitely turn up his nose at it) and fresh fruit with yogurt and granola a few times. Toward the end of our stay I was pretty over the big breakfasts and went with plain old porridge, which suited me just fine.
So while we didn't meet new friends at Thistle, it became our home for a few days. We 'moved in' easily to the main living room, at times setting up some of the space to use for writing this blog. Sometimes no writing was done, instead we shared a glass of a newly acquired whisky or two in the evenings. It was in the living room that more conversations with guests happened. As you can see, it's really a very pleasant place with generous couches and comfortable seating. Our hosts Jennifer and Alistair provided glassware ro whisky and wine in case guests wanted to bring their own tasty beverages. We met a particularly happy group (two couples from England) who gave us some pointers on what to see and avoid, where to eat and not. They were well into their bottles of wine so possibly this provided the necessary lubrication for conversation. Unfortunately, they did leave a couple of rather humble wines for others to enjoy…I'm being generous by using 'humble'…think of Bigfoot wines. What they didn't finish they left for others – these bottles remained untouched for the rest of our stay.
One place to eat just about everyone mentioned at Thistle and in our research before the trip was the Loch Fyne Oyster Bar located at the very northern tip of the loch. We had to pass it on our way to Inveraray so it was pretty convenient for us. We made a reservation ahead of time for lunch on Saturday, Aug. 15th and I'm glad we did. But before getting into that food adventure, it's worth mentioning our visit to the seat of the clan Campbell at Inveraray Castle.
This was Steven's day to go full kilt, which involves gathering a lot of pieces and putting them on just so. The whole dressing in a kilt process takes about 45 minutes, just fyi, but it is worth it. Soon enough off we were, heading out just before 10am taking the A83 past the Oyster Bar and into Inveraray.
Inveraray Castle, Argyll Scotland
Inveraray and Inveraray Castle were top destinations for us. You might know that Steven and I spent several months researching, looking at websites, and deciding on our itinerary for this trip. The QM2 part and visiting friends were no-brainers, these were non-negotiable given our time frame of three weeks plus a couple of days. One of the driving or organizing principles for our trip was exploring some of Steven's Scottish heritage. He's been using Ancestry.com for quite some time and for those of you who know Ancestry, at some point or another you're going to find a link way back to someone of note. I have to admit teasing Steven mercilessly about his spurious connections, especially when Charlemagne, Jesus, and Cleopatra came up.
It was inevitable then that we'd spend a good amount of time exploring Campbell territory in the area of Scotland known as Argyll. Steven's grandmother on his father's side was a Campbell as well as a Great Grandmother of different lineage, also on his father's side. This connection to Scotland and the seat of the Campbell clan was Steven's inspiration for having a kilt made – in Campbell tartan.
Coming up the highway (A83) leads you over the Aray Bridge with a picture perfect view of the castle. You drive a little past the bridge and take a right onto the castle approach. We got there pretty close to opening at 10am, but before most of tour buses. With pre-purchased tickets in hand we parked the Mercedes, thinking to make sure to have our umbrellas since the skies weren't looking too happy at that moment. As a side note, we did make some reservations for meals and sites like this ahead of time as this was the height of tourist season and we didn't want to just roll the dice and see what we got. Again, I'm glad we did.
Any of you Downton Abbey fans may recognize Inveraray Castle from the 2012 Christmas episode. This is the episode where the Grantham family visits their cousins, the Marquess and Marchioness of Flintshire, at "Duneagle Castle."
Here's Steven striking a pose on the gravel courtyard in front of Inveraray Castle.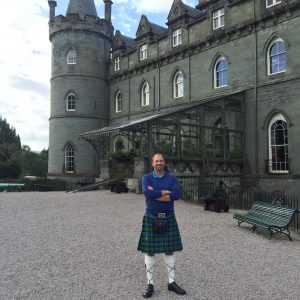 Quite handsome I think, but I'm biased. Heading into the castle we were met by a delightfully chatty docent or guide by the name of Stafford Day. He told us of the origin of the entry way we passed as being constructed for the visit of Queen Victoria, mother-in-law of John Campbell, 9th Duke of Argyll, the holder of Inverary Castle at the time. The original entrance was on the opposite side, actually more suitable to the grand approach in the original layout of the house and grounds. Victoria however, apparently really didn't countenance getting wet from the Scottish weather, so the Duke had constructed for her visit an iron and glass entry – incidentally designed by the same man who designed the Crystal Palace in London, Sir Joseph Paxton - thus moving the entrance from its original position on the castle. I guess the queen gets what the queen wants. A bus load just arrived so we quickly moved on inside but not before noticing the French couple we met at breakfast.
The inside of the castle is well documented online (http://www.inveraray-castle.com) and in many brochures so we won't go into the particulars too much. Just to point out a few of the highlights we encountered. The great hall, loaded with swords and sabers, armor on the landings, and a haunted bedroom (pictured below). Personally, I think a sure sign of a haunting is the presence of a creepy doll.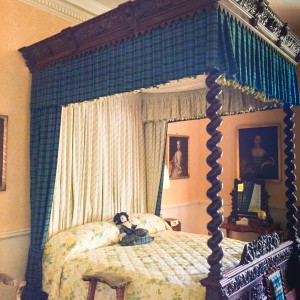 Steven and I noticed that much of the color of paint on the walls in the castle was very, very close to those in our own home. I guess that's because we watch Downton Abbey and were inspired by the period colors that are throughout Inveraray Castle. The combination of soft blue, yellow, and corral is soothing we think – we are lacking the Pompeii-inspired painted panels however. Like most great homes in the UK it is chock full of collected works and personal items from the current owners. See if you can spot Rainbow Mickey.
Of course, we would have been remiss if we didn't visit the kitchen. Thank goodness for modern appliances!!
After dodging the tourists for a couple of hours, it was time for pre-lunch. In the lower level there is a gift shop, a place to buy some food and take your lunch as well as the original kitchen with its massive copper pots and molds. Hale lobster was on the menu, a specialty of the region, but we stuck to simpler fare; soup and teas. After, some shopping was in order in the gift store. We ventured out to the gardens eventually, but not after retrieving our umbrellas from the car…which of course did not make into our packs. Didn't you check on that? The wait did us good though as I was getting cranky and needed a sit down…a nap would have done me better I'm sure. We headed out to the gardens, Steven snapping some shots as did I. I think the most impressive part of the gardens are the wood. It's not a grand place in terms of acres, but it was peaceful and relaxing just to walk under the boughs of all the mature trees. I particularly liked the circle of old trees we found. Standing in the middle and looking up was like being in a sacred space, a cathedral of nature.
We had some time to kill before our lunch at the Oyster House, so we ventured down a path adjacent to the car park toward the overlook. A wide roadway of gravel stretched out to what looked like another entrance to the castle, maybe a grander one than that in town. We never found out. Passing over picturesque river we noticed a dog and his human were enjoying the sun break on its banks deeper into the property.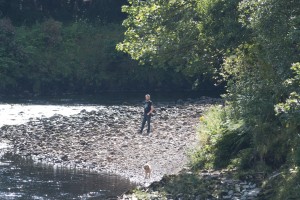 Was that the Duke? Probably not. Steven decided to make an adventure of it one day and hike up to the lookout…on his own. I'm not a hiker, not that much anyway. Pictures of Steven's hike come later - as that hike didn't happen for a couple days.
PBS has a series, Great Estates Scotland. Inveraray Castle was featured in one of the installments. You can watch the episode here: http://video.pbs.org/video/2365335643/ Keep an eye out around the 36 minute mark for Stafford, the docent.
But now it was time for lunch.
Loch Fyne Oyster Bar, Cairndow
First, I have to say that this place has probably the best location outside of Inveraray. It's directly on A82, the main road that you must use to get from just about anywhere in the Lock Fyne area. There is a fresh case and some prepared foods as you walk in. Further down is the host stand. We were met almost immediately and taken to our table. This is where things start to go wrong I'm almost sorry to say. There are three distinct dining areas we could see from the stand and we were taken to the closest one right off the seafood case and where all the families with young children happened to be. We were sat between two such families with periodically wailing small children. Not a good atmosphere in which to enjoy what we hoped would be a great meal. I know that families need to eat too, but our issue was that there were plenty of other seats in the remaining two rooms. The server was trying her hardest not to draw too much attention to the disturbances going off around the room, other guests appeared on edge too. It was just too much and we did ask to be moved. And moved we were to an adjacent room, filled with sun, big windows.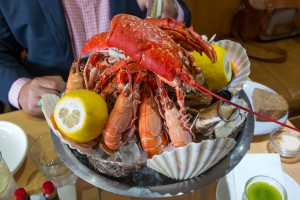 Even before the move, we had decided to take on the seafood tower with Hale lobster. Now, this isn't what we'd usually do – order the most expensive thing on the menu that is clearly designed for the wow factor…and tourists like us. We took the bait (pun intended). In our defense, we really wanted to sample the hype, namely its claim to having the freshest seafood around. Now seated in a quieter place, we enjoyed a small salad of rocket (arugula) and parm, followed by a thick soup of smoked oyster and ham. Our tower-o-seafood arrived to the oohs and ahs of our neighboring diners. I have to admit, it was almost intimidating. Many layers of beautiful crustaceans and shellfish were waiting us. Our lobster lay unceremoniously splayed out on top; a rather ungracious thing to do to the poor guy. We dove in and entered hand to hand combat with this amassing of protein. After pulling apart heads from tails, scooping bivalves from the shells, and sucking on the ends of the smallest of lobster legs, we
were nearly defeated. I said nearly. We finished quite happy and shared knowing smiles with our new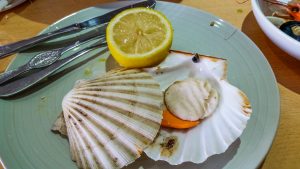 neighbors…Russians of course, who must have been awed by our efforts as we saw their own towers
arrive just as ours was defeated. All in all and in spite of the poor start to the lunch, the food – its
simple presentation and reliance upon the highest quality seafood – made this meal a good start to our culinary journey. And there were more adventures to come.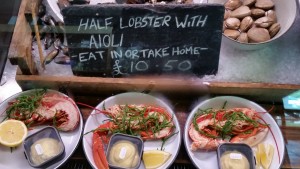 Check out their website for more info: http://www.lochfyne.com
A quick ride home and on to a 2nd dinner at Out of the Blue Bistro! - see our next post