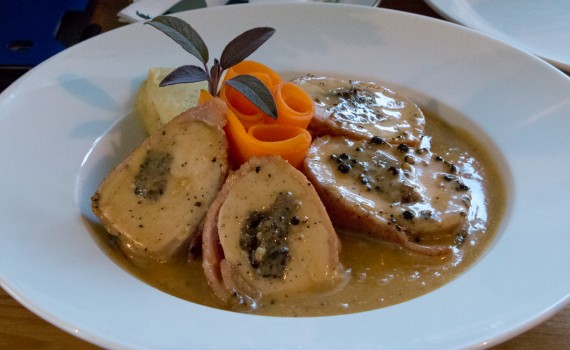 Category:QM2/Scotland,Scotland
A quick ride home and on to a 2nd dinner at Out of the Blue Bistro!
The countryside of Argyll is spectacular. After lunch we headed back to Thistle House for a rest and perhaps even a nap. We had arrangements to go back to Out of the Blue to meet the owner and talk with Noel, the chef, to get some background about him the bistro for this blog – and, of course, have another wonderful dinner. Our second meal started with us meeting up with the owner, Susan, and the shop-keep, as well as spending some time with Noel and his daughter, Kristie, our server and the all-around assistant, Lorna (sp?).
Chef Noel Dowse apparently has quite the culinary pedigree. Trained in Ireland's Port Rush Catering College before apprenticing in Jersey at L'Hermitage Hotel (which no longer exists). He then moved "up-town" to the Savoy in London. His latest gig before heading to Scotland was in First Class lounges and corporate catering for British Airways at Heathrow Airport. Being friends with the owner's husband, he had been asked in the early days of their owning the bistro to come be the chef but it took over a year of convincing him to get back into the kitchen. We were certainly pleased that he made the decision to do so.
His daughter, Kristie - delightful young woman as we've said - has not inherited her father's skills in the kitchen. By her own admission, she is not a cook – far from it. In fact, she was asked not to return to Home Economics class in school after burning up the classroom kitchen with her failed Gummy Bear muffins. At least she's able to laugh about it these days and accepts that Dad will always be the cook in the family.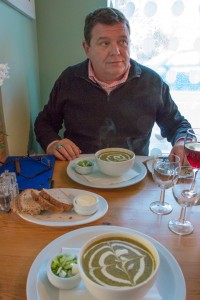 Dinner tonight started out with the day's soup, which neither of us can remember what it was. But judging by the picture, I think it was a pea soup with crème fraîche. I do remember that it was as delicious as it looks. The real treat were the entrees! We both had the same main since it sounded so good, which it was. Drambuie Chicken  - as described on the menu:
Oven roasted breast of free range chicken stuffed with haggis, wrapper in bacon, smothered in a creamy peppercorn, heather honey and whiskey liqueur sauce. Served on a bed of grainy mustard mash.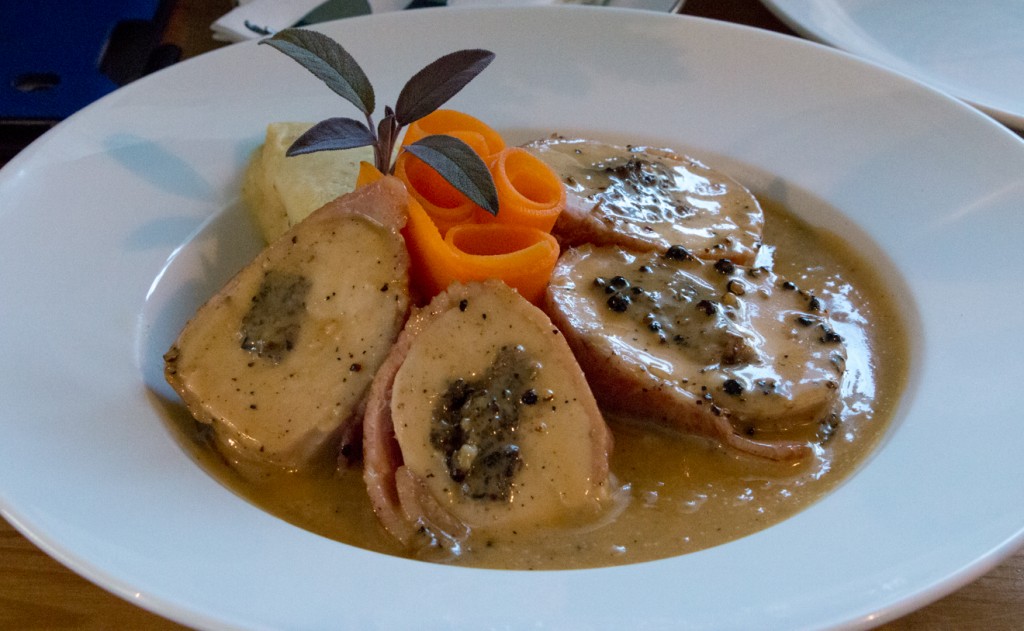 What could go wrong with that!
A couple things that made this particularly nice, besides the freshness of it all, was that it was well seasoned, and the haggis wasn't fried in fat and therefore it did not over-power the dish. We've had haggis a couple other times on the trip, though tasty, it can have pretty strong flavor, be very heavy (due to being fried in fat...which it readily absorbs), but this did not. The chicken was surprisingly moist for being breast meat.
Once again, appetites satisfied, back to the inn for a night cap and sorting through the day's photos before heading to bed.