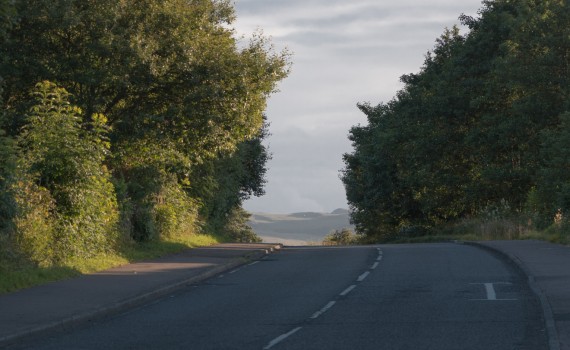 Category:QM2/Scotland,Scotland
14 August
by Kevin -
Friday evening at Thistle House and the Out of the Blue Bistro
In our last post we said there would be more about Out of the Blue Bistro. So here it is.
At the B&B we stayed, Thistle House Guest House, there is a binder with recommended places to see and where to eat. Jennifer, the proprietor, said later that she had personally checked out every place mentioned and picked only those places (sights or restaurants) of high quality. The restaurants in the book all used local ingredients, sourced from nearby. After some back and forth – we were both a little too tired to decide quickly - we wandered south of Thistle House toward Strachur to Out of the Blue Bistro. Distances are always hard to gauge, but getting there the first time seemed a very long ride down a twisty, narrow country road. Luckily this time of day didn't have the lorry traffic we'd encountered elsewhere so we were less white-knuckled on our way south. After turning down toward the loch a wide stretch of shore opened up and right at the end was Out of the Blue Bistro. We pulled up, not seeing a bonafide parking area, and just stopped the car on what could have been a sidewalk. This isn't as odd as it might seem. We'd already noticed that there aren't a whole lot of parking spaces anywhere, so folks just pull up half on a sidewalk and half in the road. We decided to follow suit and park like the locals. No one noticed.
The bistro certainly is a humble looking place. The first time (we returned here two other times) we were a little confused as to how to get into the bistro. The main doorway is through the grocery store. We didn't really know if we'd missed an entrance or what, but we slid in and waited a bit for the server to come. Short time later a very cheerful, pleasant young woman came and greeted us and sat us by a window. She reminded me of Adele, the singer; I was instantly at ease. There were only a couple of other tables occupied, which was just fine with us. The menu had just a few items and there was a fresh sheet posted on a blackboard hanging next to the doorway we'd passed through to enter the restaurant. I quickly settled on the seared Greshingham duck breast with a hand dived scallop on black pudding and Steven picked the langoustines in garlic butter as our starters. Our mains were the Thai shellfish pot of locally caught goodies and stroganoff with wild mushrooms and cream on basmati rice. We picked a Pinot Grigio to go with it all.
The meal as surprisingly good on all counts. I'm not sure why we were surprised exactly, maybe the humble building, maybe the fact you enter through a small grocery store, who knows, but we were pleasantly surprised. There are so many ways duck breast can go wrong, but the chef seared it perfectly and didn't (thankfully) put some sticky sweet candied goo with it, but a savory reduction of red wine. Wow. A couple of tastes of that and I woke right up, eager to see what else was in store for us. Steven's langoustines were equally as well prepared,simply but with deceptive precision. All the flavors balanced and didn't over power the main star of the plate. The fennel infused the light broth for instance was delicate and seasoned well. My shellfish pot arrived a bit early – seeing this, our server took it right back to the kitchen. It reappeared at just the right time. I was a bit worried that holding the shellfish would ruin it, but what I was served had no indication of being aged at all. Maybe the chef just prepared another one, I didn't think to ask – I just reveled in the steamy goodness that hit my nostrils when the lid was taken away. Saffron, garlic, parsley, salt and pepper in wine…that's pretty much all that was used. With such fresh seafood you really don't need to mess with it perfection. Steven's stroganoff hit the spot too apparently, as I barely got a chance to have a nibble before it was gone! We didn't have room for dessert, but promised ourselves to come back to sample more of the menu.
Full, happy…and very tired, we returned the Thistle for a nightcap in the living room and to study the maps for the next day's adventures. Whisky and the soft, generous couches was a match made in heaven.