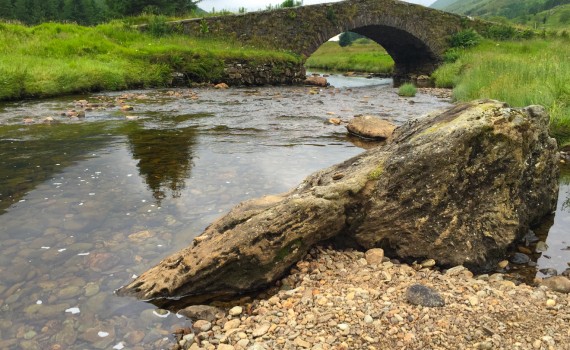 Category:England,QM2/Scotland,Scotland
By Steven –
Thursday, 13 August
What a lovely visit we had in York with Linda, Kate and Bill! But now it's time to move along. Our next stop is Glasgow.
With our "goodbyes" to Bill and their lovely daughters, Kate took us to the train station with one more scenic stop along the way at Sledmere House (http://www.sledmerehouse.com). No time to go in or thoroughly explore the grounds. It all looks amazing but will have to be saved for another day. Now to the train station.
Here are some scenes from the Yorkshire countryside as we made our way back into York to catch the train.
Train on-time, as were we – love when it works that way. I wish I could say the rest of the trip was uneventful, but that was not the case. We had an unfortunate incident along the way, the details of which I'll not go into here other than to say police and coroner were summoned. After a delay of about 1 ½ hours we were on our way again. Ultimately, our train that was to continue on to Glasgow was terminated in Edinburgh so a change was in order – we grabbed another one in less than 30 minutes. Edinburgh station was quite the bustling place! The next/last leg to Glasgow passed quickly though the train was now quite crowded with everyone from our original train on board as well.
On both legs, soft drinks and snacks were offered, but nothing memorable, crisps (potato chips to those of us from west of the pond), I believe. I think I also had a wine. Otherwise just coffee and tea.
We arrived in Glasgow with an easy transfer to the hotel as it was in the same building. Tucked off to the corner of the station was the inside entrance to the lobby of The Grand Central Hotel (https://www.ihg.com/spnd/hotels/us/en/glasgow/glags/hoteldetail). The hotel had all the markings of being quite the grand place in its day. It wasn't hard to visually the well-heeled of the early 20th century arriving with their porters and steamer trunks on their way to or from estate hunting parties in the Highlands – I think there could be a novel or movie in that somewhere, perhaps already is. The 5+ story tall chandelier circa 1980-something in the main stairway seemed a little out of place.


Still well maintained, attentive and friendly staff. But in typical European fashion, the corridors narrow with lots of doors to get the luggage through from elevator in one wing to the room in another. Our room was a little odd. It was generous in the sense that it had a separate sitting area from the bedroom, but both areas on the small side, though the bathroom was enormous – situated off a hallway connecting the sitting room and bedroom. We only had an alcove that served as a closet. Our room looked out the back of the hotel over the top of the train station roof. Looking out this way we could see the other wing of the hotel. It was obvious that the hotel had grown over the years by absorbing a successive series of buildings, all slightly different.

A quick check with the concierge about dinner suggestions (I say quick, but that's all relative as we're beginning to find that the Scots are quite the talkers!) put us on to an Italian grill, Barolo Gill (http://www.barologrill.co.uk), just a short walk away. A quick call for a reservation and off we headed into the streets of central Glasgow.

We quickly found the summer, street café version of the restaurant which would have been nice to be outside. However the street performer nearby, though had a nice sound was so loud we could hardly hear each other let alone the hostess. Fortunately it didn't take long to establish that our reservation was actually for the full restaurant around the corner. Much more peaceful!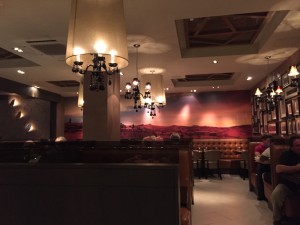 The meal started off quite promising. I started with the Gamberoni Con Pancetta: prawns with smoked pancetta swimming in white wine and butter – what could go wrong with that? I wanted to just drink the juice after used up all the focaccia. Kevin enjoyed the Zuppa Del Giorno which turned out to be rustic pea and pancetta. Delicious if under seasoned.


Then it was on to the steaks. We both had the 12oz Rib-eye. Kevin, at the recommendation of the waiter, had the horseradish and oregano steak crust. This sounded good in theory but turned out to be really mild and didn't actually add any flavor, all-in-all a bit of a disappointment. Mine, on the other hand couldn't have been any better. Besides the steak being cooked perfectly (just over blue for me thank you), it was served with a truffle oil brown steak sauce. Having tasted the sauce, Kevin stated "I truly believe that truffle brown sauce could solve the world's problems; share a cup!" Perhaps a bit of hyperbole, but it was pretty darn good.


No desserts tonight, they just didn't look that interesting to us. Pity.
This is what a happy diner looks like: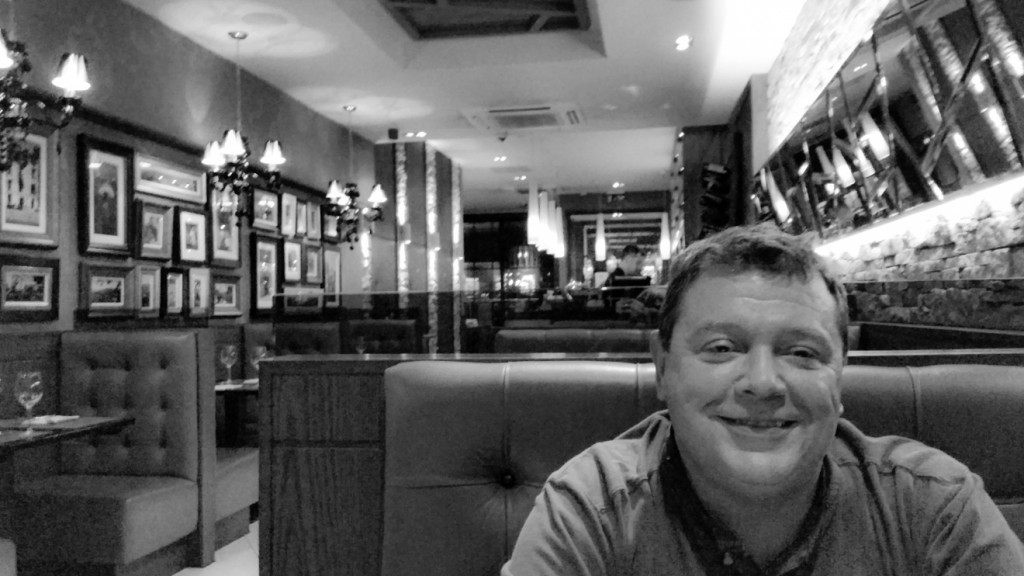 Our bellies full, we take a little stroll up and down the very fashionable Buchanan Street. The shops were all closed by this time of course so a quick run back in the morning will be required for a cell phone and a pair of shorts seen in a shop window. But for now, back to the hotel.


Couldn't resist a peak in the highly touted Champagne Bar on the way up to the room. Quite the elaborate space, overlooking the main hall of the train station. Kevin was wiped out so nothing for him. I opted for a whiskey rather than champagne this late at night. Some of you who follow up on Facebook may have seen Kevin quoting me on my summation of the Lagavulin 16 year old Islay Whiskey – "it's like sucking on a charcoal from the BBQ." So, OK, my turn to exaggerate, a bit. But it was pretty smoky, not my favorite so far!


Enough for one day – off to bed.

Friday, 14 August

Early start today, have to be to the Hertz office by 10:00. Which, by the way, was not in the train station as advertised. Why would you say your location is Grand Central Station when you are clearly not in the station but a 10 minute cab ride away? Really?

Continental and hot buffet as well as menu order options available for breakfast this morning as part of our B&B package. Quite a spread and quite a few people here. It's a large room and hardly a table available. The buffet was a little depleted when we came through and as an American (you can tell by their accent, you know) stated "The Americans are here, they take so much so that there's nothing left!" There was plenty left for these two Americans, but one of us (pleading the 5th here) thought the cute little bottles had milk in them – one sip proved it to be rather thick plain yogurt – oh well, live and learn.

After a dash back to Buchanan Street for a burner phone and a pop into the department store for the fun shorts in the window, we're off to the aforementioned remote Hertz office.
No Hertz Gold Service here but the wait was well worth it. We ordered an Audi-ish something-or-other but drove away in a nice new Mercedes –well OK then, same price, of course we'll take it!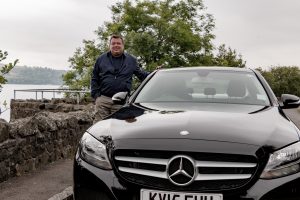 Off we headed for the Highlands. One or two missed turns getting out of the city. But all-in-all not too bad for driving on the 'wrong' side of the road. A few screams of horror, some nail biting, close calls, etc. but soon out of the city onto an expressway that made it a little less challenging for a moment.

Now exhausted after an hour of driving we needed to stop at the south end of Loch Lomond for lunch. Couldn't have picked a better place to just pull over, we found ourselves at a place called Cameron House (http://www.qhotels.co.uk/our-locations/cameron-house).

We made good time in getting to our destination but certainly enjoyed seeing the countryside, mountain, and lochs. Even with it being a grey, foggy, and misty day, it was still stunningly beautiful.
We were greeted upon arrival by our host and the guest house's proprietor, Jennifer. More about Jennifer and her husband, Alistair later. For now, we lugged all the luggage up to our room, the Campbell Suite of course on the top floor, with Jennifer's help. I had my reservations about how the accommodations would be here, thinking they may be a little more primitive than would seem by the website. I couldn't have been more delightfully surprised. The room was spacious with a great view of the loch. The bathroom was large and quite modern. Most importantly, the bed was really comfortable! The parlor downstairs with its over-stuffed sofas was available for our use any time with whiskey and wine glasses at our disposal. We'll do a more extensive post about the Guest House later.


After a short rest, we ventured out for dinner. In our room was a binder with local eats. We zeroed in one a few miles down the road called Out of the Blue Bistro in Strachur (https://www.facebook.com/pages/Out-of-the-Blue-Bistro/740658709328210?sk=info&tab=overview). What a find this was! So much so that it will need to have a post all on its own as well – stay tuned for that.

Back at the hotel, it's time for a night-cap of the gin we brought from the ship and then off to bed.

See you in the morning - xxoo