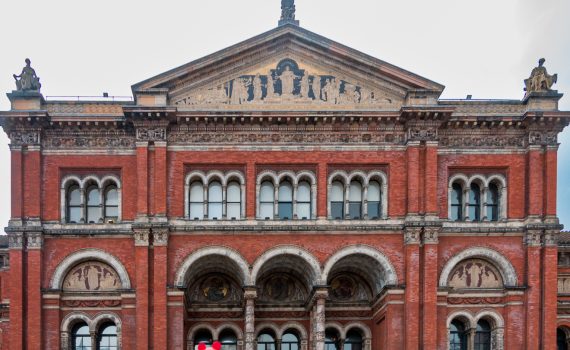 Category:England,London,QM2/Scotland
24 August 2015
By Steven –
I was the last to get out of bed this morning. By the time I was downstairs, the day was well under way. I was delighted to be offered a home cooked breakfast of porridge and fresh fruit. A great way to start the day. Over breakfast we discussed the strategy for the day. Kevin and I wanted to hit at least one or two sights this morning. In the afternoon, Kevin has a talk to give at Open University on the north side of town. The day will be capped with a special dinner, our last of our trip.
Buck House (aka Buckingham Palace) was out – simply too complicated with the rains and not much in the way of shelter until you got in. It's agreed that we'll hit the Victoria and Albert Museum and, if there's time, the Science Museum or Natural History Museum. All of these are right next to each other so should be quite do-able. Darren and Ian helped us map out our journey then dropped us off at Clampham Junction Station. We were on our way.
With an unexpected train change enroute, we made it to the V&A just fine. It hadn't really started raining full-force yet, but it wouldn't have mattered any way. The Tube stop is right at the museum with no need to go above ground to get from the train to the lower entrance. This will come in quite handy later. Entrance to the museum is free, with the exception of some special exhibits. Other than a quick bag check, there was no line to get in.
We made our way through a few sections before deciding it was feeding time again. So we headed for the lunch room that Darren had recommended toward the back of the complex. We weren't sure what we were looking for. We had the impression that there would be a quiet sit-down lunch room which we couldn't find. After a quick call to Darren, we found that we were exactly where we should be. This was an area that has several cafeteria-style sections: hot foods, sandwiches and salads, cakes and desserts, and, of course, tea. We each went our separate ways on finding food and managed to converge at the same time to try finding a table. It was high on lunch time so finding a place to sit took some doing. We managed to snag a table in one of the very ornate rooms off to the side. The setting was lovely, just a bit crowded and noisy for our liking. The food was good and hit the spot as we marveled at the wood and plaster work high on the walls and ceiling.
After lunch, we hit most of the rest of the museum. My back was tired, it had become stiflingly hot (I was trying to find any pocket of air conditioning breeze I could) and Kevin's hip began to hurt. I know that all sounds awful, and we're not as old as all that but it is a big museum – and we've been at this touristy stuff for several weeks now, so give us a break. While Kevin settled back in to the cafeteria for a tea, seated next to a group of nuns for safekeeping, I headed off across the courtyard, now that it wasn't pouring rain, to get a gelato.
After a bit of a rest we tried to head for the Natural History Museum just further up the Tube tunnel from the V&A. As we walked along we saw more and more people flooding into the tunnel. Flooding being the operative word here. They were drenched! To get to the Natural History Museum, we'd eventually have to go outside which would have made Kevin look like a drowned rat headed to his talk later. So back to the V&A, surely there's something we haven't seen yet. After a spin through the gift shop and poking our heads back into some adjacent rooms we'd already been through, we came across some remains of the family treasure. My mother is from the Woolsey family making us cousins to the famous Cardinal Wolsey, you know, the one that wasn't able to obtain a divorce for Henry VIII causing the England's break from the Catholic Church, that one. A couple sculptures that he had commissioned were recently rediscovered and now on display here at the V&A as the Wolsey Angels. That was fun to see.
Now it was time to head out and meet Darren at the same tube stop at which we'd arrived earlier. We found him waiting at the exit from the museum to guide us to our next stop Open University where Kevin was scheduled to give a talk about his new book, Psychotherapy for the Other. Find it on Amazon. Just a couple of changes on the Tube and we were across town before we knew it. When we got to our destination, we parted ways. Kevin and Darren to his talk and me to explore the area for a couple hours on my own.
Darren did a great job of organizing (or is that organising?) and promoting the talk. Apparently it was quite the success. Kevin even ran into one of his former grad students in the audience – a very pleasant surprise for him!
While Kevin was on his book tour talk, I headed up to the famous Camden Locks area just a few blocks away. This area is known for its nightlife and arts. Darren tried to head me in the direction of Amy Winehouse's favorite spot. I never could find it, but did come across herself, her memorial statue anyway. I don't really know much about her other than what I've seen/heard on The Graham Norton Show. It's clear that she had/has quite the following as evidenced by the number of people who stopped by to take photos with her or leave small offerings of homage.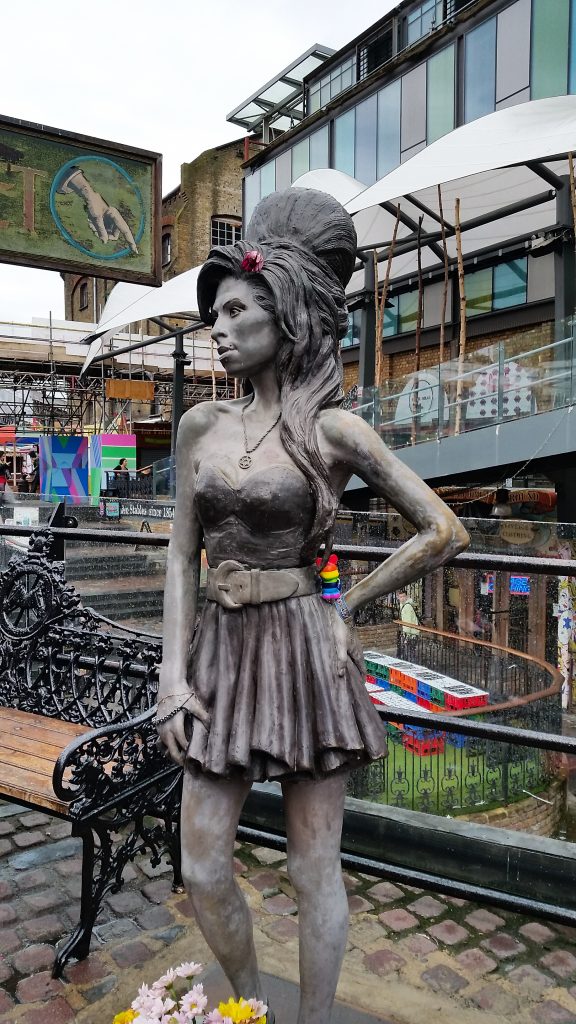 Otherwise, it was interesting to wonder about the shops and stalls in the area. One could easily get lost in this part of a maze of twisty little passages, all alike. And a bar, complete with a hot tub, towels available. I'll pass!
One thing I found that would be worth going back for was the "food court." This was an area with several dozen food stalls. You could find cuisine from all other the world. Even though many of the stalls were closing up for the day, the mix of aromas was like a Siren's song. I tried to resist, as I knew a big dinner was coming, but the polish sausage was too hard to say "no" to.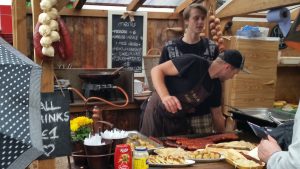 Before long I headed back to meet Kevin and Darren who were still excited about the success of Kevin's talk. They asked about what I had been up to. I had to confess to the sausage to their disdain – but they just don't understand – they weren't there!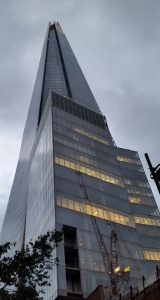 Next stop dinner. Back to the Tube we go. Soon we were back to central London at the base of The Shard Tower. Last time I was in London, this didn't exist so it was interesting to see it up close and personal. But no time to linger, we still had a bit of a walk to go to get to the restaurant and it was getting close to reservation time. When we arrived at Pizarro, Ian and Neil were already there, drinks in hand.
This was an amazing dinner! Unfortunately, they were out of one of the star items on the menu, which several of us were eyeing. This seemed odd in that we were there fairly early into this evening's dinnertime. There we plenty of other things to try. I think between the five of us, we pretty much ran the whole menu. Everything was really good! At some point in the evening, the owner/chef, Jose Pizarro, himself, came in for dinner. We weren't able to get a picture of or with him without causing a seen. Kevin and I weren't really familiar with him, but according to Darren, he's one on London's foremost up-and-coming restaurateurs.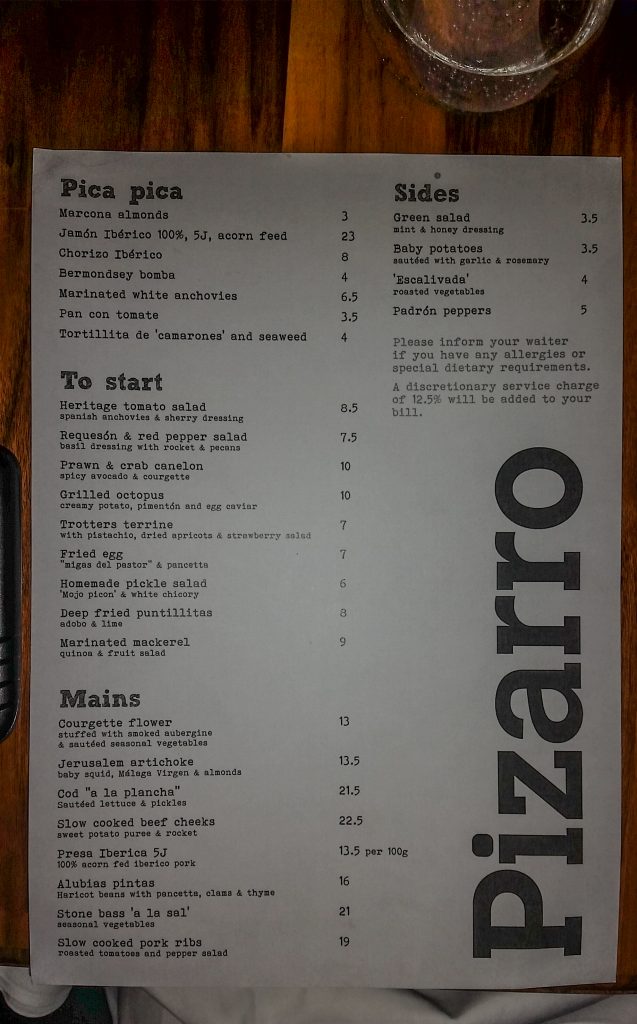 After dinner Kevin and I insisted on getting a cab back home, much to Darren's protestations. We were tired and weren't up for the walk back to the Tube nor the walk from the Tube to their house. Despite, the number of black cabs running around the city, it's apparently an extravagance to actually use them when the Tube can get you there. But after that dinner, a little extra extravagance seemed a trifle. After all, this was the last night of our trip.