By Steven
August 19, 2015
A wee dram of whisky by my keyboard is a perfect way to get in the mood to write this next installment. "Why?" you may ask. Well I'll tell you –this is a day devoted to touring whisky distilleries in the Speyside region.
When putting together our itinerary, Kevin and I specifically targeted finding a couple of night's accommodation in this area so we could take a mini-tour of the distilleries in the area. In fact, our selection of hotel played into this. The website for the Mansion House Hotel listed on its website, front-and-center, "The Whisky Trail" with listings of many of the distilleries in the area and a promise of "We can help to guide you through by providing information on the distilleries, their opening hours and directions as to how to find them." After our encounters thus far with the staff here, we don't hold out much hope for that. So instead we headed for the bank of brochures in the foyer – you know the place, the racks one finds in all the best establishments, often hidden out of view, where you can find brochures on all manner of tourist activities, from horseback riding to the local Dolphin Quest or ziplines. Amongst all these, I found a few distillery pamphlets to look over during breakfast.
OK – this is where you ask why we didn't plan ahead and already do our research. The answer is simple, we just didn't. We're good at planning the big stuff, but the little details just have to happen as they do sometimes. This is one of those times.
We were able to whittle away the possibilities quite quickly. Many were by reservation only and others just too far afield to be practicable with a relatively late start on the day. We narrowed in on two: the first being Strathisla about ½ hour's drive away in Keith. The other one was a bit closer, Glen Moray back in Elgin that we could hit on the way"home."
The drive to Keith and finding Strathisla was rather uneventful. Our trusty nav system in the Benz did perfectly – and we actually paid attention to it not thinking we knew better. You have to know when you're smarter than your car and when you're not.
As we found out later in our tour, Strathisla is part of the Chivas Regal group, which in-turn is part of Pernod Ricard. Yes, this whisky is made by the same people who make such mainstays as Pernod Fils pastis, Royal Salute, Seagrams and Absolut. Not exactly the boutique distillers we'd hoped to find. The plus side however, is that the Duke of Argyll (you remember him, the Chief of the Campbell Clan) is the Brand Ambassador for Royal Salute, so there is a "family" connection. BTW, Royal Salute's 45 year old Tribute to Honour blended whisky sells for a mere $195,000 for 70cl (https://www.thewhiskyexchange.com/P-16905.aspx) of which, the basic Strathisla single malt is the major component. If any of you happen to pick up a bottle on your next spin through a duty free – please share a sip.
Other things we learned on our tour:
1. Most of the barrels used for aging whisky come from America. They're oak barrels that have been used to make bourbon. By US law, the barrels can only be used once for bourbon. So the Scots by them up for use in making whisky.
2. The height of the neck on the distilling vats makes a difference in the intensity of the flavor of the resulting whisky. See #4 Upper Part of a pot still here: https://www.whisky.com/information/knowledge/production/details/the-scottish-pot-stills.html
3. The water for whisky must always come from a well. However, the excess water from the process must be treated and returned to the nearby river (there's always a river, that's how they used to grind the barley). The excess must go into the river within 1 degree C of the temperature of the river to protect wildlife habitats
4. And most importantly – there are sections of the distillery where you can't take pictures lest the whole place explodes. Consider yourselves warned!
The tour, as per usual, ended with a tasting. We were treated to a flight of whiskies that included two Strathisla single malts the two Chivas Regal blended whiskies.
We made the obligatory pass through the gift shop, resulting in a few purchases followed by a few exterior photos and then it's off to find lunch.
With nowhere in particular in mind, we just ventured through town and pulled over at the most promising looking spot. Here we found a gem! The Brasserie at The Fife Arms Hotel. Kevin had the Slow Roasted BBQ Brisket with crispy potato skins, red slaw and grilled corn. He was in heaven! I'm not recalling what I had. By the picture, it looks like a pork chop though I don't see that on the menu. It may have been the daily special. I do remember that it was tasty and hit the spot.
The restaurant is fairly new or at least newly remodeled. So much so that it doesn't even show on Google Maps and the place looks vacant on Street View. Simple, sort of modern-country decor. I loved all the food and drink-centric quotes on the walls. It's really worth seeking out should you be in the area. It's very, very good.
No time for dessert – time to hit the road.
On the way out, Kevin kept hoping for a chance to see the seashore, looking out towards the North Sea. So on the way back to Elgin, we did just that. Followed a few signs of the main highway toward the beach and found ourselves at the mouth of the River Spy. Quite. A few others had found the place as well despite the fact that it wasn't a particularly warm, sunny day. Busy, but not terribly crowded…until the bus arrived that is. Clearly too cold to be in the water as no one was venturing in, though I did get a foot soaked by an insistent wave.


We'd best get ourselves moving again if we want to hit one more distillery back in Elgin.
Finding it easily enough tough it seemed like the GPS was taking us on an odd route again. By now it was getting late so no mre tours today. Just as well. If it's anything like touring wineries, they all start to look alike, when it's really just the tasting room you're headed for any way. Fortunately, tasting were still on offer. We each got a flight of there offerings. Nice, but not exceptional. We also enjoyed just having the moment to sit in the quiet courtyard and relax for a few minutes. No purchases here except a gift or two perhaps. We didn't deem the whisky worthy of the effort to bring home.
As we drove through town earlier, we had seen off to a side road some ruins. I believe Kevin had read about them somewhere as well. Turns out to be the remains of a quite significant Cathedral. Maybe not hugely significant historically outside the region, but certainly significant in size. One of the largest of its type ever built.
Unfortunately, we arrive just a lite too late. The grounds were still open but too late for new admission. Some kindly locals tried to help plead our case with the matron, "they'll never be able to come back" and "once in a life time opportunity" said another. The matron while puffing her cigarette was having nothing to do with it. "The Cardinal would have my head. Last time I let someone in late saying they won't be long kept me here an hour after closing. Never again!" Imagine this in a thick Scottish brogue.
We did pop our heads into the gift shop and found out a bit of history. Snapped a few shops over the fence. You can see Mickey was trying to climb over to get in. We caught him just in time.
You can find out more about it here: https://www.historicenvironment.scot/visit-a-place/places/elgin-cathedral/
Back to Mansion House for dinner and an early night. We have a long day tomorrow.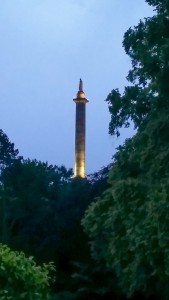 Steven