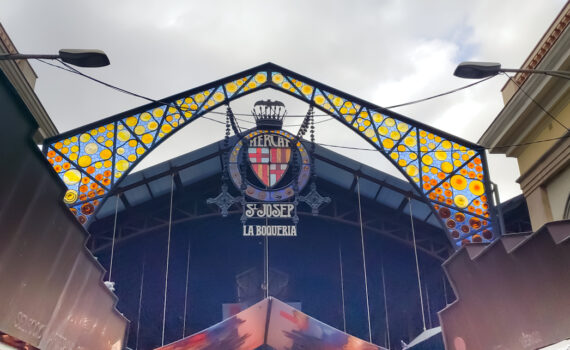 Category:Food,Travel
Barcelona, Spain
Saturday, November 10, 2018
La Boqueria (Mercat de la Boqueria)
This is one of the big things we were looking to do in Barcelona - aside from the Sagrada Família and the Modernist architecture, of course - was La Boqueria. Located off famous La Rambla, this massive food market had something for everyone. We had been to a similar market in 2014 in Lyon, France, the famed Les Halles de Lyon. In fact, the air and feel of these two places are very much the same: tightly packed stalls and stalls of everything imaginable in the food world - soup to nuts, as they say.
If you weren't looking for the place, it would be easy to pass right by. As you walk down La Rambla toward the water there are two entrances about 1/2 way down, off to the right. These entrances are set back from the street as if down alleyways or service roads. It may be calm out on the street, but once inside during the middle of the day, the market is buzzing. The most prominent purveyors are, of course, the charcuterie stands with all manner of cured meats, especially the jamón ibérico. Though there are produce stands throughout, this is no place for vegetarians and vegans!
Aside from the cured meats, you'll see butchers, fish mongers, veggie stands, confectioners, dairy, florists, cheese shops, poultry, pastries and breads, pepper and spice shops, and just about anything you can imagine from the sea. Emu eggs, anyone? I'm sure I've missed something. If you aren't here to shop for your week's groceries, there are plenty of places to eat serving up the bounty of the market - but be prepared to wait for a seat when it's busy!
We actually made two visits here. The first time, we didn't realize we were so close and had already stopped for lunch at a nearby restaurant for paella. It was a nice lunch but was by no means adventurous. By the time we got here, things were already winding down for the day being late on a Saturday afternoon. We wandered about and took a few pictures, oohing and aahing at all the goodies. We have Pike Place Market here in Seattle, which really is quite amazing in its own way, but pales in comparison in terms of the variety on offer at La Boqueria. We vowed to come back for lunch one day before leaving Barcelona.
---Continued reading below these photos---
Lunch at La Boqueria
Kiosk Universal
Monday, November 12, 2018
The last day in Barcelona and our last chance to come back to La Boqueria for lunch. We finished at Casa Vicens just after noon and headed back across town to La Rambla. It only took a short while to get there on the Metro subway. Once there, we wandered about to see where we may want to eat. We ended up at Kiosk Universal which we had seen two days before and had caught our eye.
This place is situated in the front corner of the market, nearest La Rambla. It's set up with counters and display all the way around with all the cooking going on the in center. Each server works a few feet of the counter providing a combination of serving and preparing. A few of the staff were handling more specialized tasks such as manning the grill or prepping dishes. There were also a few surrounding table being served by staff. We put our name in and waited about 15 minutes for spots at the counter where we could see all the action.
With a couple glasses of Cava in our hands, we started to order the food. Of course we started with Pulpo - grilled octopus. Then on to the steamed razor clams with langostine. Next up the seafood pasta with calamari, clams, mussels and shrimp. The winner was the sea scallops. Check out the video at the end of the this post to sea how our server "cooked" them in-shell with just a chef's torch - does a scallop really need to be cooked any more than that.
We couldn't eat everything on the menu, but we sure were tempted.
Find out more about La Boqueria at the official home page: http://www.boqueria.barcelona