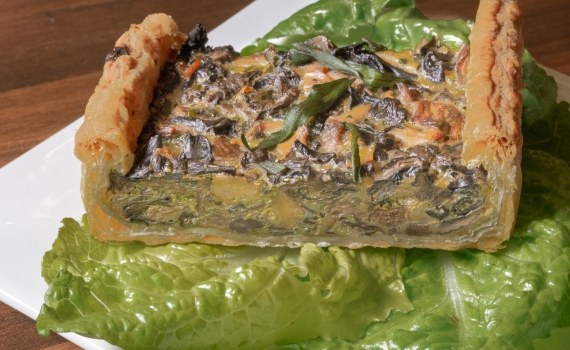 Category:
Food
For this recipe, check with your local wild mushroom seller to find out what varieties would go best with the tarragon. We've made this a number of times using whatever varieties were availabe at the time: lobster, cauliflower, white and red chantrelles which, in the Pacific Northwest, are available in late summer into fall. We also added criminis from the grocery store to fill out the volume (criminis are available all year in at most grocery stores). For true decadence add some morels! Farmers' markets are a great source. We did try dried mushrooms to see how they would do. The flavor was ok, not great, but the texture was tough and rubbery. We strongly recommend sticking with fresh if you can get them. Also, from a strictly aesthetic point of view, you may want to steer clear of black mushrooms. As you can see in our picture, lighter mushrooms would look better. Before we soaked our mushroom mix, there were more white and orange ones than black. Once they soaked together, the light colored mushrooms absorbed all the black.
As for the puff pastry: don't even attempt to make this yourself! That is, unless you're really looking for a challenge. It's a nuisance to make whereas it's easy to find in most grocery stores. Pepperidge Farm is the most commonly found here but the last time we made this we used Dafour that we found at Whole Foods, which we quite liked. Check out the comparison at Serious Eats.
If you don't have sweet vermouth, dry sherry would work just as well (not "cooking" or crème sherry, both having salt and other additives).
Our favorite pan to use for baking this is 6 x 13 x 1 removable-bottom tarte pan. Any other low-sided pan should work just fine; just adjust your volumes and quantities accordingly for your size pan. As long as you don't go with a deeper pan, the cooking time should stay the same. You can even do individual serving sized, these will require less cooking time so keep an eye on them.
We haven't tried to add any grated cheese to the custard mix but fresh grated Parmesan made be a really good addition. If you try it, let us know in the comments.
Bon appétit!
Wild Mushroom Tarte
Servings 6 servings
Ingredients
1 sheet Puff Pastry
1+ lbs Wild Mushrooms chopped
1 tbsp Fresh Tarragon chopped
3 eggs
1/4 cup Heavy Cream
2 tbsp Shallots chopped
2-4 tbsp Butter
2-4 tbsp Olive Oil EVOO
2 tbsp Sweet Vermouth
Salt & Pepper to taste
12 Whole Tarragon Leaves or as needed for garnish
Instructions
Rinse the mushrooms and pat dry. Coarsely chop the mushrooms, garlic, shallots and tarragon.

Lightly coat tarte pan with non-stick cooking spray. Unfold puff pastry and roll out to size of pan allowing for the pastry to go up the sides. Lay in tart pan making sure to press into all corners. Trim excess above top of pan. Perforate (dock) bottom of pastry with fork. Line with parchment paper and fill with pie weights (can also use dried beans or uncooked rice). Bake for 12-15 minutes, or as directed on package, until edges are light golden brown. Remove from oven and remove weights. Let cool on a rack in the tarte pan.

While pastry is baking, heat skillet with butter and olive oil. Saute garlic and shallots until softened being careful to not brown or burn. Add mushrooms and saute on medium low heat, if they soak up the oil and butter add more butter to keep pan just moist. Continue to saute until softened. Remove from heat and add the Sweet Vermouth (can substitute sherry). Return to heat and allow alcohol to burn off. Set aside to cool.

In large bowl beat eggs, add cream and chopped tarragon (reserve 1 tsp of tarragon of chopped or as whole leaves). When mushrooms are fully cooled, fold into egg mixture in small batches. Add salt and pepper to taste.

Pour entire mixture into shell, sprinkle 1/2 of the reserved tarragon on top. Place in oven and cook for 30 minutes or until set. If edges of pastry begin to brown before mixture is set, cover with aluminum foil and continue cooking.

Once cooled slightly, tarte may be removed from pan, cut and served. Sprinkle the remaining tarragon on top as a garnish. Can be served warm or at room temperature but is better slightly warm.

This entire recipe can be done in advance then refrigerated or frozen then reheated in oven to serve.