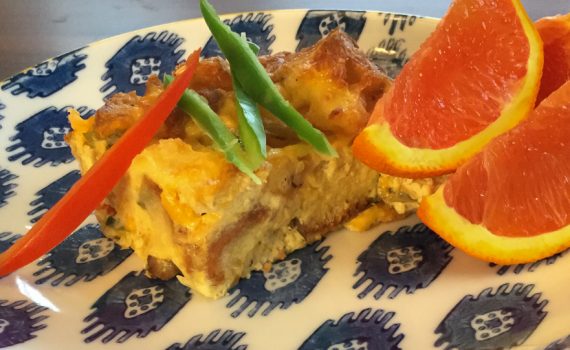 Category:
Food
Your family probably has a version of this egg casserole. I first came across this treat from my almost-cousin Jerry's Mom, Corky (Jerry's aunt was married to my Dad's brother). I and a couple of friends of Jerry's went over to his house one weekend and Corky made us the cheese, bread, egg and sausage casserole that inspired this one. She served her's with cheese sauce over thick portions. I'll take the corner piece with the most crispy edges, please. Thanks Corky.
My version is a Pantry Version, meaning, I just grabbed things on-hand to add to the basic custard and bread base. Today, I pulled out Hot Bulk Italian Sausage, Anaheim Pepper, Red Pepper, a local Jalapeño & Cheddar Cheese from Hunter & Holden's, and a chunk of sturdy day-old rustic French Baguette – ours is from another local maker, called Grand Central Bakery.
The Basic Elements
Custard: Egg and whole milk (or cream if you're living on the edge).
Structure: Provided by day old bread. Corky's version was made with Wonder Bread, mine is includes day old crusty French bread.
Flavoring: What ever you like. A word of caution, cook all ingredients and let them cool BEFORE adding them to the custard. For instance, uncooked mushrooms will exude all their water while in the oven and make for a soupy, grey casserole. Not pretty.
Heat oven to 350 F
Custard
Six whole eggs
1 cup milk or cream
Salt & Pepper to taste – this is where you could take the casserole in any direction you want. Add Herbs de Provence for instance for that south-of-France flair, or Cilantro and Cumin a Mexican spin. Get creative.
Whisk together thoroughly.
Structure
Cut up your bread of choice into no larger than 1" cubes. If you need, you can always dry the cubes out in a low temperature oven (250 F) for 30 minutes.
Add to Custard and mix to combine making sure to push down the bread.
Let stand for at least 30 minutes to allow the custard to get into the stale bread.
Flavoring
Pantry and crisper ingredients of your choice
¼ Anaheim Pepper, chopped medium fine
¼ Red Pepper, chopped medium fine
4 oz white mushrooms, chopped medium fine
2 oz Hot Italian Sausage
2 oz prepared Cheddar Cheese spread (I almost never do this, but since this was a local produce…and I love supporting local ventures, this makes it in)
Left overs
Roasted potatoes – use as much as you like, just remember to cut all ingredients to the same size.
Make sure to pre-cook the veg and meats. In my case I'm using hot Italian Sausage, mushrooms, red pepper, and Anaheim peppers.
Combine all ingredients. It will look like a mess, that's how it's supposed to look.
Pour into a greased pan of choice – I used a square Emile Henry baking dish.
Dot with butter if you like.
Bake for 50 minutes, checking for doneness about 30 minutes in to the cooking process. Cooking time depends on the depth of the custard.
Remove from oven when the custard is set and let rest for 5-10 minutes. Don't over cook, some softness is desired (at least by me).
To Serve
If you're serving a crowd, just put it out as is, with what ever other condiments or additions, like muffins, you want.
We just take our preferred slice and have at it.
We, of course, had some when it was fresh out of the oven! But once it cooled, we cut into "snack-sized" squares and individually wrapped each in plastic wrap. This may them easy and accessible for a little breakfast to take to work throughout the week. - What could be wrong with that?