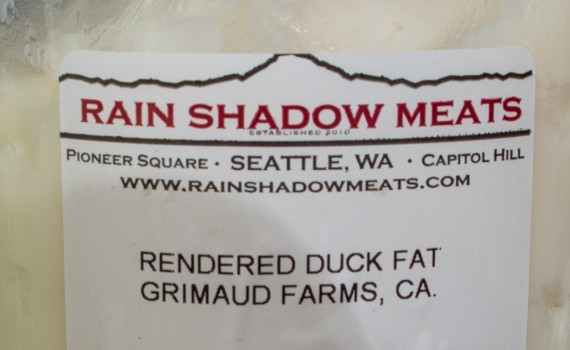 Category:
Food
What to do with a quart of Duck Fat without really trying.
For this Saturday dinner we needed something pretty easy – meaning something we've already cooked before with success. I was at a conference most of the day and Steven had rowing practice then errands to run. Before he left, Steven had set out a couple of organic chicken breasts from the freezer to thaw for me to brine when I got home. Other than that, anything was fare game.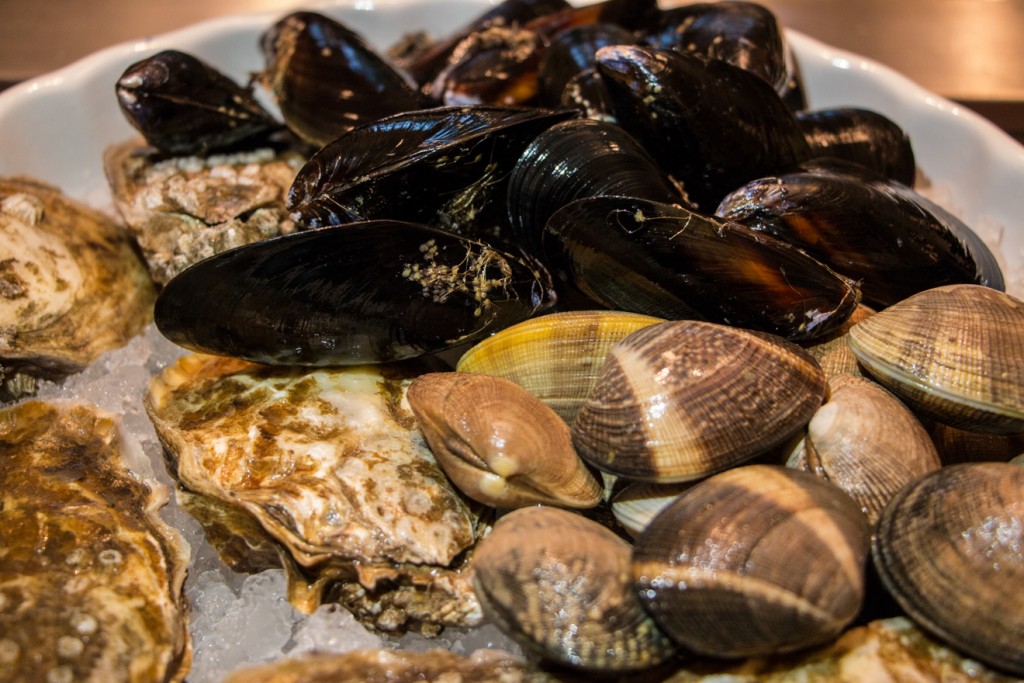 The backstory to having duck fat on hand isn't that interesting. It involved going to our favorite seafood shop called Taylor Shellfish in the Melrose Market on Capital Hill, Seattle's trendy – though quickly gentrifying – post-queer neighborhood where we picked up a dozen fresh oysters, clams and mussels (see our cioppino post coming soon). In the same complex is Rainbow Meats, another great destination for all things meat. Since that night we were making a riff off the traditional Italian fish stew, we needed some spicy sausages. Rainbow has it all. You've got to go if just to ogle the fine meats…and staff. Anyway, I saw they had prepared duck confit. An idea sprang into my brain….I wondered if they have duck fat so I can make confit myself? Of course they did and we left with a full quart of that tantalizing fat. Score!
The duck fat sat in the fridge for a few days taunting me every time I opened the door, challenging me to find some uses for it…..I didn't have duck, so what to do with it until I did?
Here's what I decided:
Porchetta-style Baked Chicken Breasts
Duck fat roasted new potatoes with rosemary and white pepper
Romesco sans almonds
Saturday Evening Porchetta-style Baked Chicken Breasts
Split a single, brined breast without cutting it entirely in half. I recommend starting at the skinny end with one hand holding the breast in place, tilting your hand slightly away from the blade. Take your sharp knife parallel to the cutting surface and slowly slice through the breast to about ½ in from the fattest edge and fold open like a book.
Pound the breast to an even thickness of ¼ inch. I always put a big old piece of plastic wrap over the meat to prevent the kitchen being splattered with flying bits of chicken.
Optional: marinate for one hour.

½ cup dry white wine – 2012 Oriana by Brian Carter Cellars in this case
¼ cup honey
2 tablespoons finely chopped fresh rosemary or 1 teaspoon dried
Salt/pepper (not much salt needed as the breasts are already brined)
Mix and pour over the chicken, sealing it up on a gallon sized freezer plastic bag is very convenient

After about an hour, take out the breasts and dry off excess liquid.
Pancetta substitute: I used enough bulk spicy sausage to have a nice layer on top of each breast. The sausage didn't really need further seasoning, but I added fresh crushed coriander, finely minced basil, garlic, and dried Aleppo chili's I had in the fridge. Feel free to improvise!
Prep and set back in the fridge until you need them.
Duck fat roasted new potatoes
From our organic grocery delivery bag we had LOTS of potatoes to use, naturally a roasted potato would go well with the chicken.
Preheat oven to 400F.
Cut up the potatoes into even ½ inch squared chunks. For the two of us I used three medium red potatoes. We had left overs.
Melt 3-4 tablespoons duck fat in the microwave, low power. High power might seem like the right thing to do but resist the temptation otherwise you might have small explosions as the water in the fat expands under the power. Messy.
Toss the melted fat with the potato adding your favorite seasonings. I this case in keeping with the Mediterranean theme, I picked more Rosemary (2 teaspoons), crushed coriander (1/4 teaspoon), salt and pepper.
Spread out evenly on a baking sheet, pop in oven for 30 minutes. HINT: Watch the potatoes, turning them frequently after 10 min. To prevent sticking, heat the pan up in the oven for 10 minutes before adding the potatoes.
Romesco Sans Almonds
Probably one of the easiest sides you can do with pantry items. Maybe not traditional, but good home cooking isn't about replication but innovation. If you Google Romesco sauce you'll see it originated in Spain most likely, and they all have ground nuts and/or bread. We neither like the mouthfeel of ground nuts nor appreciate the thickness bread gives this sauce. So, maybe what I have here really isn't Romesco at all…but Seattle-style Romesco???? You decide.
2 tablespoons duck fat into a sauté pan on medium heat. Used instead of the traditional olive oil….I can hear the protests now.
Chop fresh red pepper (or yellow or green for that matter) into ½ inch pieces.
Chop roasted red pepper, maybe just one big piece from the jar.
1 tablespoon Aleppo pepper (use what you like here, these were in the fridge)
1 tablespoon finely minced fresh rosemary.
½ large shallot minced.
Sweat the above in the simmering duck fat, being careful when putting them in as any water will cause some spattering.
Add 2 teaspoons minced garlic and sauté 1 minute – we use Christopher Ranch brand because it's easy to find in the grocery store, but feel free to use cloves of course.
Add 1 can dices tomato (with liquid if you want a thinner sauce) and spices to link with the others you've chosen for the chicken and potatoes. Just pick one main one to repeat. In this case I used the crushed coriander as my bridge spice.
Scant teaspoon red wine vinegar and sugar.
Season to your taste.
Cook away until you get the consistency you want. I prefer a looser sauce, hence no bread or nuts.
While the sauce is combining and reducing and the potatoes are happy in the oven (don't forget to check on them and give them a turn), pull out the chicken from the  fridge and put in a baking dish or sheet pan that you have coated with….you guessed, duck fat. Pop into the 400F oven on a lower rack. Let this go for about 20 minutes only. The sausage spread on top will keep the breasts from drying out, but as you'll have one final stage of cooking left at the very end, you don't want some leathery plank of protein on your hands.
 
Staging for the final cook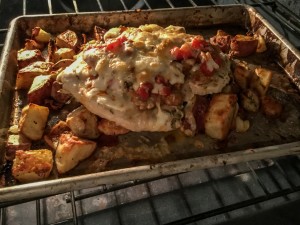 Pull out the cooked breasts from the oven. Take a small amount of the improvised Romesco and schemer on the top of each breast if serving more than two people. It turned out that the chicken breasts were plenty large and we split just one, tucking the remaining cooked breast in the fridge for another meal.
Add a little shredded cheese on top and place under broiler for just a few minutes. We used some mozzarella and grated Parmigiano-Reggiano …the undisputed king of cheeses according to Mario Batali.
Plating
As you can see, we used the Romesco to one side and potatoes on the other, placing the piping hot-from-the-oven chicken on top the potato. A little fresh basil, and maybe to guild the Lilly, add a drizzle of EVOO and fresh cracked pepper.
NOTE: It took about as long to write this posting as it did to make this dinner!!!
I hope you enjoy.
Caio Bella, Kevin