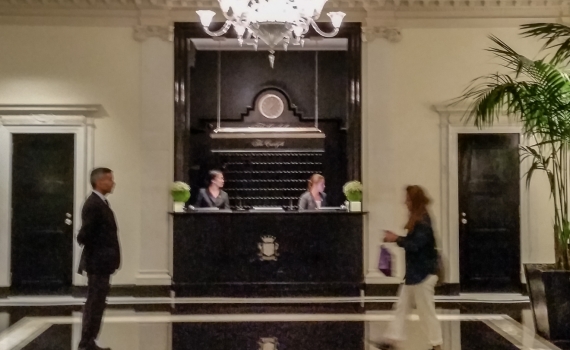 2 August 2015
by Steven (edits by Kevin)
So, just so you know, we haven't been entirely diligent about getting these posts written. We're actually on Day 5 (9 August) of the QM2 crossing and I'm just now getting around to writing about our couple of days in New York. It took some time just to get the 100's of photos collected from our various devices, sorted, selected and edited. And, of course, finalizing the blog setup. All this with limited (and very expensive!) internet service. We'll try to post more often as we get back on land.
Just to give a preview, here's my view as I write this.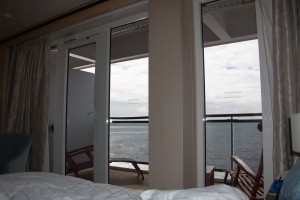 After flying in-style overnight, we landed at JFK Airport just as the sun is coming up. Beautiful views of the sunrise over Long Island as we make our final approach. Bags out quick and a short ride into Manhattan as we arrive at our hotel for the next couple nights, The Carlyle on the Upper East Side at 76th St and Madison Ave. The room we had reserved wasn't available – imagine, that at 7:00AM our room wasn't available! The spa's not open for a few more hours to take showers but they found us a similar room that was available – whew, we can shower and change!
After a freshen-up and nap, it's off to Penn Station to get Kevin's niece, Stacie. Back up to the hotel to drop off her bag and back downtown for lunch with Jerry at The Brindle Room. This is a tiny burger joint that Kevin saw recommended by Anthony Bourdain. Little did we know that is was also featured on Diners, Drive-ins & Dives (uh oh!). Thankfully, we had reservations! The place was full with seating for only about 2 dozen people, if that many.
Fresh donuts to start (as if I needed more donuts after my Krispy Kremes in Penn Station). Then probably the best burgers we've had in a long time! Fully chard on the outside but still moist and juicy on the inside – burgers don't get much better than these! No fancy-pants buns, just good old soft hamburger buns. Kevin's had blue cheese that melted into the burger...just the right mix of seasoning and the added punch of the blue.
With full bellies we headed across lower Manhattan, (just a couple blocks west Jerry insists) to the Highline. We had missed this last time we were in NYC so glad to get here this time. Lots of people around, but still felt like a nice, peaceful retreat in the middle of the city. Tourist and locals were out for a stroll or just sitting, enjoying the sun. What's a walk in NY without a stop for an artisan gelato?
We bid farewell to Jerry for the day and head back to the hotel for a nap and get ready to eat again.
Dinner at Morini on Madison north of The Carlyle where Charmaine and Kevin join us after arriving from Dallas earlier in the afternoon. Sorry, no food porn here – which is a shame because I really don't remember what I had but I recall that we enjoyed it. We ended our first day with a stroll back to our hotel, putting Kevin and Charmaine in a cab back to their's.