by Kevin (mostly, with some additions from Steven)
August 20, 2015
If you are still following us, you're probably saying, 'Hey, didn't I just see these guys at a holiday party?' And, you'd be right. Yes, we're taking our time at this, yes we are.
We had a big day ahead of us; lots of miles to cover and a couple of places of interest to visit. We thought it might take us most of the day to get to our destinations, so we set off early…for us. Leaving Elgin after another, though much lighter, breakfast at our Fawlty Towers digs, we, rather I, really wanted to head toward Balmoral. It was a bit of a trick to find a relatively direct route that got us there on our way to our Land Rover Experience and finally into Edinburgh. As you already know, we've done little planning on routes or closures, and the like, so after a brief check of the well-creased map of Scotland, we just headed south on the A941, the most direct route we saw.
We've mentioned enough about how narrow the roads are and how fast the lorries go no matter how slight the space between oncoming traffic, so I won't repeat the many small terrors of this trip, only to say I'm glad we made it over the Cairngorm Mountains without any accidents. We actually chose a lesser-traveled route for the more mountainous parts of the trip, so perhaps, that saved us some drama.
Heading out of Elgin at this time of day wasn't a problem. We dropped down the A941 which took us past Glen Grant, and Macallan distilleries and the Speyside Cooperage, where we changed to the A939. We also passed near the Aberlour Distillery for which we couldn't get tasting reservation this week but our friends Bruce and Nancy from the QM2 had been two days before – we just missed them. The roadways along this route were at first packed with commuters and lorries of all sizes, apparently getting an early start to work and making their deliveries, but by time we passed Grantown-on-Spey the traffic really thinned out and we collectively took a big sigh of relief. Maybe we could finally put the Mercedes through her paces and open her up on the open Scottish Highland roads?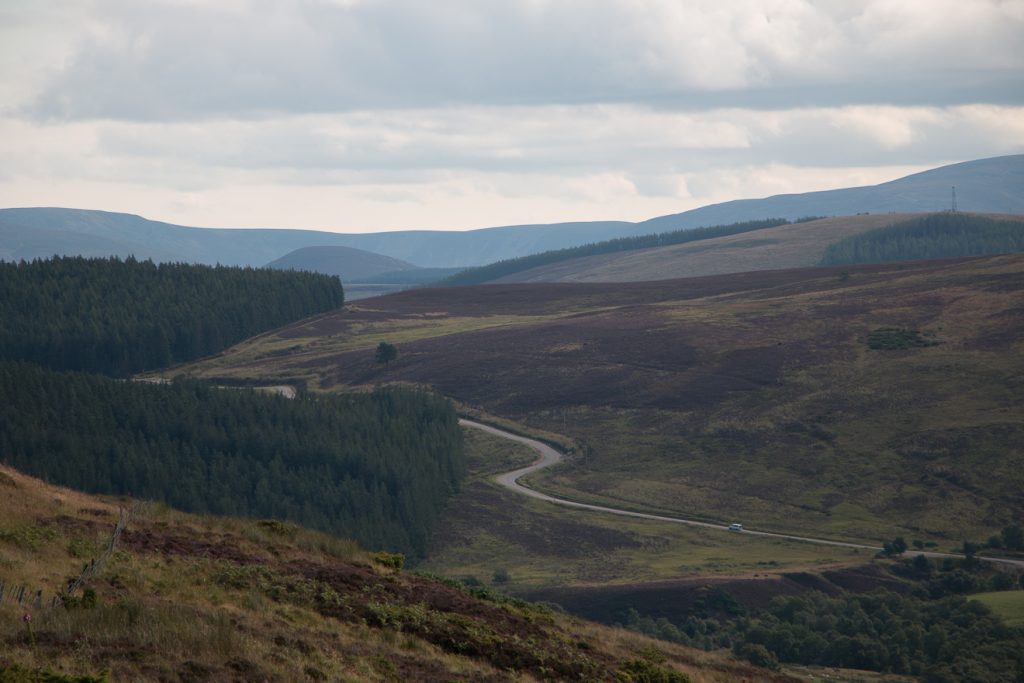 This route, the A939, took us deep into Cairngorms National Park and through some of the most beautiful lands we'd seen to this point. From the pictures, you'll see a lack of large trees and plenty of rolling, heather-covered hills carpeted in different hues and saturations of yellow, fading green, and grey-blue. Somehow this more than the other wonderful landscapes of Scotland hit a cord in us…so THIS is what Scotland looks like. Of course, our vision of this Scotland was shaped by American TV…not the least of which for me was American Werewolf in London 'Stay on the road. Keep clear of the moors.' Creepy fun to be seeing the highland moors in the ever changing skies of northern Scotland. Just wonderful.
I can't say we got much of a chance to open up the Mercedes, but we did push it a few times when we could clearly see enough of the roadway ahead to play safely. Admittedly, it was fun to feel the car hug the roads like it did, not flinching at the speed or curves. Several of the vistas pictured here are views from atop a small pass or overlook on the way into the park. These are old mountains; they look and feel enduring.
We stopped briefly to "stretch our legs" in the village of Tomintoul. Among other things, its claim to fame is being the highest village in the Scottish Highlands. It has a checkered past, including reputedly by loathed by Queen Victoria. As she described: "a tumbledown, miserable, dirty-looking place." These days, it's actually a clean and quaint little village and quite the tourist centre along the Whiskey Trail among the Highlands.
| | |
| --- | --- |
| | |
Just outside Tomintoul we really climbed up in elevation. The land slipped away more steeply on the sides of the road and the gloominess set in; a perfect setting. The Lecht Ski Centre was at the very top of the pass, and while it didn't look like it had the amenities or the size of the resorts of the American Rockies or Cascades for that matter, we could certainly see ourselves having a grand time coming down off the quad chair and into the valleys of the ski centre. However, as we learned from our guide later in the day, it's hardly worth the trek to get up here in the winter when you could just as easily fly about anywhere in Europe for much better.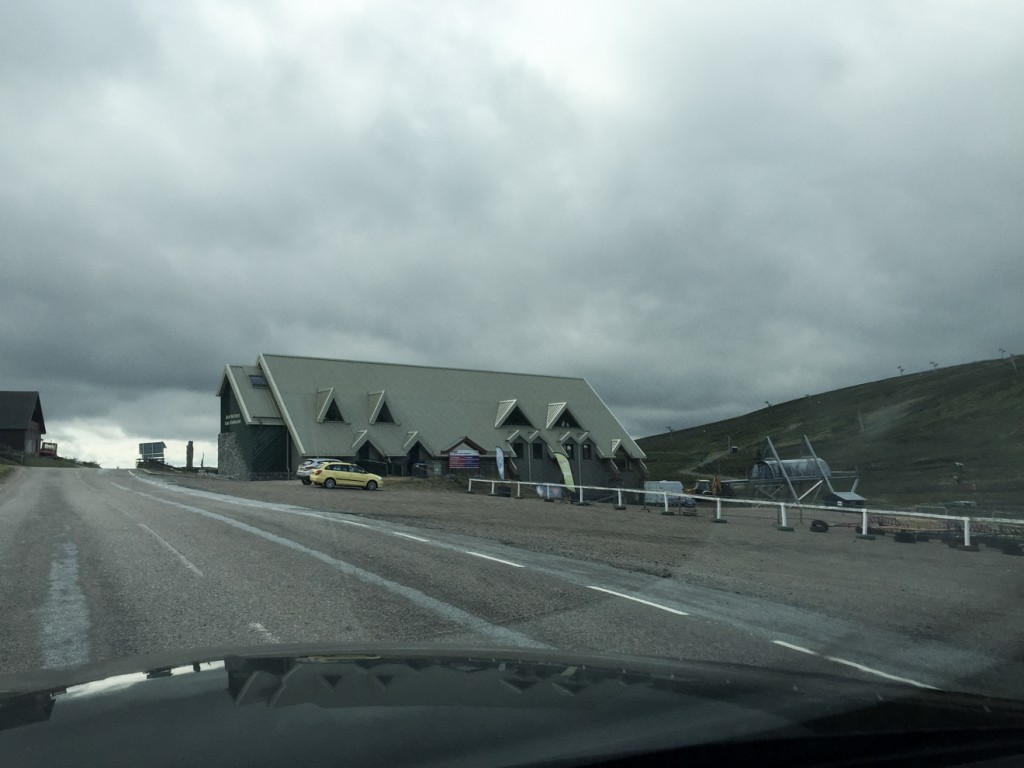 Down we went now, still on the A939 until we got to Gairnshiel Lodge, where we turned west onto the much smaller, more 'country' sized road, the 8976. This was a cut off to Balmoral; we thought, 'hey, why not explore the country a little more?' This short stretch took us past the tiny village of Bush Lawsie and into Crathie, where things definitely took on a more royal look and feel.
Reaching Balmoral we found the front gates closed…what, no greeting party? There were no tour buses in the bus park, so we figured Her Majesty or the kiddies were in residence. We were right. Just a coal delivery truck and several nicely uniformed guards were around. I think I saw some well-armed guards in the woods just beyond the iron fencing, but that could just have been my X-Files weakened brain working overtime.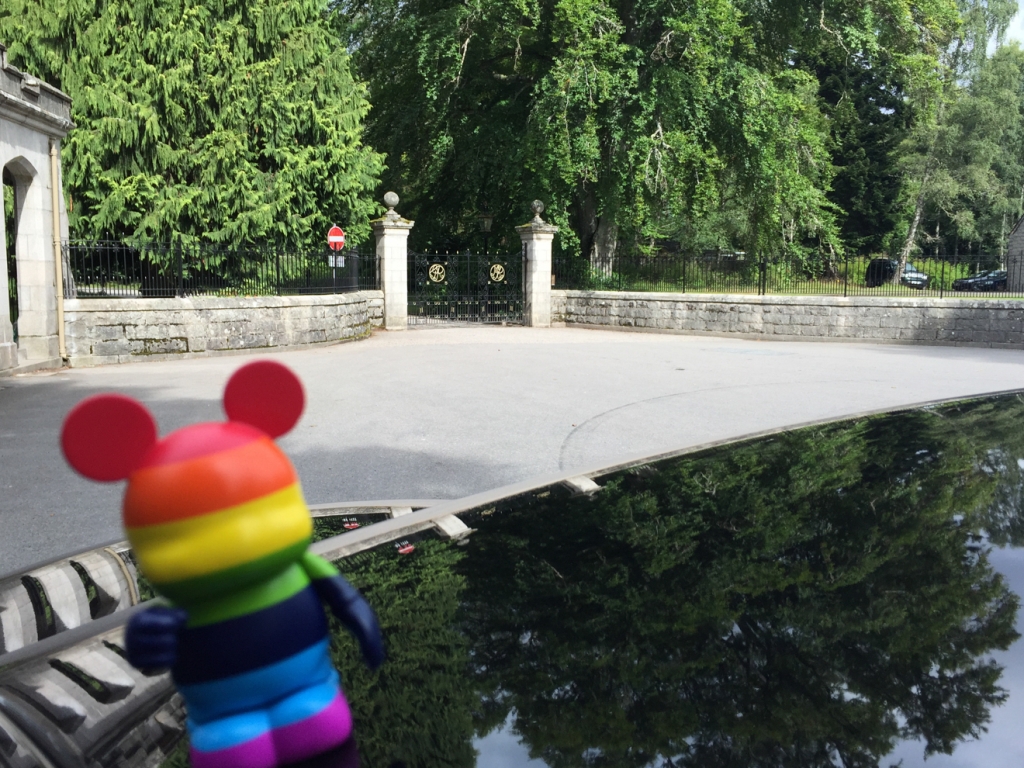 Even though there were clearly marked signs saying NOT to park in front of the gate area, we did anyway, mostly because I didn't want to walk the distance from the car park to the gatehouse. Lazy I know…but, we'd been in the car sooo long by then, I just couldn't wait to get out of it! The shopkeeper at a now converted gatehouse didn't mention that we should move, probably because he was just as eager to see some humans as we were to get out of that car. We had a pleasant enough chat, with me nervously looking out the window to our car, checking on the guards to make sure they weren't descending on it or taking it away. We ended up buying a few biscuits and a tea towel, the latter of which now hangs proudly off our oven door. Regrettably, I went for the bargain biscuits thinking that they were from Prince Charles' own farms and recipe. Nope. I got the sale biscuits, the kind you can pick up just about anywhere in-country.
We had to move fast down the A93 if we were going to make our 12:30pm appointment at the Land Rover Experience just outside Butterstone on the A923. We made it in plenty of time, in fact, we were the first to arrive. You might be asking why in the world would you set up a Land Rover Experience in Scotland anyway? We'll get to that in a minute.
| | |
| --- | --- |
| | |
Apparently, everyone but us knew that the staff lunched from Noon to 1:30pm, so we weren't exactly greeted with fanfare when we arrived. But, after finding the main entrance...not so easy really as it was facing the lake, not the car park. Anyway, we did sign-in and were sat in the spacious eating hall (that's the only name I can come up for it)…by ourselves. Soup and salad were on the menu, the lunch we had purchased ahead of time when we booked our experience. We were starved, and even Steven ate most of his soup, which I think was carrot/squash. After this repast we still weren't sure what to do next. So we waited thinking someone would come get us to start our adventure. No one came so we went back to the lobby. We noticed that others had arrived and were being treated to coffee and tea in front of the fireplace. We hadn't been asked if we even wanted coffee or tea. Okay, nothing to be bitter about, just a situation of not knowing the protocol of how these things worked. And we continued to wait for a guide.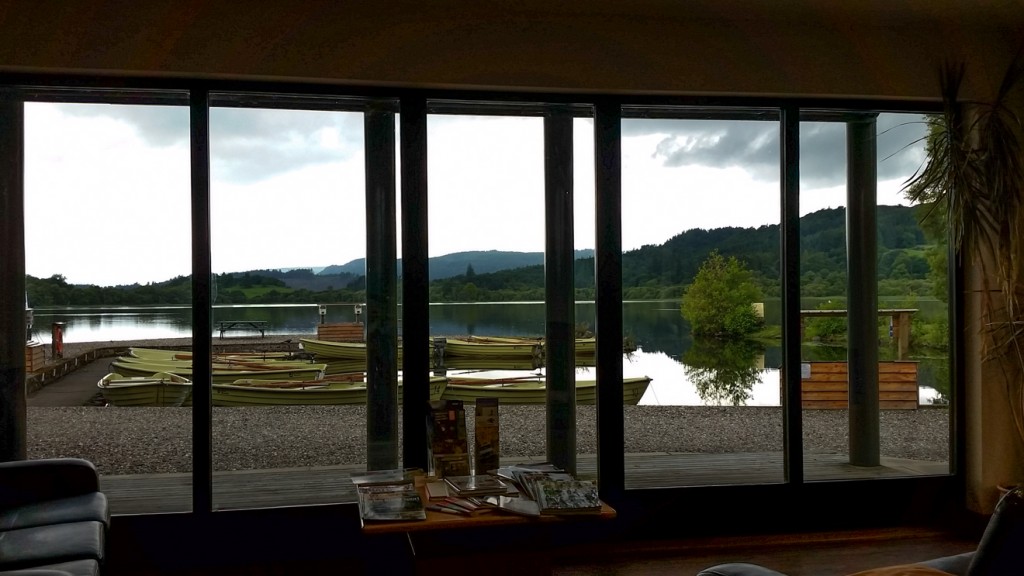 Okay, so we finally were introduced to our guide – Ruaraidh Carmichael – we called him Rudy. Rudy took us to our white Discovery Sport HSE. Incidentally, we only recently had taken delivery of our own. Here's where the explanation of why we'd booked this experience comes in. We didn't know, but when you buy a Land Rover you get a free 2-3 hour 'experience' driving your model around a course designed to take advantage of the rig's capabilities. So, Steven being on that sort of thing, found out through considerable back and forth with Land Rover USA and Land Rover UK, that indeed we COULD transfer our free experience to the Scotland centre. Yeah for us. So, there you go, we booked our time at the Scotland centre with lunch just so we'd have another weird story to tell.
The experience itself was a bit underwhelming at first. Country roads and some sloppy unpaved narrow trails, not much else until we got to an open area with some serious looking hills and water covered paths. It turns out there are several tracks that are specifically designed for specific vehicles. Ours, being a littler, lighter and newest Land Rover model, wasn't designed for the steepest nor the deepest water traps. Bummer. But we did get to go up and down parts of the route that I would never have done on my own. The first time Rudy showed us the capability we had of letting the car take over controlling the rate of ascent and descent with the Hill Decend feature. We had no idea that we could let off the gas pedal and the car would figure out the proper rate given the steepness of the hill. REALLY cool. We can also use this for launching and retrieving our boat – this will come in really handy! Here's a video of Steven putting it in action.
We each got a chance at this - the uphill and downhill tracks – several times. What fun. Rudy said we needed to move along as others were now coming on the course and wanted to have a go at the climbs. So off we went on the country roads to another part of their course. This time we went higher up into sheep country, having to pass a few gates to get to our track. Steven recalls that Rudy grew up in the area on a sheep farm, and that Rudy said he hated sheep. Apparently, according to Rudy, sheep are the dumbest animals around. No offense to you sheep people, just reporting the facts of Rudy.
We also got great accolades from Rudy on our skill with driving on the "wrong side" of the car. He's seen people from other left-driving regions that haven't done as well as us on the course. We chalk it up to a week of practice in a car with much less visibility.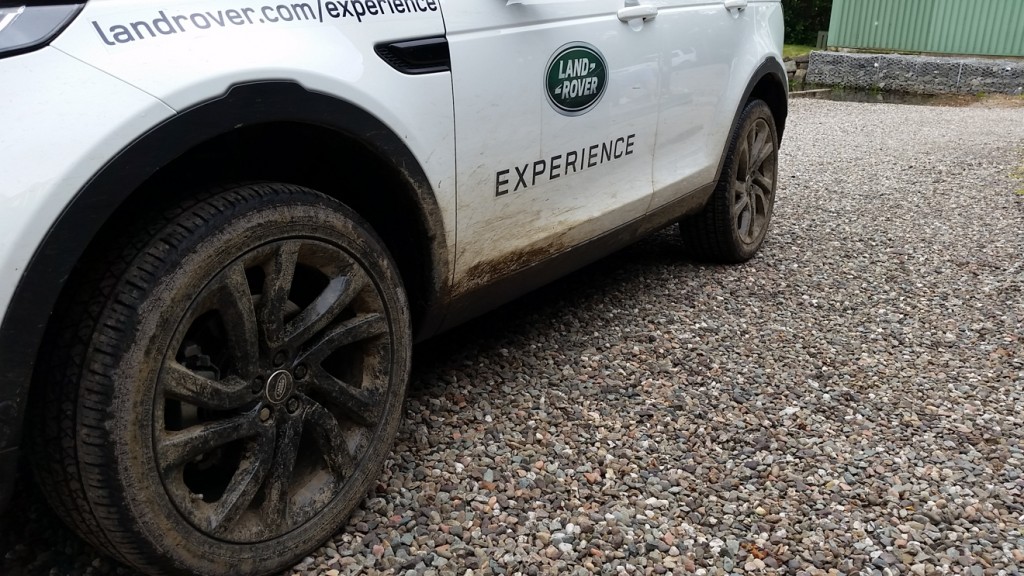 After about 3 hours, or very close to it, we had to get going to Edinburgh to turn in the car by 6pm.
From Butterstone we hightailed it to Dunkeld and caught the main highway, the A9, south toward Perth and on the M90 to the A90, across the Forth Road Bridge and finally into Edinburgh. We did not stop at Deep Sea World in Inverkeithing, which is on the Firth of Forth, to dive with sharks (http://www.deepseaworld.com/shark-dives) – Darn!
Heading into Edinburgh wasn't a big deal as it turns out. The trusty GPS on the Mercedes got us to our hotel, The Place at York Place. Funny thing, we didn't see any parking anywhere near the hotel entrance, which was on a main tram and bus line. I was admittedly a little fried from all the driving that day and told Steven to just park the car on the sidewalk, making sure to get enough off the road so we wouldn't get smashed by buses or cars. Well, we really wanted to make sure not to get the car scratched in the final minutes of rentalship, so he parked solidly on the sidewalk, causing more than a few raised eyebrows from the locals trying to make their way around this black Mercedes blocking their way.
A new bridge is being built across the Firth of Forth, it looks to be quite massive.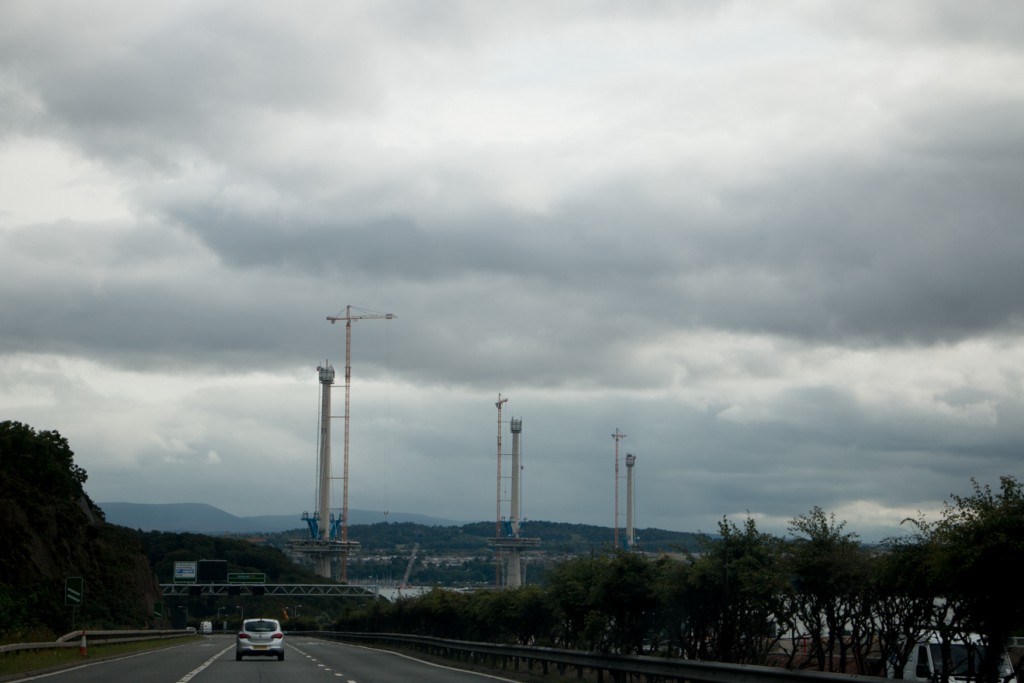 Phew. We got checked in fine, Steven went off the return the car (thankfully only ½ block away), leaving me to tend to the bags…which were considerable by then and very heavy. You might not know, but I had been slowly developing a very sore shoulder and back ache since we left Seattle, and by this time I was nearly in tears if I walked too much and lifted just about anything with my right arm. Luckily, the hotel had a strapping young buck of an Italian to assist me getting the bags up four flights of stairs.
Note to self: check on whether your hotel has an elevator if it's above a couple of stories. The stair climbs were steep and the height of each level was considerably higher than one would think. Just a piece of advice to check out the elevator situation when traveling in the UK, especially if one of your party has been developing twitches and pains.
The room itself was plenty large and comfortable, even by European standards, a fact that the Italian buck commented on when he found out our room number. I didn't ask further about that little bit of endorsement. I suppose it was a nod to the old and the artsy-new that we found this portrait guarding over our bed.
It was very humid and bordering on being a bit too warm that day, so we threw open the windows a while and just collapsed on the bed, still feeling the hours of motion in our feet. Eventually, we needed food and drink and off we went toward the centre of town. Quite amazingly, this happened to be the night of a city-wide festival. The park, St. Andrew's Square, was full of food carts, a champagne bar, beer gardens and several music venues. It was really a pleasant surprise to walk into such a party and a great way to start off the final days of our time in Scotland.
We headed further into the center of town looking for a full dinner. We just happened to stumble across Jamie's Italian by renowned TV chef Jamie Oliver. If you ever find yourself near this place, just keep walking. It's basically the Cheesecake Factory or Italian food: huge portions, well enough prepared, but not above average, in a large and noisy dining room. Our friends William and Kate in York had been to a smaller Jamie Oliver restaurant elsewhere and said it was quite good, but at the moment we're not recalling where that one was. The charcuterie platter, however, was quite ample, and could be a meal in itself.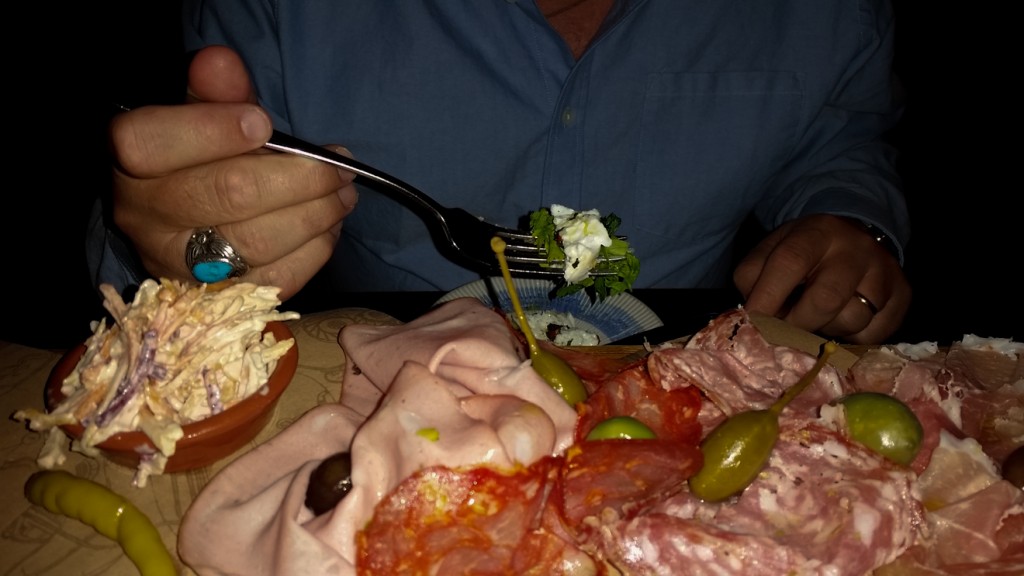 Back to the hotel for the night. Lots of site seeing in the morning.