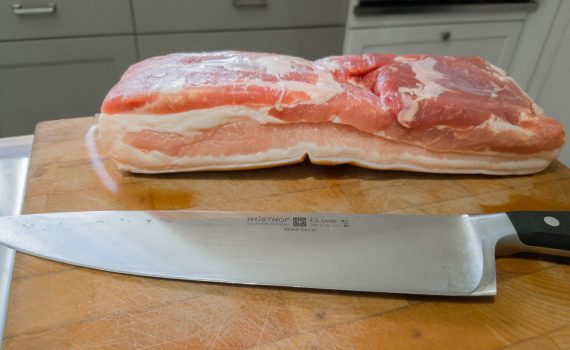 Category:Food,Sous Vide
A couple weeks ago we were up at the local Asian grocery store, Uwajimaya, and found a nice slab of pork belly (the actually called it pork side). Our first thought was "Sous Vide!" We got about a two pound piece to bring home. This weekend, we finally got around to throwing it in the sous vide and letting the Joule take over.
We cut it into two even-ish pieces to try two different rubs: one with just salt and sugar and one that added Chinese Five Spice powder. We read on Sous Vide Life about the need to put skewers cross-wise through the meat to keep it from curling up during cooking. We did this with the Five Spice portion, not with the other. As it turned out, even with these small pieces, it made a difference. The one with the skewers was much easier to slice in even pieces. If you do a larger piece, I would certainly recommend the skewers.
The rub: equal parts of sugar and salt and about 1 Tsp Five Spice to 1 Lbs of pork.
With both rubbed-up, Saturday they went into the sous vide for 24 hours at 154F. Our plan was to have them for dinner on Sunday. But as plans often change, we ended up going out for a lovely birthday celebration. So the pork had to wait another night, which worked out perfectly.
We took the pork out of the sous vide Sunday and put in the fridge for the night.
The next evening we pulled one out. To get it back up to temp, we put it back in the sous vide at 135F for an hour. This got it loosened back up and to a good "eating" temperature. It was already fully cooked and food-safe, so just needed to be warmed up. While it was finishing up, we got the broiler going to finish it. After the hour in the sous vide, it went under the broiler for about 10 minutes to crisp. Here's the result.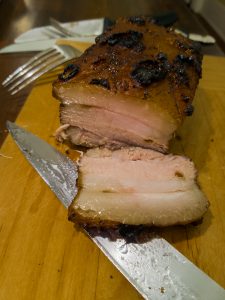 Meanwhile, Kevin created a sauce by pulling nearly everything 'Asian' out of the fridge: soy sauce, fish sauce, hoisin, Taiwanese peppers, ginger, garlic, and mirin. I can't give proportions here as we didn't keep track. If you decide to do this yourself, adjust as you wish. The rice was already in the works. All that was left was to steam some broccolini.
In the end, we ended up with a fantastic tasting dish. The pork wasn't quite as tender as we had hoped, but the flavor was certainly there! If we do this again, we'll probably drop the temp a bit and/or deccrease the time.
Here's how the final dish presented. Kevin had a little more sauce, mine the lesser.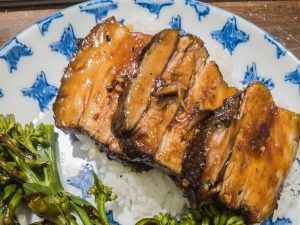 I know most of you don't have a sous vide machine - yet! But if you try this, please let us know how it turns out. If you have a different way of cooking pork belly let us know that too.
See our other recommendations here