Category:
Food
Sometimes good thing happen with Kevin goes to the grocery store on his own. On Sunday he came back with not only King Crab Legs which we steamed and devoured for lunch on Easter Sunday, but he also picked up some nice sea scallops. Tonight we had them for dinner.
Yes, they're a little pricey and most of us only have them at a restaurant. I have to think that part of the reason many people don't cook them at home is that they're a little intimidated by them. They're actually pretty easy to cook, it's just that they're also easy to overcook. But with some high heat, a good pan, and attention, anyone can make a delicious scallop dinner.
Here's how Kevin did this tonight. It only took about 40 minutes. The longest stages were boiling the pasta and reducing the shallot and wine base - more about that in a minute.
He used dry pasta tonight so he got it going first. If it had been fresh pasta (never hurts to have fresh pasta!) this would have been done nearly last minute. While that was going he got all the rest of the ingredients in place. Chopped shallot, chopped garlic (from a jar), stripped thyme leaves from their stems. Meanwhile I grated a couple of hard cheese - parmigiano reggiano and asiago.
To prepare the scallops, the tops and bottom were coated with a bit of cornstarch then lightly salted. These then went into the eight inch skillet on medium high heat (coated with a tablespoon or two of olive oil, enough to coat the bottom of the pan) and a couple of teaspoons of butter ( NO! not margarine). You need a high enough heat to sear and brown the scallops, but not so high they'll burn. Once properly seared, take them out and set aside. They should not be cooked completely through at this point - they'll be finished later, trust me.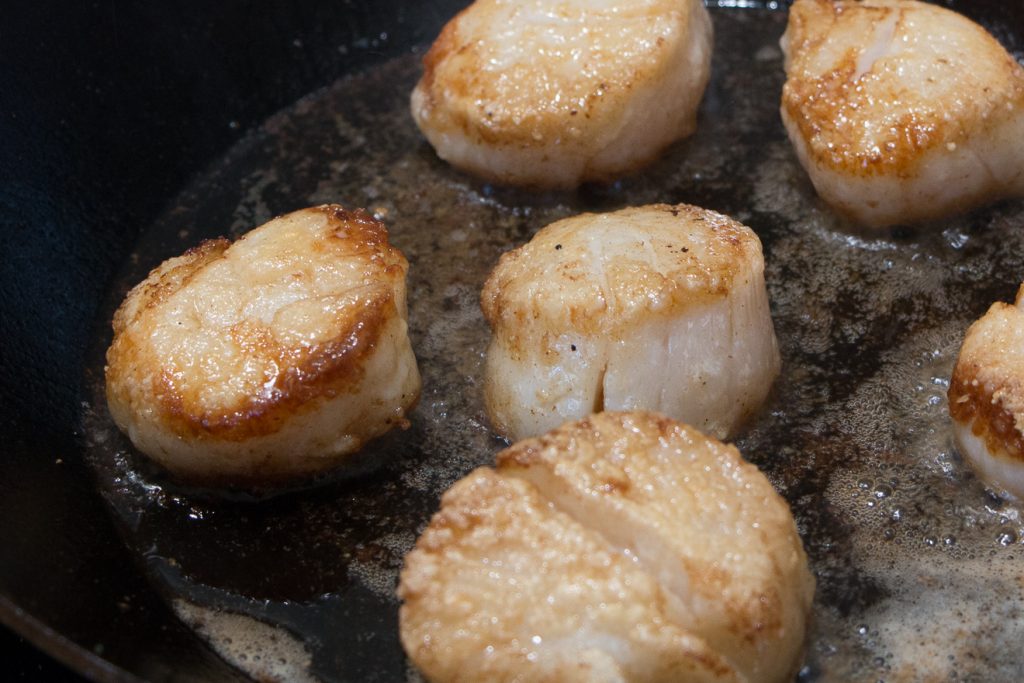 Next into the pan are the shallots, garlic,and thyme. Sauté until softened then add about 1/2 cup of white wine. Our choice of wine tonight is a chardonnay: 2012 Enlightenment from Sparkman Cellars. Reduce until about a tablespoon of liquid was left.
Add cream (actually leftover cream thyme from Sunday's scalloped potatoes) and about a teaspoon of grocery store lobster base. Reduce again just until slightly thickened. Then add a cup of the starch water from the boiled pasta, let it come back together - "tighten up" if you will. Check your seasonings, salt and pepper, to taste at this point. Now add the scallops back into the pan to finish cooking - up to this point, remember, they were only seared, but not cooked through.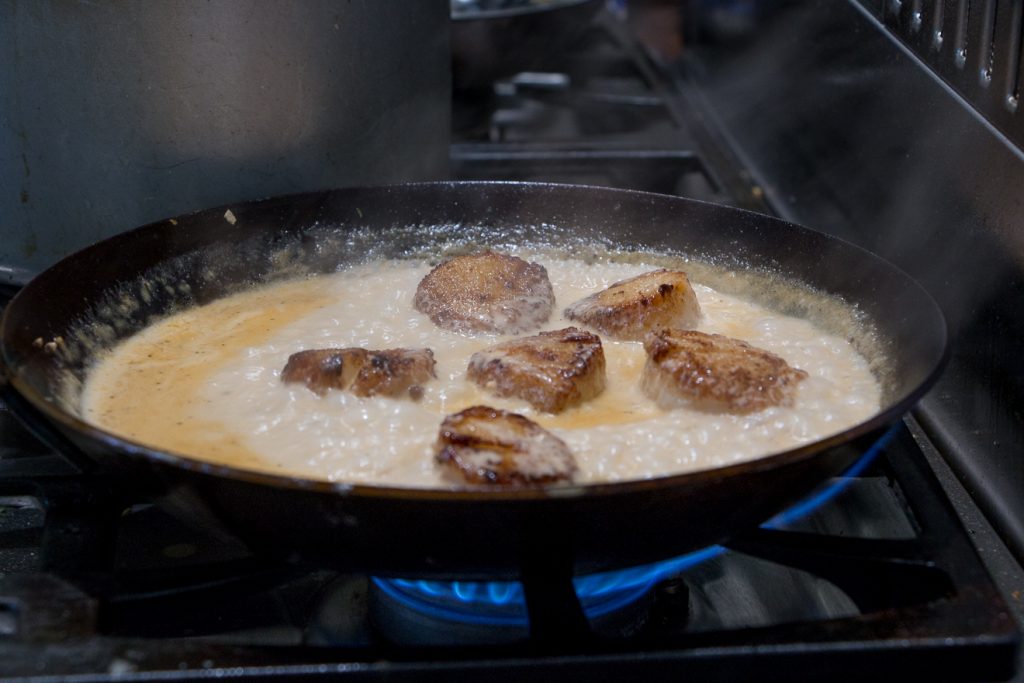 Now toss in your pasta, directly from the boiling pot to the pan along with the asparagus tips that were cooked with the pasta (did I mention the asparagus tips?). Toss to combine, season as needed with a little fresh ground pepper and most of the grated cheese.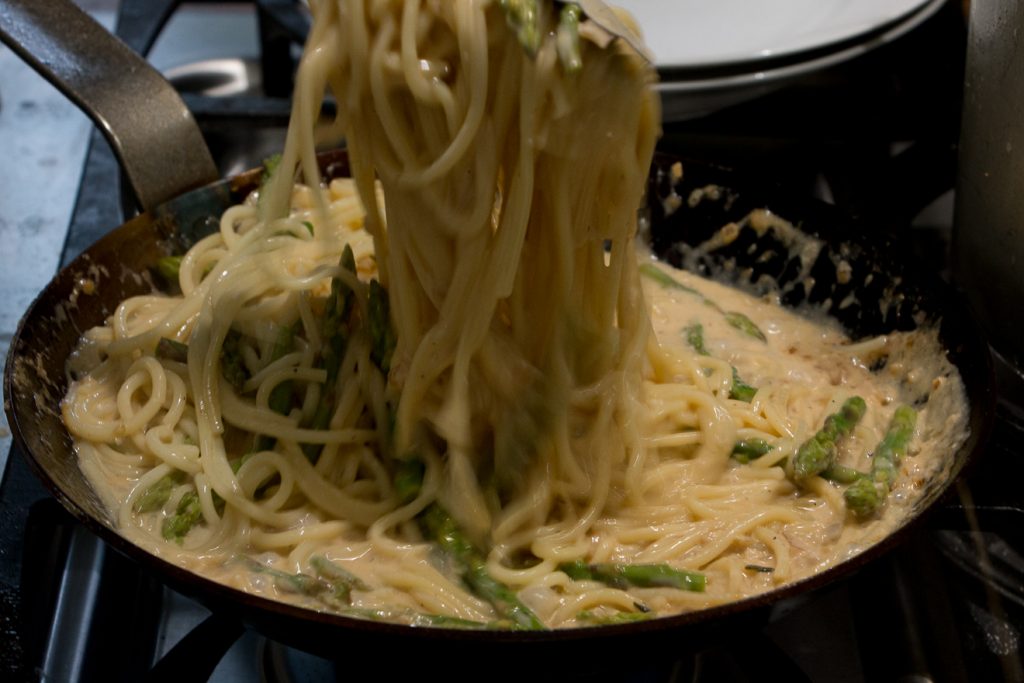 Now to the plate, or should I say pasta bowl.
Garnish with the remaining grated cheeses and a sprinkle of fresh thyme and to be decadent add a drizzle of the EVOO.
Buon Appetito!