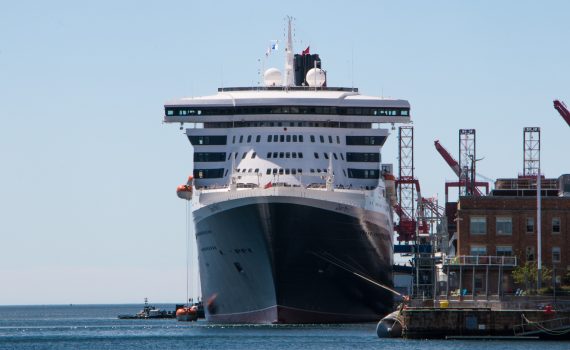 Category:QM2 2016,Travel
As we mentioned in the intro to this section, we decided to take another cruise on Cunard's Queen Mary 2. We really looked forward to seeing all the changes in-store from her five weeks in dry dock. Cunard got us hooked on checking online to see the latest updates throughout the "Remaster."
We arrived in New York the day before the cruise and met up with our travel companions, Charmaine and Kevin. You may remember them from our transatlantic crossing last year. They've agreed to join us once again having arrived in New York from Texas a couple days earlier. With arriving late afternoon and having early dinner plans there wasn't really much time to sight see so we just grabbed a cocktail at the hotel's roof top bar before heading for dinner at Mario Batali's La Sirena. More about the Viceroy Hotel and La Sirena in later posts.
The next day was embarkation. The doorman at the hotel grabbed us a town car and we were off. We tried to get to the dock a little earlier than last year to avoid the lines. But even just getting to the dock was a challenge. Traffic in Manhattan was HORRIBLE this morning, perhaps every morning. But not only that, our driver didn't really know how to get us to the Brooklyn Cruise Terminal. Sure, he new what Brooklyn was and vaguely where it is, but beyond that he had to rely on us and our phones for directions. In all fairness though, getting to the cruise terminal is nothing less than convoluted. It's in an industrial area just south of the Brooklyn Bridge and requires many twists and turns to find. Come on PNYNJ - you can do better! Some signage would even be helpful.
After much ado with getting on-board (the ship docked late this morning so we had to wait about an hour to board). Oddly, there weren't many staff around to assist, nonetheless we quickly found our cabin, Queens Grill suite 9006, on our own. Knowing the lay of the ship from before helped as we were able to avoid the elevator bank that everyone else was using. Since we had carry-on luggage and bypassed the porters earlier, there was no need to wait for bags to show up so after a few photos of the pristine stateroom we were able to unpack right away and start re-exploring the ship. As you can see, Cunard has done an amazing job creating a beautiful art deco inspired suite. The colors, nautical with a modern edge, the amenities now include your own Illy Espresso maker, and many other perfect touches.
Perhaps due to the ship having just been remastered, the crew might be new to the Grills suites. We saw no one else assisting passengers to their suites much less greeting us. This only odd because Cunard makes a very big deal about the high level of attention you are to receive as having booked an'exclusive' Queen's Grill Suite. Our traveling companions had a different experience: their cabin steward was there to greet them and make them feel at home. Oh well.
Not to sound too critical, but here are a few things that could be improved upon:
No electrical plug next to the headboard. Some of us travel with medical hardware like a C-PAP, requiring our steward to search out and bring us an insanely huge and garish bright orange extension cord!
Beautiful writing desk situated to catch natural light from the balcony...again, no plugs for laptops, Surface or iPad's...and no table lamp or writing pad.
We liked the original teak lounge chairs on the deck with built-in foot rests, though the new more contemporary wicker chairs are fine but required us to bring over the one foot stool if we wanted to stretch out.
As I recall, we pulled out of port right on time, but by now the skies had let loose with a heavy downpour. The castoff party was moved to the Pavilion pool with its retractable roof (now closed!).
We, along with Charmaine and Kevin, hung around long enough to have a glass of champagne but the enclosed space with the band was just too noisy for us so we moved on - to our favorite bar on the ship, The Commodore Club - aahh quiet!
The changes on board the ship were by no means revolutionary, with some exception. Mostly more subtle, being updates to the "soft" furnishings like carpets, window coverings and upholstery in most areas of he ship. They did add a number of single-occupant cabins and 30 new Club Balcony staterooms on the top deck (not done yet, however). The biggest changes were in dining venues. The Kings Court Buffet was completely revamped for a better flow and layout (though still a little confusing). They also added a new American BBQ/Smokehouse which always smelled good but we never got a chance to try it. The other big change on this level was what was formerly the Winter Garden. This was an Edwardian-style lounge with fake lattice and trompe l'oeil garden scenes which felt very dated (think First Class Lounge on the Titanic) was now transformed into a lovely lounge with a nod to the art deco of the original Queen Mary. Now called the Carinthia Lounge, this was also the place to sample vintage Port. They have a bottle from each year since the founding of the Cunard line in 1840, costing upwards of multiple (tens of?) thousands of dollars! We had to pass on that extravagance, sadly.
The QM2 also has the only dog and cat kennels at see. This was displaced by the construction of the Club Balcony staterooms but apparently enlarged and expanded for more 4-legged guests. They still have their own lamppost and fire hydrant.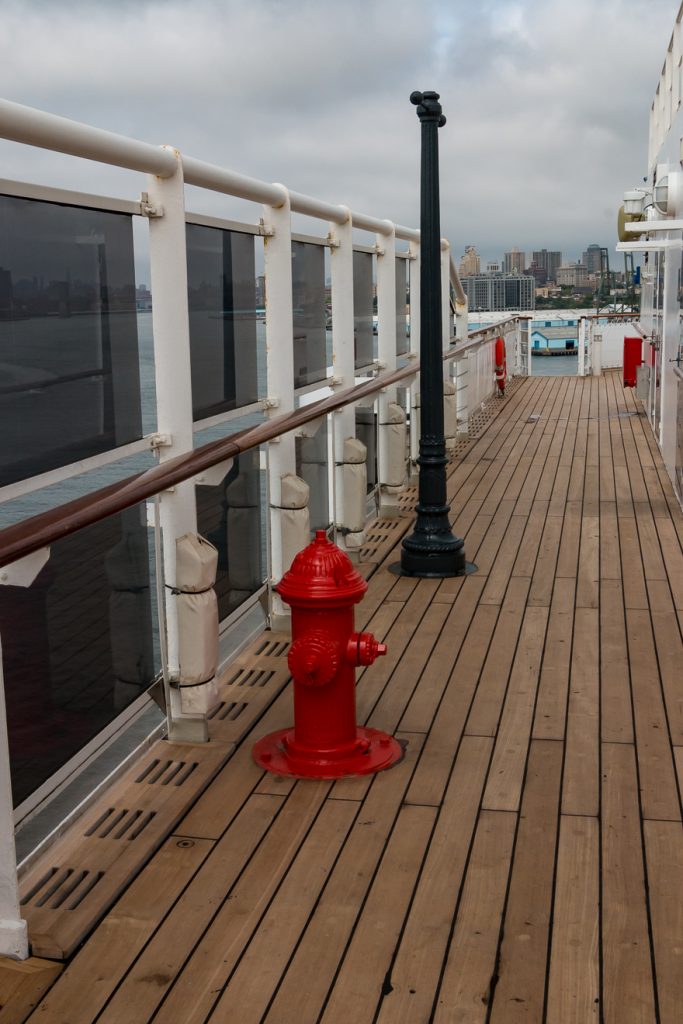 One other well-needed update was in the spa. Not much changed here other than the hydro-therapy room (aka gigantic whirlpool). The room previously had planters of fake palm trees and bamboo, all removed now making the room feel more fresh and open. The mis-matched ceiling tiles were fortunately replaced. Otherwise just general maintenance in here, maybe new tiling here and there.
Here's our dining table from our voyage last year as compared to after Remastering:
Then: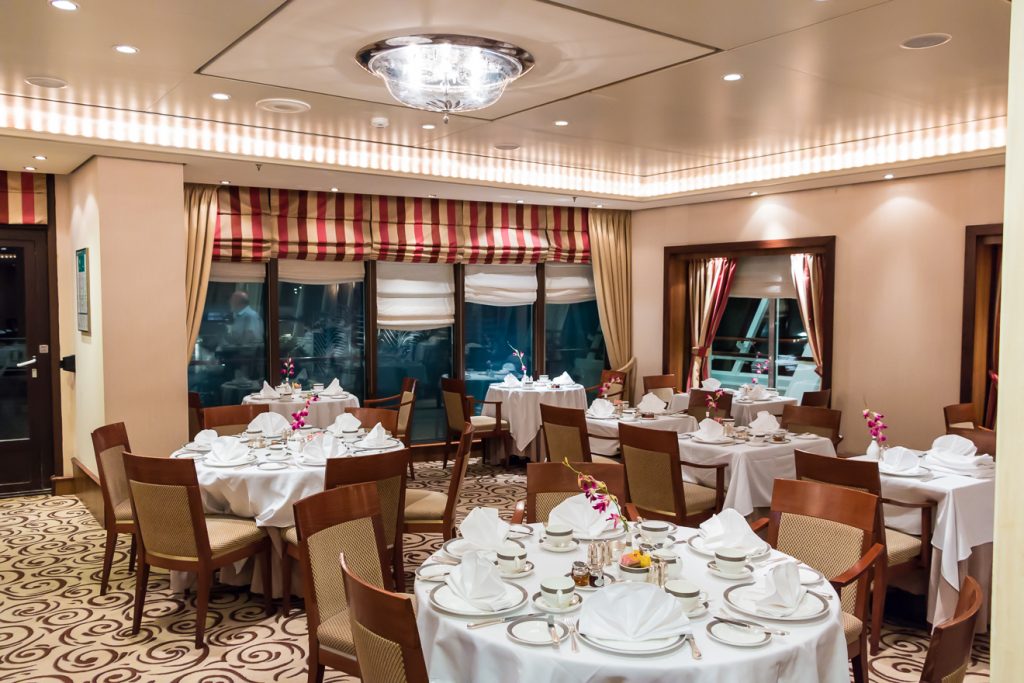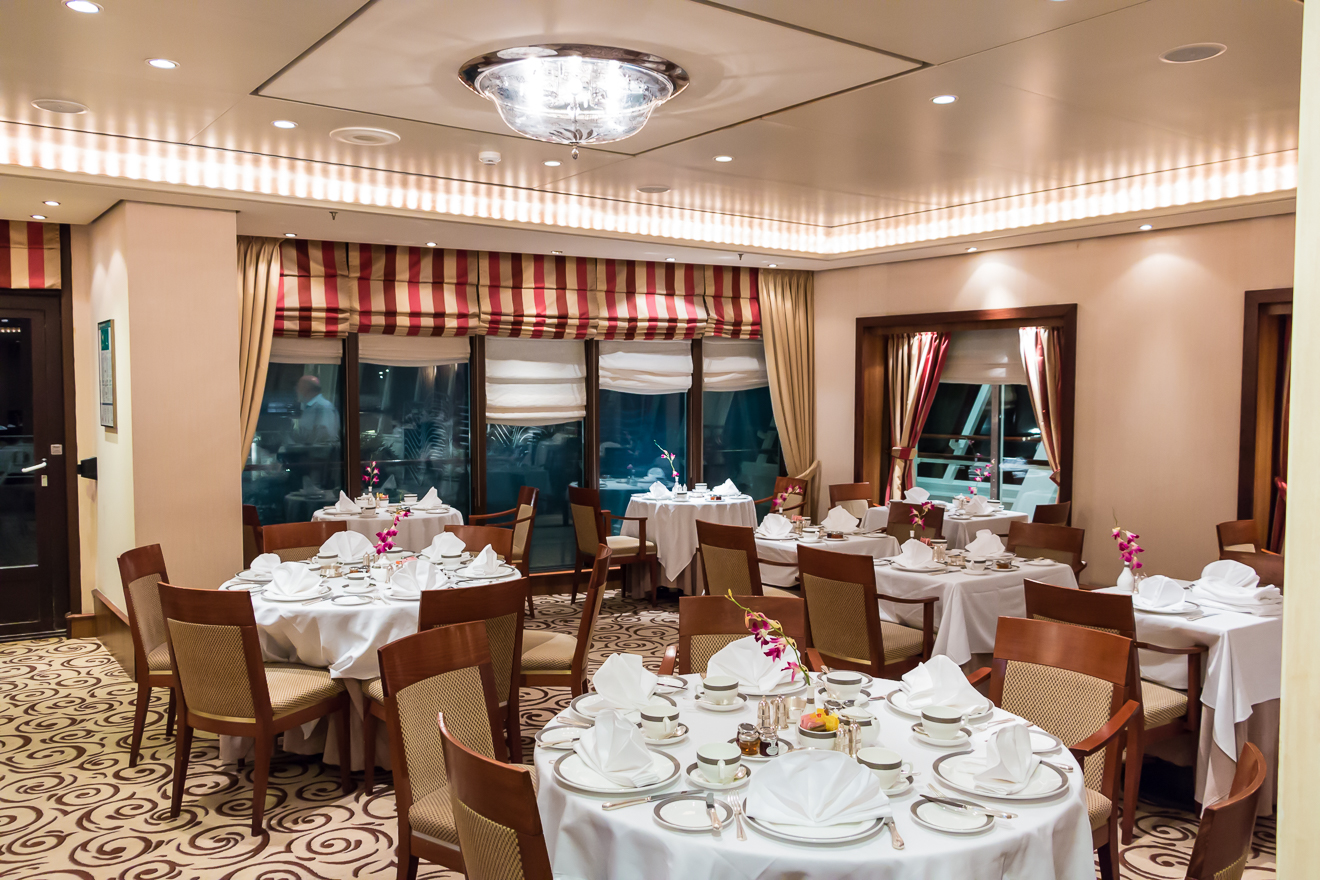 And Now: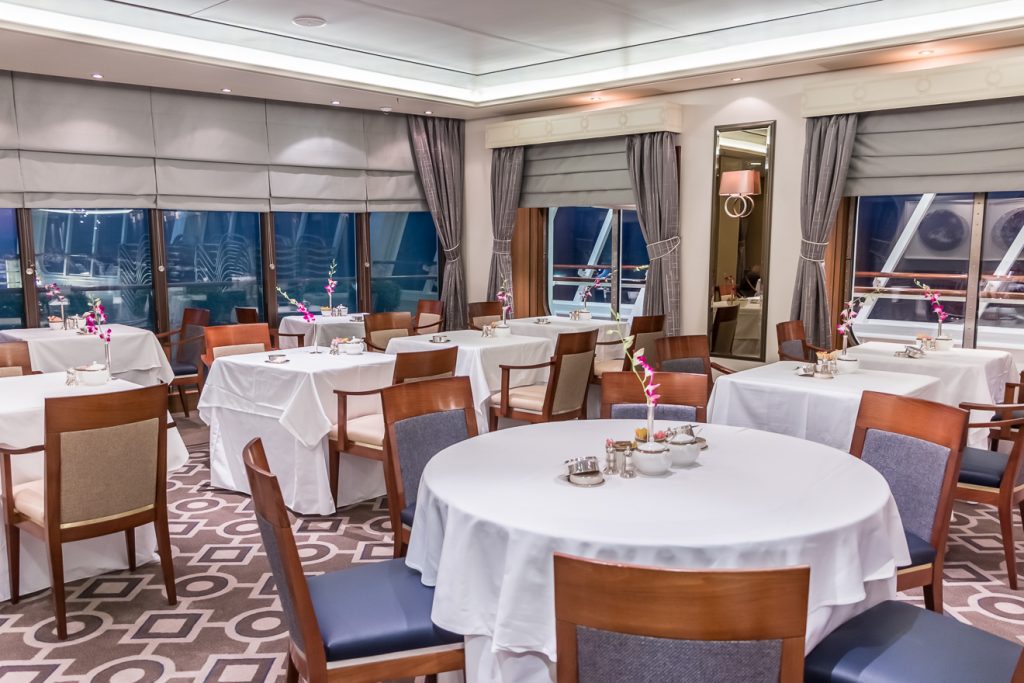 One other interesting looking addition to the ship is a Chef's Table with Sommelier Wine Tasting in the Sir Samuel's restaurant. Reservations for this would be a must as it's held in a small private room seating about 12 persons. Unfortunately, they weren't ready to get this program started on this cruise. They did, however, have some of the potential wines on display in the cases near this dining room, they looked great! We'll have to come back for that one.
Coming soon: Culinary adventures and political intrigue on the high seas.