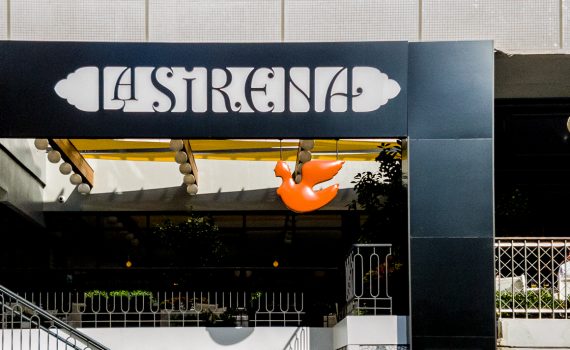 Category:Dining,Food,QM2 2016
Dinner for our night in New York before once again boarding the Queen Mary 2 (see our last trip) was at La Sirena, a Mario Batali venture just in its 5th month. It's a large, open space, so different than the current trend toward 'micro' restaurants. Of course, it's a gamble to produce the high quality dishes typical out of a smaller kitchen, where attention to detail is a trademark.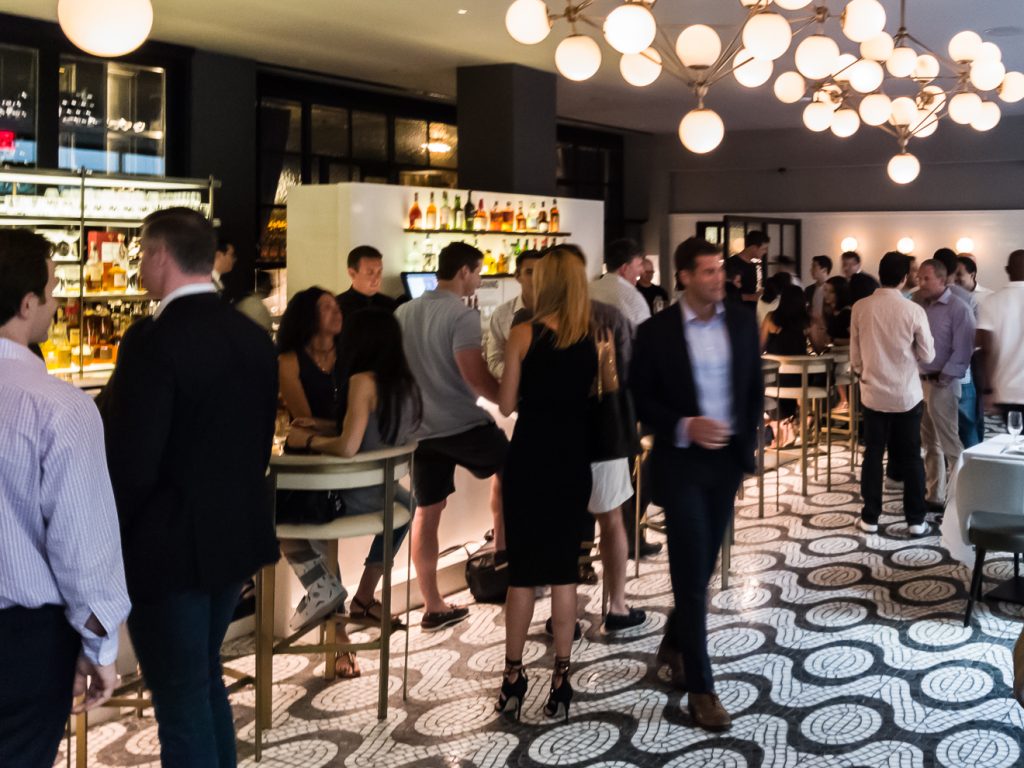 We had an early seating, mostly due to wanting to have time for cocktails on the Viceroy's The Roof terrace later and be ready for bed early.
The staff was prompt, generous with their time in explaining the menu. I questioned portion sizes because American pasta portions are just huge, and if you want a multi-course meal it's just ridiculous to be served an Olive Garden-sized plate of noodles and then have room to enjoy an entrée.
Our waiter said the kitchen would create the meal as we wished. If we wanted to share antipasti and salad courses, but wanted to selfishly have our own Secundi and Primi courses, so be it…which is precisely what we did.
We weren't in any hurry, so we asked the Sommelier, Michelle, to offer up suggestions for champagne to start us out. She suggested a wonderful Champagne from Bordeaux.  It was just what we wanted at a good price too, given how restaurants mark up their liquor. We sipped and talked for quite awhile, the wait staff watching our pace from behind the scenes. Michelle needs a shout out here. She was not only knowledgeable, but kind enough to lead us to just the right red wine with dinner; 'a Rina 2014 Etna Rosso Girolamo Russo, a Pinot Noir from Mt. Etna. Being from the Pacific Northwest, I wanted to particularly try a Pinot with the minerality forwarding the volcanic notes we're used to. You could really taste the new earth of Mt. Etna but not in a slap 'yo Mamma kind of way, but a robust, unashamed vintage.
Given all the various courses and combinations of proteins and sauces, this was no easy feat…but not a challenge for Michelle. She was just great on all accounts.
In short, the meal stood up to our strange ordering pattern and food requirements. This is what our table ordered:
Anitpasti
Soft Shelled Crab with rossato and fresh herbs, two orders thank you very much
Barrolo fresh mozzarella, English Pea purée
I am crazy for soft-shelled crab and cannot find it easily in Seattle. I guess the local purveyors and restaurateurs just haven't caught on to the love of soft-shelled crab. Seattle is Dungeness land, so no surprise.  Our server explained they were cooked in the traditional way, just dredged in seasoned flour and fried up. Perfection. No messing with it, straight forward and delicious. We had two orders of the crab and I think I ate most of them.
Salad
Frisée Salad with soft poached egg, pepperoni lardon and potato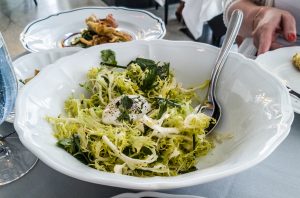 Primi
Tortellini stuffed with cheeses, in a brown butter gremolatta
Black Squid ink pasta with local lobster (NO one touch my pasta course!…okay, I did share, but just a little)
Secundi
Pork Loin Chop, rib-in, garbanzo purée and shaved fennel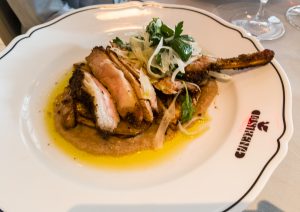 Dolce
Chocolate Brownie with wonderful Grenache  and soft ice cream
Doppio Espresso and Americano finished out our meal.