Category:Drinks,Food
Sunday, the last day of the Vancouver Wine Festival. The highlight of the day, for us any way, is the Vintners Brunch. This event consists of 2 1/2 hours to make it through about 16 food courses, each with a wine pairing. The wines were from around the world, with concentration on Italy since it was the country focus this year. All the food was from various Vancouver Restaurants. Each course was just a small tapas-sized bites or canapé and even a few cups of soup so you would think it not a difficult task. But in the end we found ourselves rushing to get the last few items before they were gone and the event over. We managed to make it through, just barely.
We were greeted at the door with a glass of sparkling brut from Okanogan Valley, British Columbia by See Ya Later Ranch. A nice, refreshing way to start as we found our table and caught up with Pam and our other friends, Ken & Victoria, Van & Marcella, Justin & Elena, Matthew & Reema. Once oriented, we were off to our first course. In the interest of brevity, I'll only mention some of the highlights.
The first up was a Warm Fresh Cheese, Carrot, Egg Yolk, Brioche from Latab Food (who has since closed) paired with a Valdo Marca Oro Prosecco do Valdobbiadene DOCG NV. This was a light but yet rich dish with the warm and a sous vide egg yolk, but the prosecco cut through and lightened up each bite. Kevin and I both thought it could use a little more seasoning, but overall, it was a good breakfast started that paired well with this processo.
Next up was a Dungeness Crab Salad with Grapefruit, Vanilla & Hollandaise paired with a Geyser Peak Sauvignon Blanc 2014. This was the big surprise for me! I don't generally care that much for Geyser Peak wines and typically ignore them when wine shopping. But this with the crab and grapefruit worked really well together. We probably wouldn't buy this just for sipping, but if serving these flavors, it may be worth consideration. And it was a really good crag cake from Showcase Restaurant and Bar - may have to check them out next time in Vancouver.
I didn't try the next one, but Kevin did and really liked it, this was Nikkei Ceviche. Ceviche has never been one of my favorites, but I trust Kevin's opinion. It was paired with a Columbia Winery Chardonnay 2013. Kevin called this an "amazing pairing, food off the hook. The buttery chardonnay balances the pungent nori and crisps." The program describes this wine as offering aromas of pear, apple and tropical fruits. Expect this wine to pair nicely with other light seafood such as Dungeness crab or mussels.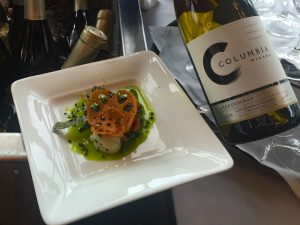 Skipping ahead a bit to one of my favorites, the Ebi-Shinjo Shrimp and Fish Ball with Dashi Espuma (miso foam) with Julienned Beets, Radish, Green Onion & Ginger from the sake bar and Japanese bistro, ShuRaku. The sweet-savory shrimp and fish ball along with the spiciness of the vegetables paired nicely with the Thornhaven Estates Gewurztraminer VQA 2014.
Here's what Kevin had in his tasting notes:
"Wine stands up and highlights the dish. Not normally a fan of Gewurztraminer - good pairing that softens the radish. Alone it has a good mouth-feel."
This dish by-the-way took second place with the judges for today's brunch.
And now for something less complicated. This is something that anyone can throw together for your guests before dinner - Fig and Goat Cheese Tart with Carmalized Onion, Dried Fig & Farmhouse Cheese's Goat Cheese. This was offered by Savoury Chef Foods, the wine chosen to go with if was the Sandhill Rosé 2014. The write-up on the program had this to say about it:
...made from Cabernet Franc, Gamay Noir, Sangiovese and Barbera grapes. A special yeast for fruity white wines was used to help capture flavours of juicy strawberries and raspberries...
Next up was one of Kevin's favorite, Spiced & Braised Lamb, Gribiche Sauce, Olive Oil Crouton, Sumac Salt from Blackbird Public House. Served with our first red of the day, Delicato Family Vineyard Black Stallion Los Carneros Pinot Noir 2013. No picture of this unfortunately but our notes say "Amazing dish! A full bite work on every level - peppery greens! Color of the pinot edges towards a bit brown, but taste is solid."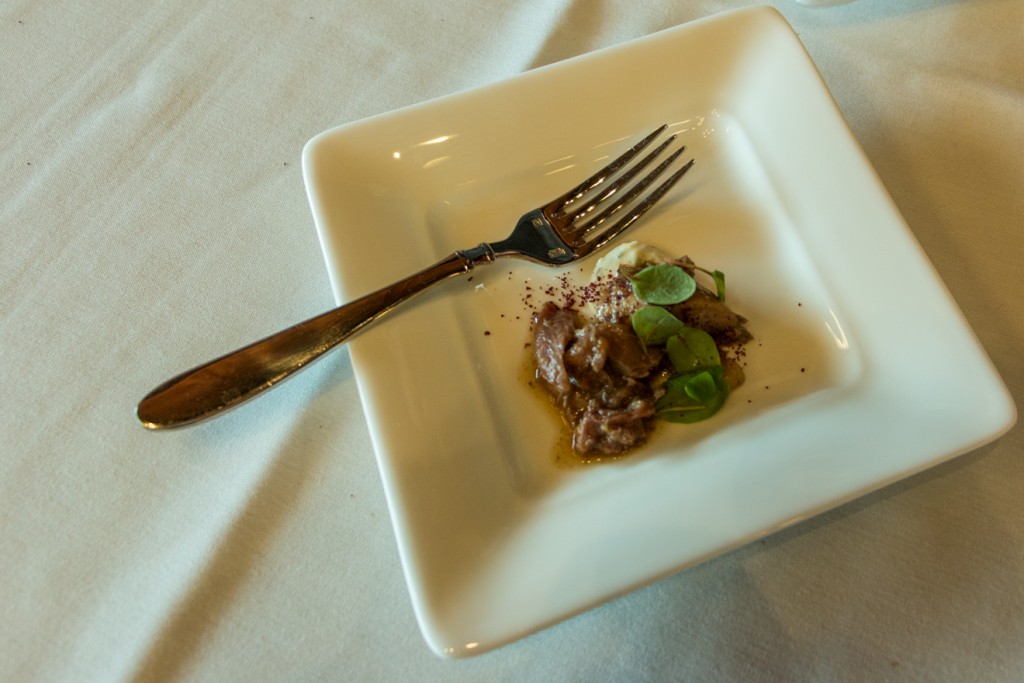 We're not done yet! Railtown Catering has offered up the dish that took first place in the food judging today. The name is a bit long so bare with me - Black Rice Congee with Red Wine-Braised Duck, Soy-marinated Quail's Egg, Black Currant Grastique, Togarashi Crackling.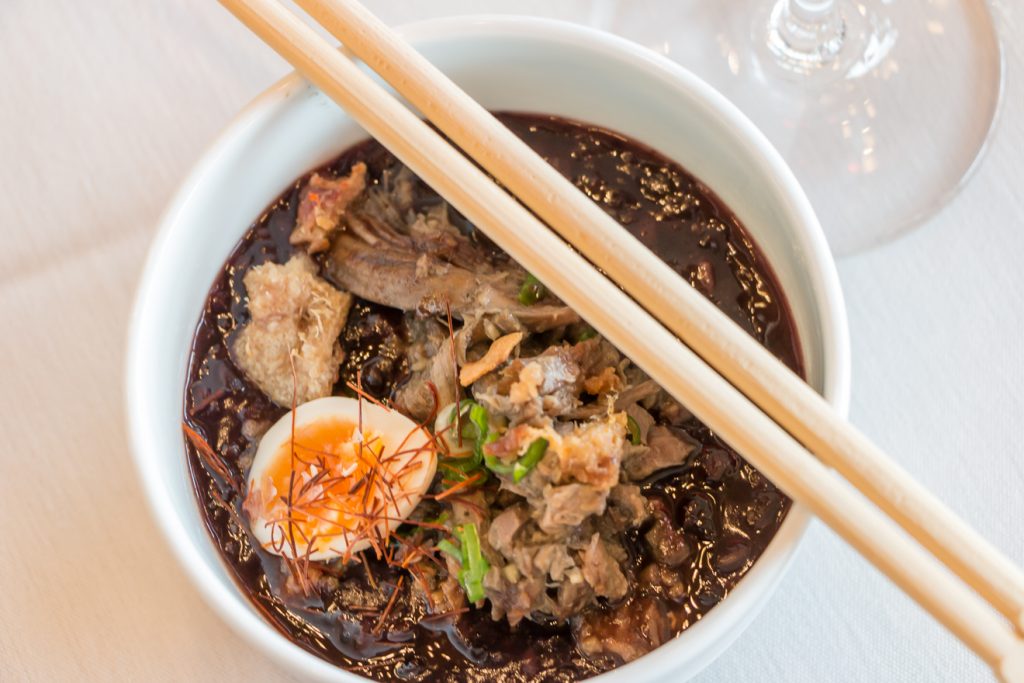 I don't know what else I can say beyond that to describe it but I do have to say it was, in my opinion, the most interesting dish served today. It was paired nicely with a 2013 Hahn Family Wines Santa Lucia Highlands Pinot Noir. The black currant aromas in the wine helped bring out the black currant in the dish - well played! The crew preparing the food looked like they were having as much fun as we were.
I had decided to wear my Scottish Kilt to today's event. I don't get much opportunity to pull it out of the closet, but this was a special occasion, so why not? It turned out to be a great conversation starter. One nice lady who caught me a couple times insisted that I try the Scotch Egg - or more fully, the Chorizo Scotch Egg with Urban Digs Pork, Smoked Paprika, Hen's Egg and Hay Aioli from ARC at Fairmont Waterfront paired with 2013 Gil Family Estates Tridente Tempranillo - Castilla Y Leon. The tempranillo was a good choice for this as it balances and cuts through the richness of the egg and the deep fried pork. If I could have my eggs this way every morning, I'd be happy - though I think I would need to start taking cholesterol meds.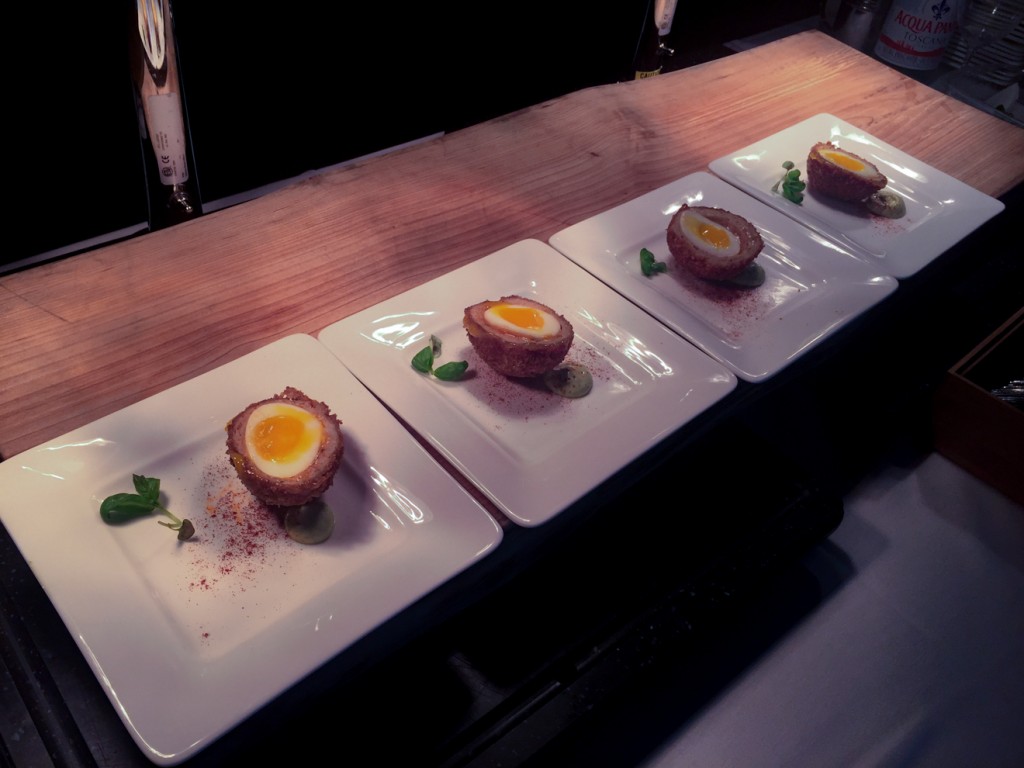 Several desserts had been on offer. By the time we got there far, they were beginning to run out. We were lucky enough to get the Sable Breton with Salted Carmel, Spiced Okanagan Apples, Tainori Grand Cru Chocolate Cream and Nutty Tuile. from the Vancouver Convention Center's own kitchens. This was paired with Fonseca Guimaraens 10 Year Old Tawny Port. A perfect combination to end a fabulous food and wine experience.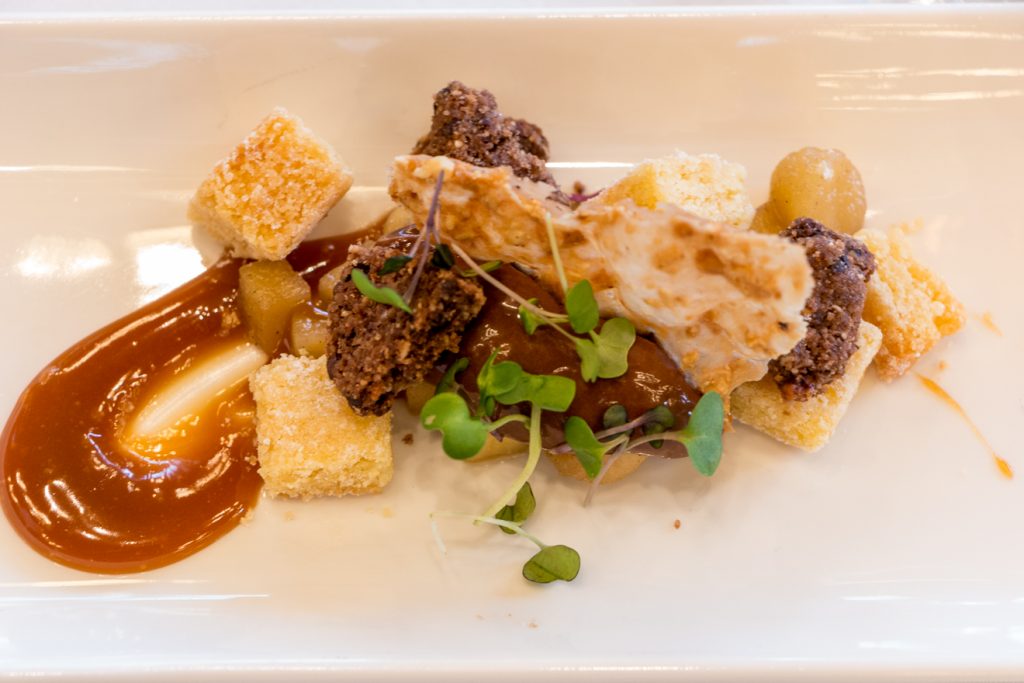 We had arranged for a late check-out from the hotel and our time was running out to get back, finish packing and check-out. So we weren't able to stick around for the music and dancing. The small group had been playing a range of music all through the event. As people finished their tastings, they began to dance. Looks like it could have been fun, but for us, it was time to go.
We had a great time and a big "Thank you!" to Pam and Marcella for getting us involved and helping us get all our ticket. Next year's festival will be focused on Canadian wines. We look forward to being back.
Salut!